New York Film Academy One-Year Filmmaking Graduate Rohit Gupta is back on the festival circuit with feature film Life! Camera  Action…, which has just been nominated for several awards at the upcoming 2011 World Music and Independent Film Festival in Washington, DC. The film is up for the following awards:
•  Best Drama
•  Best Director, Rohit Gupta
•  Best Screenplay, Rohit Gupta & Amanda Sodhi
•  Best Actress, Dipti Mehta
•  Best Supporting Role, Noor Naghmi
•  Best Supporting Role, Swati Kapila
•  Best Original Soundtrack, Manoj Singh
 Life! Camera Action… is the journey of a young, Indian-American woman who sets off to pursue a career in filmmaking against the wishes of her family. Rohit filmed the project in ten days on a Panasonic DVX 100 with two crew-members. The project evolved from 15-minute assignment while studying at New York Film Academy.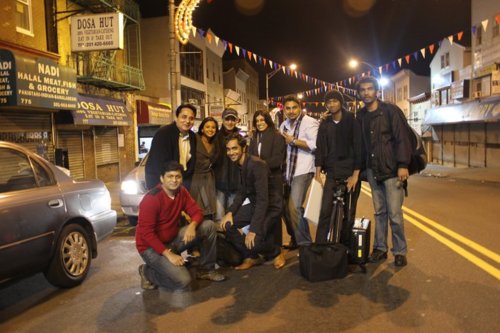 Cast and crew pose on set
In a recent interview, Rohit commented that he always believed in the film but that getting nominated for awards is still a "big honor." He adds, "I thank these people for seeing what I'm seeing in [the story]."
The film had its world premiere in November at the Mahindra Indo-American Arts Council Film Festival. It has since taken home awards including an Award of Merit at The Indie Fest 2010 and Award of Excellence at the Accolade Film Awards 2010. The film was invited to Boston's Museum of Fine Arts South Asian Film Series and IFF 2011 – Tampa Bay, Florida.
Rohit previously screened NYFA short film Another Day Another Life at several film festivals internationally.
by nyfa