On Thursday, July 25th, the New York Film Academy hosted a screening and discussion with Film Critic, Peter Rainer on the film, The Conversation, by Francis Ford Coppola. Made in 1974 The Conversation, is about a surveillance wire tap expert, played by Gene Hackman in his finest performance, who believes he may be implicated in a murder plot. The film is especially relevant today because of the issues it raises about how technology invades our privacy, and for film students, it's a great example of how sound design on a low budget (courtesy of the amazing Walter Murch) can be an essential storytelling ingredient. It's also a great example of how a thriller/detective story can also serve as the vehicle for profound observations about the human condition.
Peter Rainer has 30 years of professional experience as a film critic. Rainer is currently the film critic for the Christian Science Monitor and can be heard regularly on NPR's Film Week on kpcc-fm. He was one of three finalists in 1998 for the Pulitzer Prize in Criticism and is a three-time winner of the Arts and Entertainment Journalism Award for best online film critic. He has also written and co-produced two A&E biographies, on Sidney Poitier and John Huston, as well as co-authoring the film Joyride (1977). He has served on the main juries for the Venice and Montreal film festivals.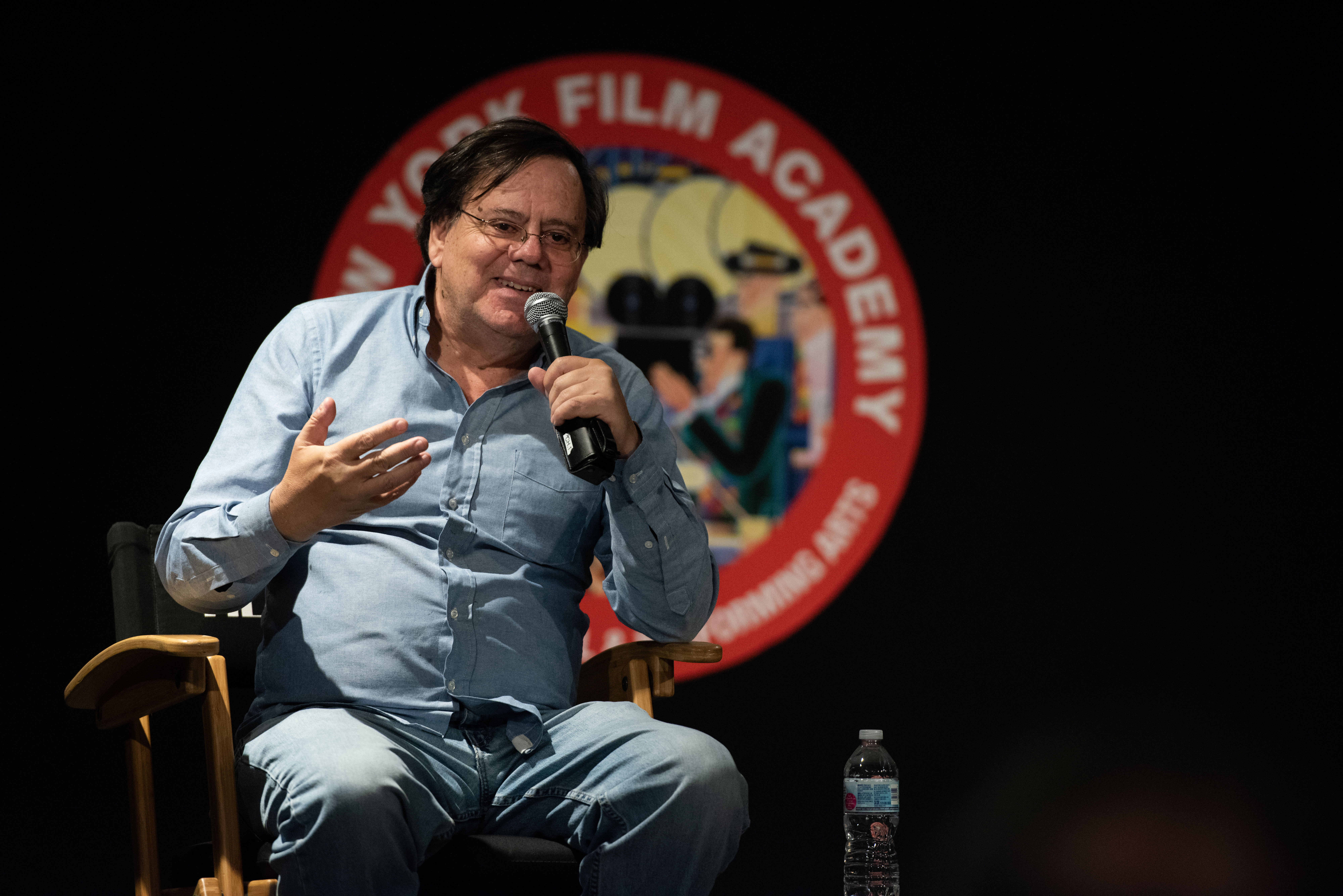 Rainer opened up the discussion by asking the students in attendance what feelings they had towards the movie. Responses included one student sharing the difference in the impact of sound quality when watching the film on a television screen at home versus in a theater. Another student inquired on Rainer's opinion on how the ending of the film should be interpreted. Rainer shared, "Well it's sort of a poetic metaphor, perfect ending for this movie in a way, that somebody whose job it is to infiltrate other people's lives, is himself done in by the very tactics that he's a master of."
The dialogue continued with Rainer asking a student if they felt as though the murder dream sequence in the film was necesary to the movie. After agreeing that it was not, Rainer added, "I've heard this mentioned, I've never been able to pin it down, that the film had certain editing issues, editing problems, and that that dream sequence was originally shot not to be a dream scene. Then they sort of cut it in and put the smoke around it and made it seem like it was a dream. I can't entirely buy that explanation because of what he says to her and so forth. If it wasn't a dream, if he tracked her down and was yelling at her, then the whole plot falls apart."
Rainer then continued on to discuss the alignment the film had with the political environment at the time of its initial release. "As I said when I started out, when this film came out, it was just before Richard Nixon resigned, after he bugged the democratic national committee, and that's what started the whole Watergate Scandal," Rainer stated, continuing, "They immediately drew a line between this film and what was going on in the country, but it turns out he had written this script a good ten years before all of that. But a lot of the tools in the film and a lot of the gizmos and mechanisms that he uses were very similar in many ways to what the actual watergate burners used, which is another reason why people thought he was making a great political statement when in fact it was just one of those things."
Rainer concluded with sharing insight on Coppola's belief in auteurs being the only true artists in the filmmaking world, revealing, "Coppola has always had this notion that to be a true artist, you have to be an auteur and write the movie, a well as direct it." Rainer contested this idea by saying, "I don't think that there's anything wrong with adapting other people's scripts, or adapting other people's novels. There are many great directors who can't write screenplays, but know a good screenplay when they see it."
The New York Film Academy would like to thank Peter Rainer for sharing his knowledge and critic with students.
by nyfa