New York Film Academy (NYFA) had the honor of hosting a live video Q&A with actress and producer Emmy Rossum to discuss her career and Peacock TV limited series Angelyne with NYFA students and alumni. Tova Laiter, Director of the NYFA Q&A-List Series, curated and moderated the event.

Q&A-List Series moderator Tova Laiter (left) and Actress and Producer Emmy Rossum (right)
Emmy Rossum began her theatrical career when she was just seven years old, singing children's roles at the Metropolitan Opera at Lincoln Center. Rossum was formally trained in classical vocal technique and stagecraft. Throughout her time at the Metropolitan Opera, she performed in five languages in twenty different operas. Since then, she's captivated audiences with her incredible talents on stage and screen.
Rossum's performance in Songcatcher earned her an Independent Spirit Award nomination in the category of "Best Debut Performance." Four years later, in 2004, her starring performance as "Christine" in The Phantom of the Opera earned her a Golden Globe Award nomination, as well as the National Board of Review's "Best Female Breakthrough Performance" Award and the Broadcast Film Critics Association's "Best Young Actress" Award in 2005.
In 2018, Rossum appeared opposite Will Forte in the Netflix original film A Futile and Stupid Gesture. The film follows the success of National Lampoon in the 1970s and 80s and premiered at the Sundance Film Festival. In 2019, Rossum signed a First Look deal with Universal Content Productions and began developing premium scripted content for the studio under her production company, Composition 8.
Rossum is recognized for her role as "Fiona Gallagher" in Showtime's critically-acclaimed dark comedy series Shameless. The actress then made her directorial debut on the series during its seventh season before directing once more in season eight. Rossum starred in the series for nine seasons, ultimately departing the series in 2019. She shared with Laiter in the NYFA Q&A that she left the show because she had gotten comfortable and "really needed to be scared again."
After getting a taste of the director's seat on Shameless, Rossum directed an episode on another John Wells series TNT's Animal Kingdom, and Amazon's Modern Love series, based on The New York Times column of the same name.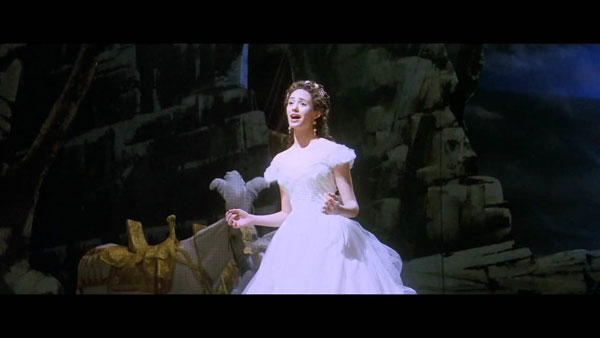 Emmy Rossum as "Christine" in the 2004 film adaptation of The Phantom of the Opera
Recently, Rossum produced and starred in Angelyne, a limited series based on The Hollywood Reporter's investigative feature about the life of a 'mysterious billboard icon in Los Angeles. Critics hailed her performance as "incandescent and gritty and equal measure" and "dazzling."
The series' subject, Angelyne, is a singer, actress, media personality, and model who came to prominence in 1984 after several billboards sprouted in and around Los Angeles, California, with only one word, "Angelyne." The iconic billboards inspired a media frenzy, and soon after, Angelyne received film role offers, magazine interviews, and TV appearance invitations. The subject intrigued everyone while she remained an enigmatic presence in ads. Her real name and identity were intentionally concealed until 2017 when The Hollywood Reporter published "The Mystery of L.A. Billboard Diva Angelyne's Real Identity Is Finally Solved," alleging that Angelyne's real name was Renee Goldberg and that she was the child of Polish Jewish Holocaust survivors.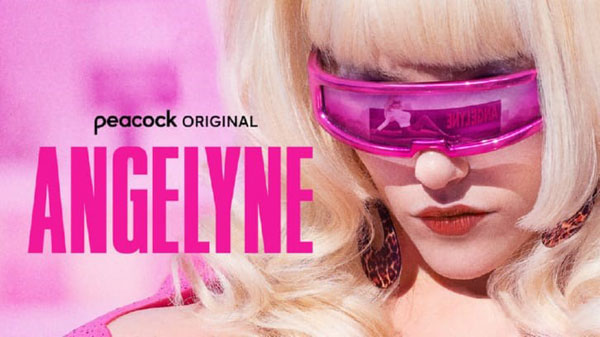 Promotional image of the Peacock Original miniseries Angelyne
Emmy Rossum shared in the Q&A that she remembers seeing the billboards around LA as a young girl. "[Angelyne] was kind of LA's unicorn… famous for being famous." When the Hollywood Reporter published the article, Angelyne denied everything but enjoyed the new-found attention and sympathy she was receiving from a new generation of spectators. Rossum adds, "[The article] didn't seem like it was [Angelyne's] truth, but it might have been a truth." Angelyne's story and refusal to confirm or deny an imposed narrative was her strength; it was also a great example of America's addiction to fame, doxing people, and co-opting women's narratives.
"Of course, I wanted to tell the story, but I did not want to be part of the problem and really wanted her involvement," Rossum adds that getting the rights to the Hollywood Reporter article and getting Angelyne involved and getting her to "option her life rights" was a "real process."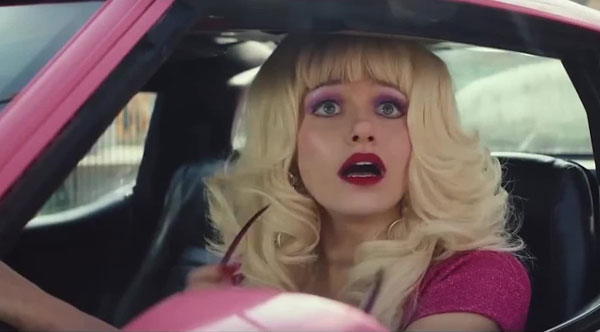 Production still from the Peacock Original series Angelyne
Like Angelyne, Rossum had to fight for agency and autonomy during her tenure in the entertainment industry. She shared with Laiter that as a young girl, she didn't have a "voice" and was placed in many situations where she felt uncomfortable and unprotected. "I feel much more confident to advocate for myself [now] … I'm not scared." When asked if there was one piece of advice she could give to young actors new to the field, Rossum confidently and abruptly answered, "don't be scared." She then followed through with, "don't lead with fear, even though it's always there."
Rossum discussed her experience with embracing vulnerable feelings for a role, "Getting yourself to a level of rawness requires a lack of self-consciousness about how people in the crew or audience view you. While I am aware of what's happening on set, I keep moving through my emotions because if the director doesn't like my emotion, he won't use the shot."
The guest speaker also discussed her method for memorizing her lines "For me, it's just like a muscle. Like going to the gym, the more you practice, the easier it becomes. I record the scene and listen to it over and over. Then I carry out the other person's dialogue on a tape recorder. I have many voice memos of scenes and the other person's dialogue. I then cover my lines, play the other person's dialogue, and switch back and forth until I memorize the lines. Then I'll ask someone to run through the lines with my word for work to ensure I've memorized the lines fully."
Rossum closed the conversation by thanking Laiter for the conversation and the students for their time. NYFA would like to thank Emmy Rossum for sharing her time and acting experience with the community!
Please note: NYFA does not represent that these are typical or guaranteed career outcomes. The success of our graduates in any chosen professional pathway depends on multiple factors, and the achievements of NYFA alumni are the result of their hard work, perseverance, talent and circumstances.
by nyfa