On December 9, 2020, New York Film Academy (NYFA) had the honor of hosting a live video Q&A with actress & NYFA alum Aubrey Plaza (Ingrid Goes West, Parks & Recreation), actor Christopher Abbott (Catch 22, First Ma), actress Sarah Gadon (True Detective, Alias Grace), and former NYFA instructor and director of the film, Lawrence Michael Levine (Wild Canaries, Gabi on the Roof in July), They discussed their highly-anticipated new film Black Bear with Tova Laiter, Director of the NYFA Q&A-List Series who curated and moderated the event.

The movie Black Bear is a meta thriller about movie-making, creativity, jealousy, and ego. The film premiered earlier this year at Sundance and is certified fresh on Rotten Tomatoes.
Laiter opened up the conversation by calling the films "Beguiling, intriguing and thought-provoking" as it has two parts of two different genres and asked Levine how the unusual film came about. The director cited his wife and frequent collaborator, Sophia Takal (Black Christmas; Hulu's New Year, New You) as his inspiration. "I can remember the origins of part two was somewhat based on the working relationship with Sofia [Takal], which was tumulous at the start, but I wouldn't say it was autobiographical, or resembles the one in the film."
The film, Levine explained, is also a result of what many artists tend to do when they are stuck; try something new. "I was writing all this stuff that was very boring and conventional. I was going through a rough time and was bored professionally. I think I just wanted to do something different and [Black Bear] was, in some ways, kind of about what I was going through."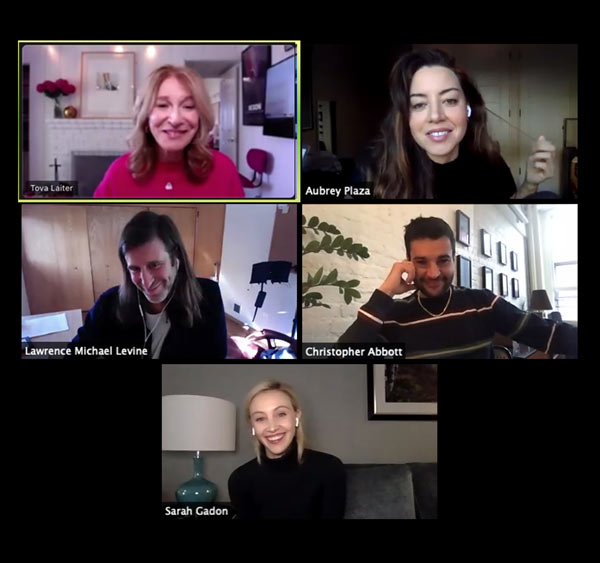 Then Plaza got involved in the project and, in addition to landing the starring role, became a producer on the film to help it launch as an independent production. In one of her best performances to date, the NYFA alum revealed that the toughest scene for her was the infamous "breakdown" scene in the second part of the film. "The movie within the movie… just because that scene was very complex (a lot of people and a lot of chaos). I was always scared and terrified to shoot it and it was a lot to keep all of those things in play and, in a technical sense, it was very trippy."
The meta concept of a movie within a movie, for some, seemed to reveal a more mysterious plot than Levine originally intended. "It's interesting because the response has been 'the film is mysterious.' I guess I will say the simplest thing about it is it's one artist [played by Plaza] doing two interpretations of a scene. The audience is left wondering: Which is real? Are they both real? When does she start writing this? Is it prior to or after meeting the couple? It's two different ways of exploring the theme of heartbreak and betrayal."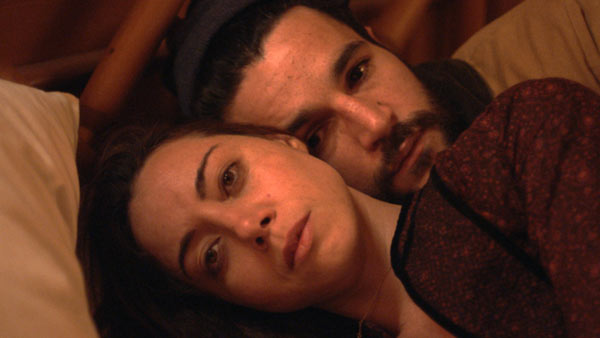 In each part of the film, Plaza, Abbott, and Gadon give knockout and emotionally-driven performances, playing dual versions of their role. "I was very intrigued to get two parts in one movie. It's like you're getting paid for one but doing two parts," joked Abbott. "Larry [Levine] wrote something so genius, especially with something with Aubrey [Plaza] and Sarah [Gadon] attached to it."
When asked by a student whether it seemed "daunting" to play different characters, Gadon, who plays Blair, shared that it actually wasn't daunting at all for her. "When I read the script, I was really excited. It was such an original script and I had never read anything like it, and I knew it would make for a really intense movie."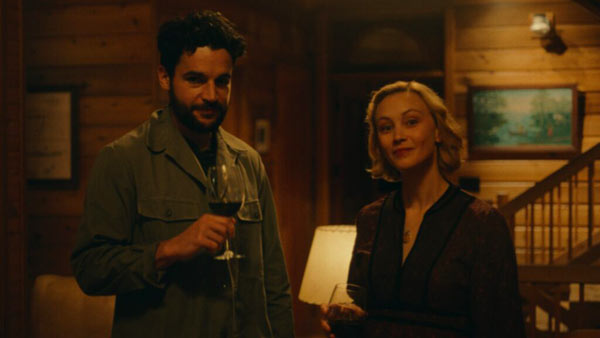 After discussing Black Bear, the guests turned the conversation towards more technical questions from NYFA students and alumni, who asked the artists about both the directorial and acting process. For directing, Levine provided that sometimes directing means "stepping away, trusting, and letting them [the actors] take the reins and be comfortable. The intention is to make the actors feel safe and supported by having their back if they are lost. I had faith in these three [Plaza, Abbott, and Gadon] and I was dying to work with them for Black Bear."
Abbott reminded actors that in most characters, there's "always a little bit of you in there," but it's about determining "how different the character is from you" versus how you are alike that will help you be able to fully dive in. Gadon added that it's about making a character feel as fleshed out as possible, a nod to screenwriters everywhere to remember to help the actors let that character leap off the page.
Plaza shared that it's important for those about to enter the film industry to continue to explore their craft, make mistakes, and network. For her, it was just as puzzling until she joined the Upright Citizens Brigade, where she found herself in a supportive community of like-minded people that led to a path for her to break-in. "It's important to focus on those kinds of communities and collaborations rather than figuring out how to 'get in' to the industry, get an agent, etc. If there is anything concrete, it's about getting in front of casting directors more than anyone."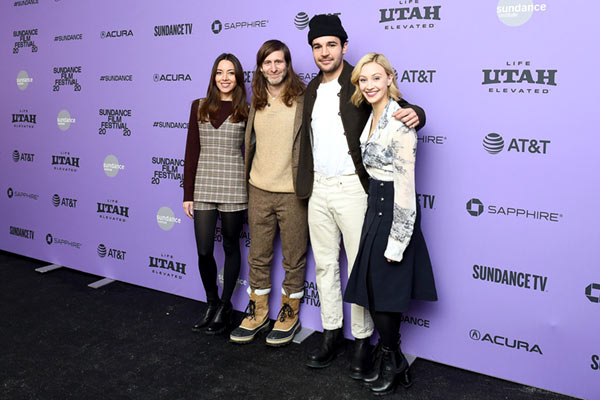 Plaza also remarked during the discussion about her NYFA days and shared with students that "New York Film Academy was so important" to her. She reminisced that prior to getting into the Teen Filmmaking program that she would stay up late at night and look at the pictures and the programs available and was "dreaming about being in that [Teen Filmmaking] program."
Laiter thanked Plaza, Levine, Abbott, and Gadon for taking the time to join the conversation and for discussing their process of filming their critically acclaimed film Black Bear, as well as sharing their expertise with students.
New York Film Academy would like to thank Aubrey Plaza, Christopher Abbott, Sarah Gadon, and Lawrence Michael Levine, as well as Momentum Pictures and Shelter PR for giving the opportunity for students and alumni to watch the film, which can be seen on all On-Demand platforms.
To view the full conversation, click here or watch the video below.
These guests are not faculty and do not teach at NYFA, but they have appeared to share their stories and experience with our students. As guest speakers are scheduled based on their availability, NYFA cannot guarantee whether a guest speaker will visit during a student's attendance or who that guest speaker may be. This guest speaker forum is not part of any NYFA curriculum and attendance at guest speaker events is purely voluntary. Students should be aware that guest speaker events do not represent a job opportunity nor are they intended to provide industry connections.
by nyfa