New York Film Academy (NYFA) had the honor of hosting a live video Q&A with Chris McKay, writer, and director of box-office hits including The LEGO BATMAN Movie (2017) and THE TOMORROW WAR (2021). Tova Laiter, Director of the NYFA Q&A-List Series, moderated the event alongside NYFA's Craig Caton-Largent, Chair of 3D Animation & VFX, who worked on high-profile films including Jurassic Park (1993), Apollo 13 (1995).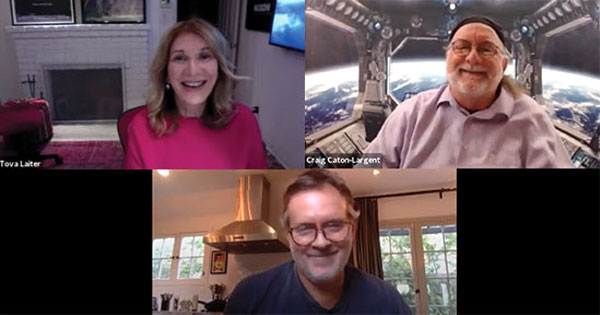 NYFA's Tova Laiter (upper left) and Guest Moderator Craig Caton-Largent (upper right) and Guest Director Chris McKay (bottom)
Chris McKay is an award-winning filmmaker with a specialty in animation. For his work on The Lego Batman Movie, the second feature in the LEGO film franchise, McKay was nominated for an Annie Award for Outstanding Achievement for Directing in an Animated Feature Production. The film itself was nominated for a Producers Guild of America Award, a Critics Choice Award, an American Cinema Editors Eddie Award, and an Art Directors Guild Award, among others.
McKay has taken on almost every role of the filmmaking process, including producer. He produced The Lego Ninjago Movie (2017), starring Justin Theroux, Dave Franco, and Jackie Chan. When asked for a look back into how he started in film, McKay told Laiter that during his early start in film, he took on as much work as possible in order to maximize his opportunities of learning from others starting as editor.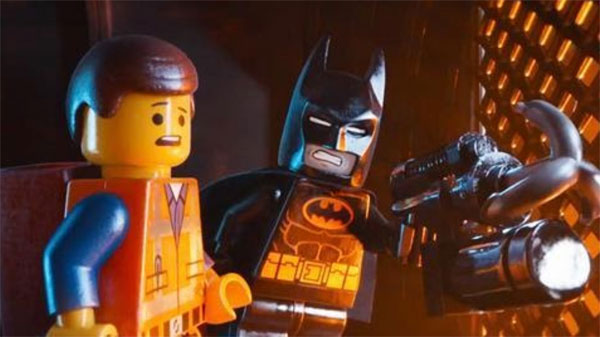 Screen still from The LEGO Movie (2017)
According to McKay, "As editor, you're kind of like a psychologist. You play a bunch of different roles. I think Coppola famously said, 'it's the third part of the screenwriting process.' You write a script, and then you re-write it on set, and the final rewrite is post-production."
Laiter asked McKay how the production of The LEGO Movie franchise started, and McKay discussed his attachment to the project. Following his work on 21 Jump street (2012) and after his success with the TV show, Robot Chicken, McKay was tapped by two directors with whom he worked in television, who needed McKay's expertise in problem-solving to help launch The LEGO Movie project. Unfortunately, in the beginning, the project lost its greenlight and was scrapped by Warner Brothers. McKay's job was to recommit the studio to the project. As an animator, McKay understood that the mini-figure animation design stood the test of time therefore his role was to convince the studio that The LEGO Movie characters would have the capacity to emit real emotions, as would live actors. McKay and his team created a "black box audition" animation with The LEGO Movie's main character, Emmett "auditioning" for his role.
Guest Moderator Craig Caton-Largent asked McKay about his biggest technical challenges as an animator. McKay notes that the biggest challenge for The LEGO Movie was getting the animation style of LEGO bricks to emulate stop-motion animation style, including making the bricks have photo-realistic movement.
McKay notes that aside from the technical aspects of the animation itself, his first challenge was to convince fellow animators that the LEGO stop-motion style would work as a film.
McKay observed, "as an editor, you're sort of at the end of the process, and you can see all the accumulation of people's wins and losses. You can really learn a lot and there's a lot of this psychology of making movies that end up in the editing suite. You hear all the stories–you hear all the assumptions that people made going into something, and then you can help them."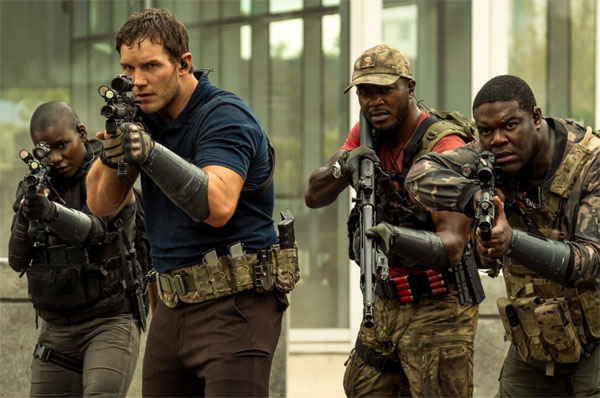 Screen still from The Tomorrow War (2021) starring Chris Pratt, Edwin Hodge, and Sam Richardson
When asked for his advice on what skills are necessary to be a great filmmaker, McKay encouraged students to get to know people and really enjoy working with people. For networking, McKay recommended that students and young filmmakers try to recruit an agent or manager as soon as they can. Additionally, he suggested taking advantage of informational interviews, which include taking people out to lunch or coffee, to simply "pick their brain." While not an opportunity to pitch a project, the informational interview is a chance to learn from someone with industry experience who is willing to spend time to offer advice.
McKay eased students' self-doubts with these words of advice, "don't ever doubt your skills, because it's a learning process. Everything is a growth process. You may not have some skill in some area right now–today–but that doesn't mean you can't figure out a way to achieve it. You will get the experience."
New York Film Academy would like to thank Chris McKay for sharing his time and perspective as a Filmmaker and Director with NYFA students and alumni.
Watch the full conversation below:
These guests are not faculty and do not teach at NYFA, but they have appeared to share their stories and experience with our students. As guest speakers are scheduled based on their availability, NYFA cannot guarantee whether a guest speaker will visit during a student's attendance or who that guest speaker may be. This guest speaker forum is not part of any NYFA curriculum and attendance at guest speaker events is purely voluntary. Students should be aware that guest speaker events do not represent a job opportunity nor are they intended to provide industry connections.
by nyfa