http://vimeo.com/22514262
When nine students in a New York Film Academy acting class met this past September, there was an immediate chemistry between them. The students, who were all passionate about helping further each others careers and getting opportunities to collaborate outside class, came up with new web series Losing Ground.
Losing Ground follows 12 young people from all over the globe tackling relationships, careers, and belief systems in the city. Though the show only premiered this past week, the pilot has already had almost 1000 views in three days! New York Film Academy took the opportunity to catch up with the creators (all current NYFA students), including Producer Liana Afuni and Writer Tom Machell.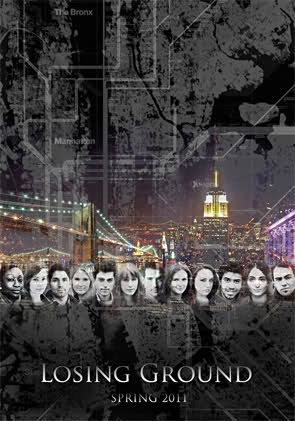 Where did the idea for Losing Ground come from?
The idea for this web-series started as a result of wanting to involve all nine class members that were a part of a September Acting Conservatory Program at The New York Film Academy in New York. The nine of us had such incredible chemistry as an ensemble, and we were all passionate to help each other further our careers. We worked on a lot of improvisational work in our Acting Technique class led by John Desiderio. John always said that in all of his years of teaching, he has never seen such a group work so well together. Once we knew that we wanted to develop a web-series, we approached John and asked him if he'd be interested in directing it for us. As a result of that, a lot of the scenes in this series are based off of improvisational work. The ideas for some of the stories are a result of collaborative input from members of the cast. The ideas were taken and further developed by our screenwriter (and current NYFA student), Tom Machell.
We were thinking up themes for a web-series that would resonate with people of our age (18-25), which is that of "identity crisis" – Hence, the name "Losing Ground" which is synonymous to a loss of identity or a crisis. We all come from different backgrounds, and wanted to use that as part of our stories. We are not fabricating our nationalities in this series, everyone is sticking true to their native background. We used our backgrounds to our advantage, which further aided some characters in Losing Ground.
How did the rest of the cast and crew get involved?
As we developed the series, the nine of us needed additional cast members to complete some of our stories. This led to us casting three additional primary parts. Since this idea was started by NYFA acting students, we utilized other NYFA students for additional roles.
Our director, John Desiderio is a faculty member at NYFA. He instructed September Section F for Acting Technique. When we presented him with the idea of starting a web-series, he was totally on board and has been a critical element to the entire project.
How has the process of actually filming the series been?
The process of filming the series, as is any project in life, has its ups and downs. Fortunately though we fostered a positive energy and understanding among our cast and crew that has allowed us to overcome some of our difficulties. The New York Film Academy has been incredibly supportive – special thanks to Acting Chair Glenn Kalison for taking an interest in the project and providing us with the necessary equipment for shooting.
The one crucial factor, aside from support, that has allowed us to continue with this project is the dedication of all those involved. The cast members who are not due to shoot on a particular day are called in as helpers on set. Our process is immensely collaborative. The glue that holds us together is our collaboration and teamwork. Although we have delegated tasks to specific people, we still reach out to each other for help, solutions and ideas.
by nyfa