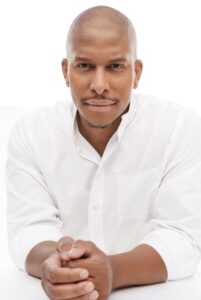 NYFA alum Nathan Hale is an award-winning filmmaker, best-selling author and entertainment attorney. Hale is a two-time NAACP Image Award® nominee, the recipient of the Thurgood Marshall Prestige Award for Excellence; and his film, Burden, about an educated Black man who, in spite of his success, still must confront the micro and macro aggressions that come with being a Black man in America face, premiered "Best Picture" at the American Black Film Festival (ABFF). Another film of Hale's, Dirty Laundry, won at ABFF for Best Picture.
Nathan Hale is also passionate about HIV/AIDS advocacy. He partnered with the AIDS Healthcare Foundation and Hale's upcoming project Love Will Save the Day, zeros in on the subject in an effort to destigmatize and educate the black community on the virus. In the film, A guarded Chicago lawyer who's given up on love discovers that her chance for true love might be found in the unlikeliest person – her political opponent. The two navigate their past issues while trying to build their own relationship. One of them is also HIV positive. 
Hale's reputation as a storyteller with an eye for nuance precedes him, and his sophomore film is expected to be as groundbreaking as All Boys Aren't Blue. The 40-minute film, based on the memoir of the same name by George Matthew Johnson, tackles issues of masculinity and queerness in relationship to Blackness. Each character represents Johnson at different stages of their life, chronicling their story of growing up and challenging gender identity norms, as well as learning to adapt to living with HIV/AIDS. The film won a GLAAD Media Award, and two Telly Awards, including one for Nathan Hale's 'Outstanding Direction,' an inaugural Anthem Award, and Best Narrative Feature at the NewFest Film Festival.
Before venturing into the world of entertainment and film, Hale was a lawyer with limited knowledge of the entertainment industry. But he was committed to learning, "I had to teach myself a lot of the craft and learn on the job…NYFA helped me in this process."
Despite already being a decorated filmmaker and author, Hale is committed to learning and expanding his repertoire. In 2020, he took Online Cinematography to learn the language of cameras and lights. Hale shared with NYFA, "I took the [Online Cinematography] Class to understand the fundamentals of cinematography and shot composition. So that I could be better educated when talking to my DPs and camera people. [I also wanted] more knowledge of basic lighting techniques".
NYFA congratulates Nathan Hale for his commitment to his craft and for all of his success!
by nyfa