On Feb. 8th, New York Film Academy alumnus Matty Cardarople came back to his roots to showcase his latest work in Netflix's "Lemony Snicket: A Series of Unfortunate Events."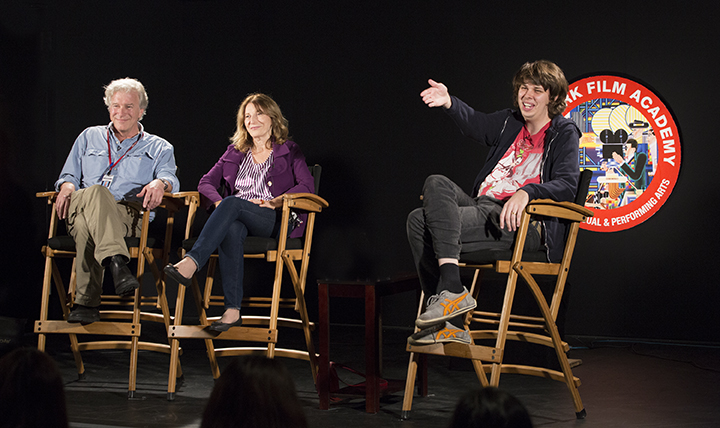 The popular children's book written by Lemony Snicket has had fans on the edge of their seats since the show's premiere on Friday, Jan. 13th. The theater was packed with students eager to discuss a childhood favorite come to life.
Cardarople was seen earlier this year in Mike Mill's "20th Century Woman" and "Jurassic World." He's appeared on television shows "The New Girl," "Scrubs," "Bella and the Bulldogs," "Comedy Bang! Bang!," and "You're the Worst."
Guest Lecture Series Chair Tova Laiter and Christopher Cass, Associate Chair of Acting for Film, hosted the evening at the Los Angeles campus. Ms. Laiter began with the question, "How did you start?" Cardarople replied:
I chose NYFA back in 2002…BC. I'm just kidding. I was nineteen. It was a long time ago. I studied here for a year and then I came back and did my own film with (Industry Lab) 'I worked in production as a boom operator and a PA. I was an assistant director. I was craft service. I was a camera assistant. I did everything. You guys know. You've all learned that stuff.

Then, Luke and Owen Wilson put me in a film called 'Drillbit Taylor.' I played a 7/11 clerk because that's what I do. I play a lot of clerks. Then it really started to take off. I had seven years of commercials here and there. It was kind of dead cause I was going through this heart surgery at young age. It was a bummer.

Then about three years ago I thought, 'You know, I just really need to put myself out there. I'm going to go for it.' I started to network and meet a bunch of people. That's what it's really all about; meeting good people and forming good relationships.

If you are struggling right now and thinking I'm not going to make it. Just be patient. Just work hard and be nice and you can really go far. If you're scared right now, it's going to be okay. Everything is going to work out. Just keep moving forward. That's my story.
One student asked Cardarople what projects and people he would like to work with in the future. Cardarople responded, "I'd love to work with Jim Carey. I want to make stories that inspire people."
The New York Film Academy would like to thank Mr. Cardarople for taking the time to speak with our students. This year you can find Matty Cardarople in the HBO series "Crashing" and the feature film "Please Stand By" starring Dakota Fanning and Toni Collette.
by nyfa