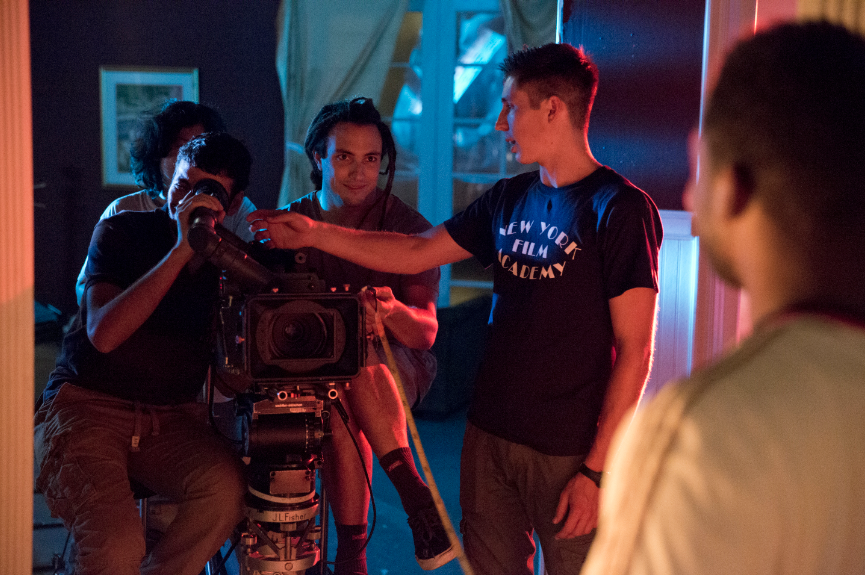 At New York Film Academy's Los Angeles campus, the MFA and One-Year Cinematography students have recently completed a two-week workshop on the soundstage at Universal Studios. Taught by instructors, Tommy Maddox-Upshaw (credits include the upcoming Straight Outta Compton, Iron Man 2, When the Levee Broke), Jacek Laskus, ASC (The Devil's Arithmetic, The Guardian, Parting Glances) and Suki Medencevic, ASC (The Pixar Story, I Hope They Serve Beer in Hell, Jonas), the cine students took this unique opportunity to apply all of the skills they've been building and put them to use in a professional stage environment.
The workshop began with students designing two sets in the Universal sound stage: putting up the flats, painting the set, and getting the props and set decoration in place. With their set built, the students began conducting their lighting exercises and learning the nuances of how to work in a setting where the cinematographer has complete control. They made use of increased available power, firing up bigger lighting units including 5K tungsten fresnels to illuminate the sets. This was also an opportunity for the NYFA cinematographers to focus on camera operating and shot design. Students used advanced dollies to move the camera smoothly and execute intricate moving shots. Scenes were shot using a variety of film and digital formats including Super 16mm, 35mm, and the Red Epic system.
Throughout the workshop, students learned many new techniques for lighting sets, creating different moods and effects with light, moving the camera, and staging shots. At the end of the two weeks, these cinematographers had completed difficult lighting setups and dynamic moving shots, and each had some great new shots for their reels. The knowledge built during this workshop provides a fundamental set of skills for our students, giving them an edge as they move towards their careers in the film industry.
by nyfa