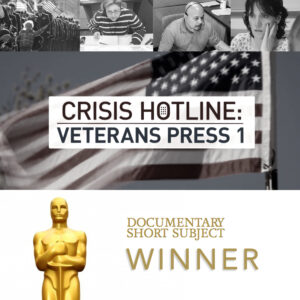 Crisis Hotline: Veteran's Press 1, which won the Academy Award for Documentary Short Subject, was edited by Geof Bartz, New York Film Academy's Documentary Curriculum Adviser, Master Class Professor and Supervising Editor in HBO's Documentary Department. This is Bartz' third Oscar win from a total of 5 nominations over the years.
Crisis Hotline is a touching 40-minute documentary, condensed from 100 hours of footage of VA's suicide hotline call center, located in Canandaigua, New York. The documentary delves into the deep compassion, emotions and stresses call center operators endure when working daily to help and save suicidal veterans. Many of these operators are in fact veterans themselves, military family members and former service members.
Nearly every hour, a veteran takes his or her own life. The film brings much needed attention to this issue and other challenges veterans (and their families) face when returning to civilian life.
"We are hopeful this documentary will help raise awareness of this important issue with the American public," VA Secretary Robert McDonald said.
Producers Dana Perry and Ellen Goosenberg Kent went on-stage to accept their aware, with Perry dedicating the film to her son Evan who died at age 15 in 2005.
by nyfa