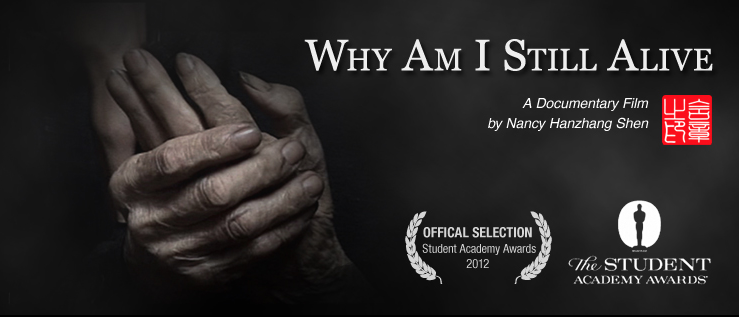 Documentary Filmmaker Nancy Hanzhang Shen is in charge of New York Film Academy's Chinese Social Media and works as a liaison with Chinese colleges. Her latest documentary film Why Am I Still Alive was a finalist for the US Student Academy Awards®2012 and Winner of Best shorts Documentary Festival 2012. The film has screened at the Academy Theater at Lighthouse International in New York City, White Sands International Film Festival 2012, and the China International Education Fair on Cultural & Creative Industries Exhibition. The film is currently screening at New York City Independent Film Festival 2012.
Here are just a few words of appraisal from respected industry professionals:
"What a beautiful, heartbreaking film. Exquisitely done, and my heart aches for the film's subject."— Ilene Starger, member of the Academy of Motion Picture Arts and Sciences
"The film is a wonderful piece of work. It deserves to be really widely seen." —Tom Hurwitz, ASC Four Academy Awards for Best Full-length Documentary
"You didn't give up! That is what it takes to be a filmmaker. You are only one person and you can and will make a difference." — Maryann Deleo, ACADEMY AWARD winning filmmaker (Chernobyl Heart)
The NYC Independent Film Festival will screen the film at the Producers Club on Sunday, Oct 21st, 2012.
The Producer's Club is located at 358 West 44th Street New York, NY 10036 (Between 8 ave and 9 ave.)
For tickets and more information, click here.
by nyfa