Filmmaking students from New York Film Academy's Los Angeles campus gathered with family and friends at the Harmony Gold Theater in Hollywood on Saturday, September 19th to receive their MFA, MA, and BFA degrees. There were two commencement ceremonies that occurred at 2pm and 6pm, each completely filling the 400-seat venue. Presiding over the ceremony, speaking, and presenting degrees from the Filmmaking Department were Chair Art Helterbran, Associate Chair David Newman, and Associate Chair Ed Timpe, as well as Dean of Students Eric Conner, and Dean of Academic Advising Mike Civille.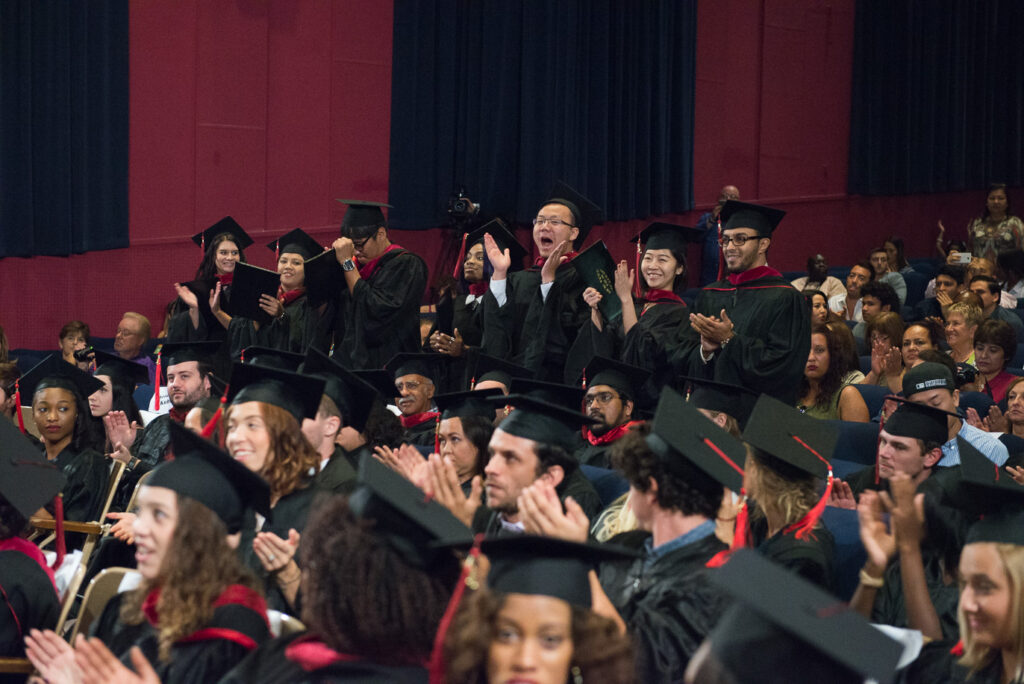 Commencement Speakers Erik Bork and Peter Strauss gave words of inspiration and advice for the future. Erick Bork is best known for his work on the HBO miniseries Band of Brothers and From the Earth to the Moon, for which he wrote multiple episodes and won two Emmy and two Golden Globe Awards as part of the producing team, and his blog Flying Wrestler for which he was named one of the "Top 10 Most Influential Screenwriting Bloggers" in 2014.
Since 2001, Peter Strauss has served as Executive Vice President of Mandalay Pictures (Sleepy Hollow, Donnie Brasco, I Know What You Did Last Summer). Before that he presided as EVP and Director at Allied Artists Pictures Corporation (Cabaret, Papillion, and The Man Who Would Be King), EVP at Rastar Films, President of Panache Productions Inc., and President, CEO and Chairman of the Board at International Movie Group Inc.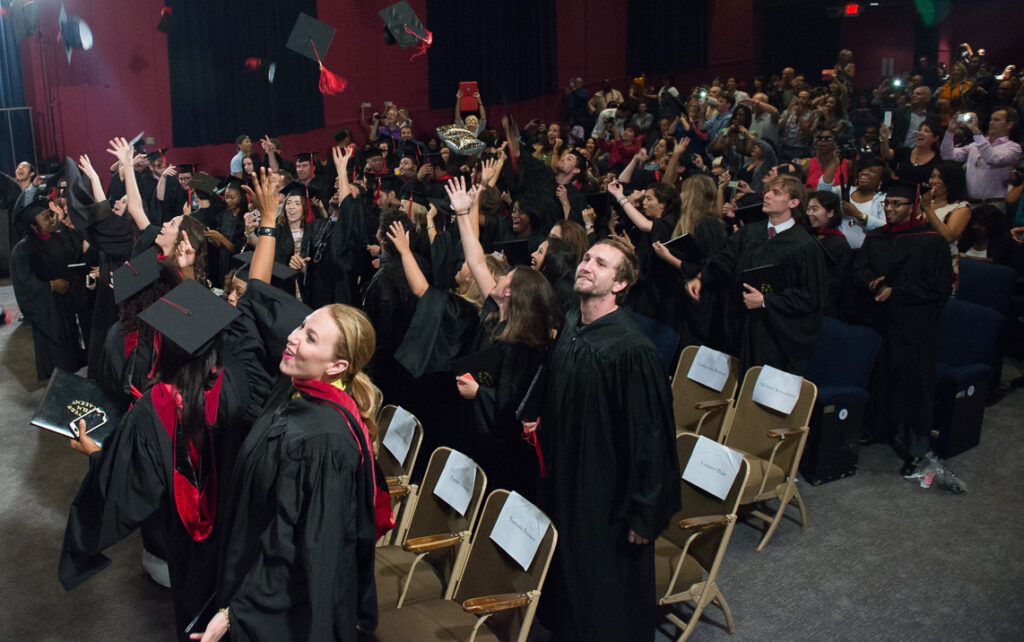 The graduates and their guests celebrated afterwards in the stylish party atmosphere of the Andaz Hotel's Riot House Restaurant on the Sunset Strip.
Congratulations to New York Film Academy's MFA, MA, and BFA Filmmaking Graduates!
2:00PM CEREMONYMFA in Filmmaking

Abdullah Abuljadail
Amal Aljohani
Daryl Anderson
Jared Carlson
Zenana Coombs
Kraig Dane
Xiao Guo
Seung Hoon Han
Amber Darlene Hayden-Gardenhire
Luis Henriquez
Ishani Jayamaha
Xiaochen Jiang
Jalon Johnson
Jun Kuang
Chantal Le Hunte
Chenxi Li
Guo Li
Xinyi Li
Yi Li
Kah Kai Liew
Simone Loudd
Binbin Ma
Runyu Ma
Allyson Manno
Luka Mgeladze
Andrey Milyayev
Brian Nkosi
Oliver Ernesto Olivo Batista
Alvaro Ortega Sanahuja
Stjepan Ostoic Papic
Tomer Preis
Catherine Rand
Eeshaan Roy
Martin Ruiz
Javier Salvago Escalera
Juan Sebastián Sarmiento Bazzani
Ke Shi
Shrunal Tembhurne
Leila Viera
Mariana Wahrhaftig
Sheng Wang
Meghan Weinstein
Yifan Xiao
Wei Xin
Fanting Xu
Kang Xu
Yunyi Zeng
Mimi Zhang
Jinming Zhao
Lin Zhao

Daniel Brizuela
Casey Daniel
Georgy Gorshunov
Brian Hayes
Casey Hempel
Richard Jacob
Gary Kent
Timothy Kirkpatrick
Carolina Mejia Lartilleux
Brian Melo
Sean Miyakawa
Andrey Nuzhnyy
Mariana Robles Thome
Brittney Sugar

Federico Bartolucci
Jose Guilherme Correia Jr.
Kellen Gibbs
Rochel Goldsmith
Fernando de Oliveira Haddad
Brooke Marshal Hagen
Oscar Ferid Hasbun Alcala
Johannes Hochgatterer
Sergey Korchinskiy
Edward Orozco
Thomas Personeni
Hans Stjernswaerd
Robert Styles
Siyu Wang

6:00PM CEREMONYMA in Film & Media Production

Zhirayr Avetisyan
Pierre Beaufrand Mendoza
Grigory Borodavkin
Ecenaz Bulat
Yiqi Cao
Junnian Cheng
Kamala Khanna Chittoor
Ifeoma Chukwuogo
Shiyuan Dai
Daniel Frank Demenezes
Iaroslav Denisov
Joaquin Fernandez Martin
Shan Gao
Markel Goikoetxea Markaida
Zhuoying Han
Yuzhe Huang
Stephen Johnson
Varun Kalyanasundaram
Dhrunad Gautambhai
Lyndall Eileen Klinkert
Yan Li
Binyue Liu
Lishuo Liu
Ye Luo
Wanlin Ma
Ioannis Marinopoulos
Huan Mo
Vasha Narace
Adesola Ibrahim Omidina
Shiyao Peng
Raja Pothineni
Otbah Rayess
Kevin Robert
Carla Roda Gomez
Jainardhan Sathyan
Shobi Nadeesha Chamini Seneviratne
Leqi Tao
Sophie Ellen Taylor
Liang Xie
Yunrui Yang
Ying Ye
Qianwei Zhang

BFA in Filmmaking

Mohamed Alaali
Mohammed Alhiniah
Madina Altynbayeva
Pedro Paulo Araujo
Matthew Beilinson
Sanzhar Bekzhanov
Ahmed Bhabhrawala
Pedro Borges
Maria Gabriela Cardenas
Yu-Ning Chen
Napoleon Cheung
Adrian Cicerone
Alisson Fhal
Louisa Grams
Alejandro Ibarra
Huibing Jiang
Bud Jones Jr.
Chi Shun Lee
Linxuan Li
Kwok Yaw Loh
Teng Ma
Mzonke Maloney
Diego Mejia Lartilleux
Karolina Mikolajczak
Aditya Mohan
Noan Ribeiro
Marcelo Rodrigues Barbosa
Omar Said
Zichen Song
Brianna Flores Stanton
Kang Yang
Victoria Yang
Zhikun Yu
Yi Zhang
Yimo Zhao
Yinpeng Zheng
by nyfa