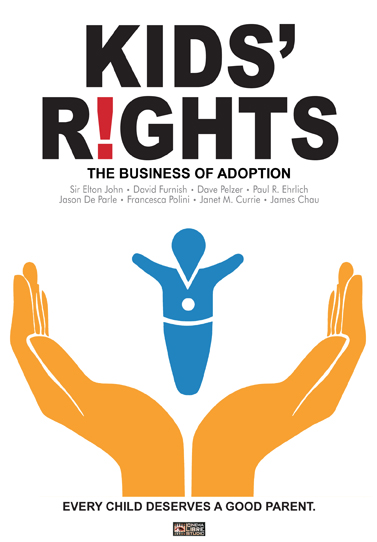 Michael Dudko, a graduate of the New York Film Academy, has worked for over 10 years as an independent film producer and director working in various formats – from animated 3-D, narrative, and documentary films to television products, programs, commercials, infomercials, and music videos. In 2013, he completed his first documentary feature, Kids' Rights: The Business of Adoption, which was acquired by Cinema Libre Studio.
The documentary dissects the trials and tribulations of today's adoptions process. Adopting a child means undergoing rigorous assessment marked by bureaucracy, paperwork and often, an outlay of cash. After personally witnessing Sir Elton John and David Furnish's failure to adopt, filmmakers Michael Dudko and Olga Rudnieva ask themselves if they are fit for parenthood. Their investigation of the regulations, cultural prejudices, and child trafficking policies behind the process takes them from the slums of Ukraine, through China, and the US. They speak with prospective parents, social workers, lawyers, psychologists, and adoption agencies to find a flawed system that allows millions of orphans to languish in foster care and learn that children lack the most basic human rights.
Olga had been working as the executive director of the Elena Pinchuk AntiAIDS Foundation, where she was in charge of launching and managing major project of the Foundation. One project was Sir Elton John's charitable concert devoted to HIV/AIDs in cooperation with the Elton John AIDS Foundation. A few years later, Sir Elton and his partner David Furnish returned to Ukraine to observe the progress being made in the fight against AIDS. They had never considered having children until they visited Makeevka Orphanage, which is dedicated to children born to HIV positive mothers, and met a young boy named Lev. They were prepared to adopt Lev and his older brother Artyom, but the Ukranian government said no, claiming that homosexuals have no right to become parents.
"Our main inspiration for making the film is our strong desire to build a new society where the children's rights would be considered before anything thing else," says Dudko. "By making this film we hope to fight against this injustice and draw the public's attention to what children really need: parents."
Kids' Rights: The Business of Adoption will be available on DVD starting May 20th, 2014 with Streaming Video and Download-to-Own options starting June 20, 2014.
by nyfa