With gender equality being ever more present in today's modern relationships, the upcoming film, "Dependent's Day," tackles this theme after the leading woman claims her boyfriend as a dependent on her tax returns. Directed by Michael David Lynch, the romantic dramedy stars New York Film Academy Los Angeles Directing instructor Joe Burke, along with actress Benita Robledo. Outside of his teaching, Burke has appeared on the critically acclaimed Showtime series "Ray Donovan," as well as the popular Disney show "Dog With A Blog."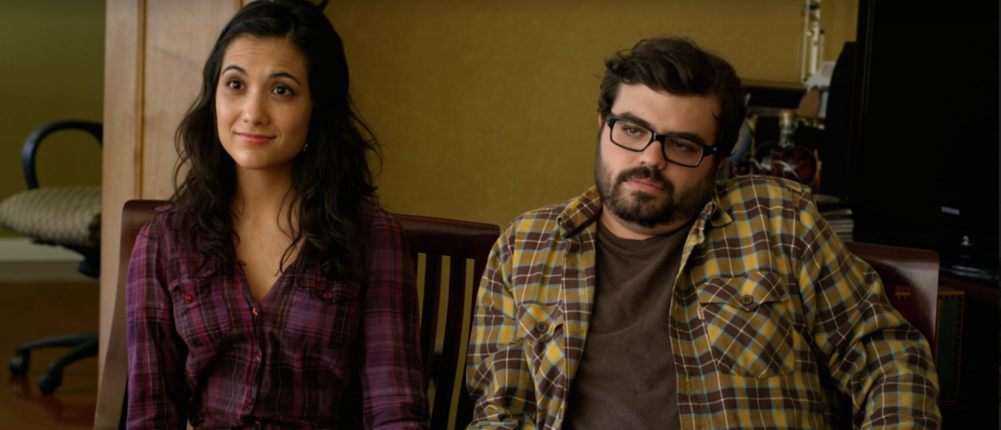 We decided to have a little chat with the actor, filmmaker, and NYFA instructor, to find out more about his upcoming film, which recently received a glowing review in the LA Times.
Congrats on the film! How did this role come about for you?
The role of Cam in "Dependent's Day" came about through a mutual friend. Writer/Director Mike Lynch was preparing to make a new short film and was looking for a lead actor who would be perfect for his project; and our mutual friend Josh Staman (also in the movie) recommended me to Mike. At the time, Mike knew me more as a filmmaker, not as an actor, but still invited me in for a table read after Josh's recommendation. So I met with Mike, and actor Benita Robledo, and we did a table read of the short film Mike had written. We ended up improvising on top of the short film script and exploring the material a bit (which was a lot of fun). After one thing led to another, Mike quickly decided this idea was not meant to be a short film, but something bigger.
After exploring the idea of making a web series, we landed on going out and making a feature film two months later. I personally knew Mike Lynch before "Dependent's Day," and was actually an extra in his student thesis film yeas ago. But I think that's a great story, and one I always share with my students, because you never know who you might meet in film school and later collaborate with down the road. And to go from being an extra in one project to the lead in the next (10 years later), just shows how much you need to trust the process and stick with it.

Dependent's Day Trailer from Michael Lynch on Vimeo.
Can you tell us a little bit about your character and his role in "Dependent's Day"?
I play the role of Cam in "Dependent's Day." He's our hero character that we follow through the film (as flawed at times as he may seem). But he's a dreamer. And a guy going after his dreams in Hollywood. Something I can certainly relate to…we all can. And he struggles on finding the balance of how to both go after his dream while stepping up his game in his relationship with his girlfriend, Alice (played by Benita Robledo), who is the breadwinner of the relationship. Cam is a very sweet character with a big heart, and though he doesn't always make the best decisions at times, he is certainly trying to do his best in life and figure it out. It's a really hilarious and heartfelt role, and I had a blast playing it.
You seem to have such a camaraderie with Benita in front of the camera? What's the secret?
Working with Benita Robledo was great. We hit it off early on at the table read and found a great rhythm for these two characters. I think the key to developing a great chemistry with your co-stars is to really allow yourself to dive deep into the world of the character. To really feel like you're in the characters shoes and to be grounded in all your decisions. Even for a comedy like "Dependent's Day," we always wanted to play it 'real and honest.' And another big key factor is to truly listen. The art of 'listening' as an actor is super important. It keeps you on your toes and allows you to react naturally in the moment to what's going on. I always say keep it authentic. Mike, Benita, and I had a really fun time bringing these characters to life.
Do you consider yourself primarily a filmmaker or actor? Or both?
I definitely consider myself both a filmmaker and an actor. I have been doing both since I was a young kid. I did focus a bit more on filmmaking in college, but I truly enjoy both so much that I wouldn't be able to do just one. And on "Dependent's Day," I was still in a position to bring my filmmaker side to the project, collaborating closely with director Mike Lynch. I am co-producer on the film, and also had fun helping develop the story and edit the movie.

HOUSE SITTING from Joe Burke on Vimeo.
I write and direct a lot of my own films as well, and most recently I wrote/directed a new short film titled "House Sitting," which I also starred in. So working behind the lens and in front of it at the same time was really an exciting challenge and something I look forward to doing a lot more of — as well as looking forward to more awesome opportunities to play great characters and collaborate with other talented filmmakers on their projects.
Do you believe it's important for young filmmakers to understand and perhaps get some hands-on experience as an actor?
I think it's so important for a young filmmaker to understand the process of acting. I think the more you understand acting, and have some experience being an actor, the better director you will be. Also, having directing experience will make you a stronger actor. It all goes hand-in-hand. But I think getting strong performances is the most important part of making a movie… and in order to really achieve that, you have to have a really strong grasp and understanding on what the process of acting is all about. You have to really know how to communicate well with your actors. I would encourage every young filmmaker to take a couple of acting classes and learn that side of it. It's very valuable and will make you a much better director.
So when can we see it?
We put a lot of time and energy into making "Dependent's Day" and we can't wait for everyone to see it as soon as it releases on VOD October 18th.
by nyfa