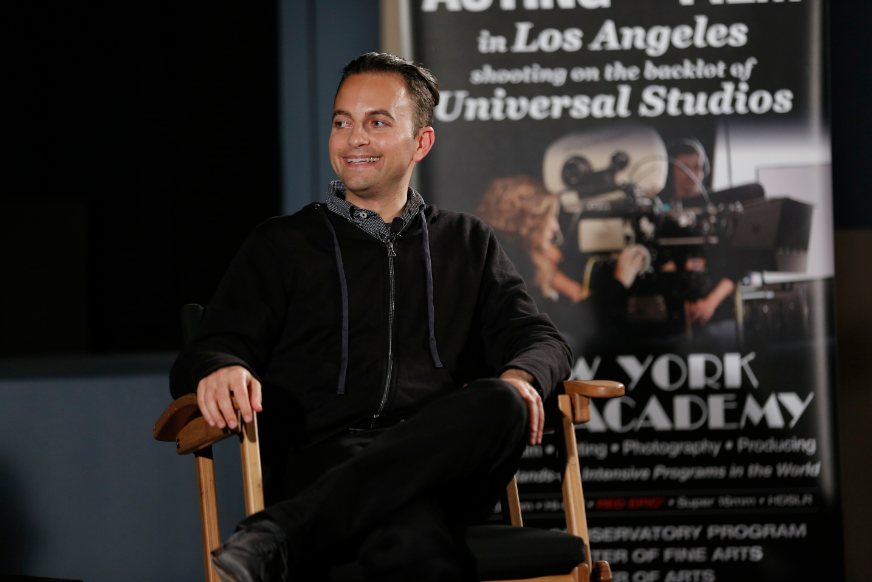 On February 12th, the New York Film Academy hosted a Q&A at Warner Bros. Studios with renowned talent manager and movie producer Oren Segal. Beforehand, the students watched Burning Palms (2010), the latest film produced by Oren on the big screen, starring Zoe Saldana, Rosamund Pike, Paz Vega, Lake Bell, Nick Stahl, Jamie Chung, Anson Mount and Dylan McDermott. The film contains five connected shorts about lifestyles taken to the extreme in Los Angeles with the tagline, "Five stories that will mess you up for life." Dark, twisted, and unforgivingly original, the movie set the tone for a one-on-one with a Hollywood player equally as refreshing.
Oren began by explaining how he became involved with Burning Palms. As fate would have it, he befriended writer and director Christopher Landon's sister in an art class. She told him, "You've got to read my brother's script. It's really crazy but I think you'll like it." After reading the script and meeting with Christopher, Oren felt he had found something very unique that could break the Hollywood mold. Oren teamed up with Christopher as producer of the project and helped him hone what were eight connected shorts into the five most cinematic ones. After five years of arduously searching for financing he finally raised private equity and made the film.
Within the entertainment world, Oren climbed the ranks quickly by taking on a string of internships right out of high school with the William Morris talent agency, director Nancy Meyers, producer David Friendly, and director and producer Gregory Hoblit. After college, Oren decided to work in management because he wanted to represent actors, writer, and directors as well as produce. Oren joined Media Talent Group, where he was soon promoted to a manager and represented actors, writers and directors that included Angelina Jolie and Billy Bob Thornton. After seven years, Oren partnered with manager Carol Bodie to form Radius Entertainment where they work with a list of talent that includes actors Kim Basinger, Kate Bosworth, Shannyn Sossamon, Paz Vega, writers Milo Addica and Neil Strauss, and directors Peter Bogdanovich and Michael Polish.
In deciding what actors to manage, Oren feels it's important to work with performers with range, ability and whose presentation has a certain something that really touches you. After being asked about the barriers faced by minority actors, Oren stated he doesn't acknowledge those barriers. To him it's purely about the performance. If an actor can move an audience, anyone will want to work with them.
For Oren, producing is a creative outlet that balances the management side of his life. When talking about the joys of producing, he said, "I think all of it is rewarding. I think being able to work with your writer/director from start to finish is amazing. Sometimes the end result isn't exactly what you envision, but it's a good ride. It's a lot of work, but you learn from it. You learn and you grow. As a producer it's important to have those experience good and bad."
Oren's advice for aspiring actors was to attend an acting studio that has showcases that allow you to be discovered, join websites such as Actor's Access, be apart of student films and just put yourself out there as much as possible. "You cannot take no for an answer." It's clear from listening to Oren speak that he embodies this principal. When searching for financing for Burning Palms he exhausted every contact he had ever made—literally hundreds. And where a less-driven producer would have thrown in the towel, he didn't. It's just the type of guy Oren Segal is—a true inspiration to follow your dreams and never give up.
by nyfa