There's something inimitable about the experience of sitting in the audience as a soaring piece of musical theatre plays out onstage in front of you. It was just such an experience that set Kristy Cates, Chair of Musical Theatre at NYFA's New York campus, on the path that would lead her to success on- and off-Broadway. From that seven-year-old girl who loved singing and dancing to a teacher shepherding along the next generation of stage superstars, Kristy is an original member of NYFA's Musical Theatre department and a guiding light to all who pass through its doors.
NYFA Chair of Musical Theatre (New York), Kristy Cates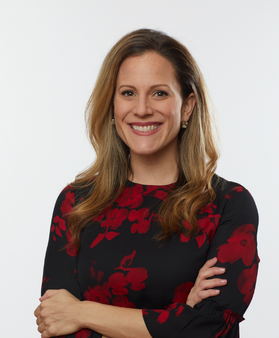 A graduate of the University of Cincinnati College – Conservatory of Music, Kristy has enjoyed a successful career treading the boards on Broadway and around the country. A member of both AEA and SAG-AFTRA, she appeared as Elphaba in Wicked, appearing on Broadway, Chicago and the first national tour.
She has also portrayed Miss Bassett in Finding Neverland and Grandma Josephine in Charlie & The Chocolate Factory, both on Broadway, featured in Jerry Springer: The Opera at Carnegie Hall, and has taken part in numerous off-Broadway and regional productions over the years.
We talked with her about helping to start the Musical Theatre department at NYFA, what she loves about teaching, and the most important lessons she tries to impart on her students.
New York Film Academy (NYFA): How did you first get interested in musical theatre?
Kristy Cates (KC): When I was around seven years old, my parents took me to see the National Tour of 42nd Street in San Francisco – and I LOVED it. I really enjoyed singing and dancing, and it was so exciting to me that there were live shows which incorporated both elements (plus acting) in storytelling. From that point on, I was hooked! I participated in many musical theatre productions growing up, and it really shaped my life.
NYFA: What have been your favorite projects/productions to work on to date?
KC: Well…of course, it was incredible to be part of the original Broadway Cast of Wicked. In my four years with the show, I learned so much about myself, this business, and just how incredible the impact of musical theatre can be across the globe. I also really loved being part of Finding Neverland on Broadway, as it's such a beautiful show that reminds people to believe in the child within. In terms of NYFA shows/projects that I have produced – I could never pick a favorite. That would be like trying to pick a favorite child!
READ MORE: New York Film Academy (NYFA) Welcomes Golden Globe Nominated Actress Beanie Feldstein
NYFA: Tell us about your time at NYFA.
KC: I have been with NYFA since the inception of the musical theatre program in 2009 as the original Song Interpretation teacher. In 2014 I was promoted to Creative Director and began to produce our live productions while also continuing my teaching schedule. I became the Chair in March of 2020, right before the pandemic. I have learned so much these last 13 years and am so grateful for the opportunity to help usher in new generations of musical theatre performers.
NYFA: What are your favorite courses to teach?
KC: I love working with our students as they prepare to graduate. I teach a voiceover class where each student creates a demo reel, as well as a graduation panel/prep class where we work on filmed audition pieces as well as their final live performance. It's exciting and fascinating to bring in industry guests to meet our graduating students, as I learn quite a lot from the feedback they provide and have their own unique perspectives on where each person might find success in our industry. It's very rewarding to work with our actors as they prepare to leave NYFA and take on the "real world."
NYFA: How would your students describe your teaching style/methods?
KC: Oh wow. Great question, haha! My style has certainly evolved over the years. I think I started out very methodical and have developed a more organic and intuitive teaching style. I really try to help students find who they are, what they bring to the table, and what makes them unique and special. I am not into the whole cookie-cutter idea that everyone has a specific type and should live within those parameters. I like to help students discover new talents and abilities and also how to look at themselves as a whole person, not just as an actor. You have to put yourself into every piece.
NYFA: What are your favorite aspects of the theatre community in NYC?
KC: It's really a family. I know that sounds cliche, but it's the truth. I love seeing my friends in their shows and supporting their endeavors – just as I feel they always support mine. Sure, at the end of the day, it's still a business….but the meeting of so many creative minds is fascinating, invigorating, and inspiring.
READ MORE: Students Enter Center Stage For The Bachelor Of Fine Arts In Musical Theatre
NYFA: Who do you believe have been some of the most significant actors or actresses in theatre?
KC: Instead of naming actors, of which there are SO MANY, I am going to name my favorite composers that I feel have shaped the landscape of our art form: Stephen Sondheim, Stephen Schwartz, Lin-Manuel Miranda, Jeanine Tesori, Boubil and Schoenberg, Frank Loesser and Jason Robert Brown.
NYFA: What are some of your favorite shows?
KC: My daughter and I are HUGE fans of Hamilton. It's definitely on the "most played" list in our apartment. I also love Ragtime, Miss Saigon, City of Angels, and Into the Woods.
NYFA: What advice would you give a prospective student looking to get started in musical theatre?
KC: First and foremost, you have to believe in yourself and your talent. You have to know what you offer and be willing to share your authentic self in any role, song, or monologue that you undertake. It's okay to make mistakes – perfect is boring! You also have to be willing to put in the work. This is a competitive business, and there is always someone out there willing to work as hard as it takes to be better each day. Also, don't listen to the haters and the doubters. If musical theatre is in your soul, you owe it to yourself to chase that dream….there IS room for everyone.
Enhance Your Voice, Movement, Dance, and Performance Skills at NYFA
Ready to pursue your passion for musical theatre? Check out our BFA degree program, certificates, and workshops in Musical Theatre, all located at our NYFA New York campus.
by nyfa