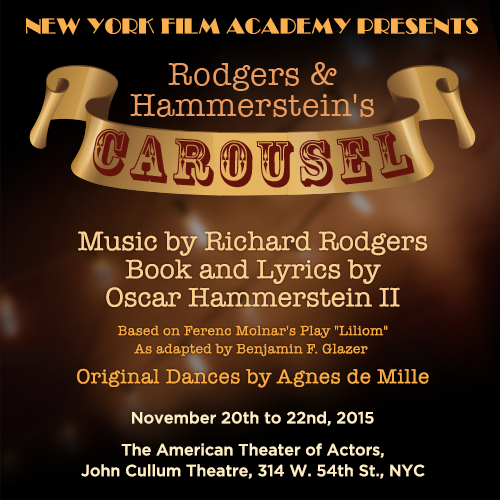 Continuing on the success of its last three musical productions, the
New York Film Academy Musical Theatre Program
is gearing up for its for fourth stage performance, Rodgers and Hammerstein's 
Carousel
, which will take place from November 20-22nd at the American Theatre of Actors in New York City. Based on Ferenc Molnar's play
Liliom,
as adapted by Benjamin F. Glazer
, 
the play centers on a Maine coastal village toward the end of the 19th century. The lead male is a swaggering, carefree carnival barker, Billy Bigelow, who captivates and marries the naive millworker, Julie Jordan. Billy loses his job just as he learns that Julie is pregnant and, desperately intent upon providing a decent life for his family, he is coerced into being an accomplice to a robbery. Caught in the act and facing the certainty of prison, he takes his own life and is sent 'up there.' Billy is allowed to return to earth for one day fifteen years later, and he encounters the daughter he never knew. She is a lonely, friendless teenager, her father's reputation as a thief and bully having haunted her throughout her young life. How Billy instills in both the child and her mother a sense of hope and dignity is a dramatic testimony to the power of love. It's easy to understand why, of all the shows they created,
Carousel
 was Rodgers & Hammerstein's personal favorite.
"Carousel has always played a part in my life as a performer," said director and choreographer, Chad Austin, who is an instructor at the New York Film Academy. "I have danced the role of 'carnival boy' in multiple productions. I knew we had the talent to tackle this massive musical, and I felt it was a great time to produce a Golden Age Musical!"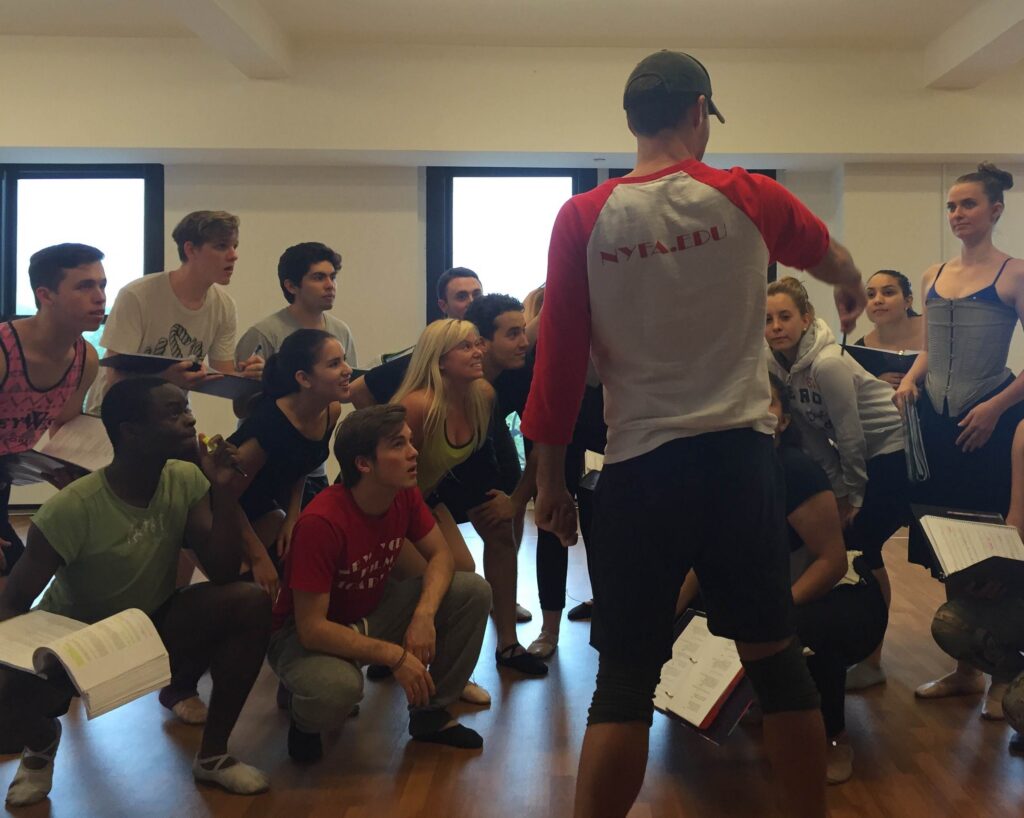 The NYFA cast has worked diligently these past few months going through the rehearsal process because for most of them this show is a huge stretch, both as dancers and actors. Some consider Carousel one of the best books of a musical—that alone tells you how much they have been digging into the character work in order to tell the story.
Taking on both director and choreographer was a thrill and challenge," added Austin. "Luckily, I was able to create most of the choreography months before with my amazing associate choreographer, Ilda Mason [NYFA Musical Theatre alumna]. While creating the concept of the show I had the freedom to make choices that might otherwise not have happened if I wasn't wearing both hats. I think by opening night the audience will be blown away by the level of talent we have at NYFA."
Austin believes the performance will not only introduce a classic to our students, but also provide a story that will resonate with today's modern audience.
"The struggle with Carousel and other musicals from its era is that audiences sometimes feel disconnected from the material. When you strip down the themes of Carousel and tell the story it is simple and touches people of all ages. I hoped to turn an epic musical into a intimate one."
NYFA students, employees, and alumni may purchase up to two $10 tickets with Jordan Dragutsky in room 420 at NYFA Battery Place.
All other general admission tickets are available at NYFACarousel.brownpapertickets.com.
CAROUSEL
Music by Richard Rodgers
Book & Lyrics by Oscar Hammerstein II
Based on Ferenc Molnar's play "Liliom"
As Adapted by Benjamin F. Glazer
Original Dances by Agnes de Mille
Directed & Choreographed by Chad Austin
Music Direction by Joshua Zecher-Ross and Anna Ebbesen
Production Stage Manager: Jhanae Bonnick
Associate Choreographer: Ilda Mason
Associate Director: Beatriz Cavalieri
Produced by Kristy Cates, Mark Olsen, and Jordan Neil Dragutsky
by nyfa