From Diane Arbus to Robert Mapplethorpe, New York has been home to a range of innovative photographers. At NYFA New York, we always add our Chair of Photography, David Mager, to the list. As a native New Yorker and commercial photographer, David has worked in the industry for over 20 years, mainly in the publishing market. His previous clients have included top brands and companies such as Disney, DK, Der Speigel, McGraw-Hill, Parents Magazine, Park Place Magazine Penguin, Scholastic, and Time Out NY.
NYFA CHAIR OF PHOTOGRAPHY (NEW YORK), DAVID MAGER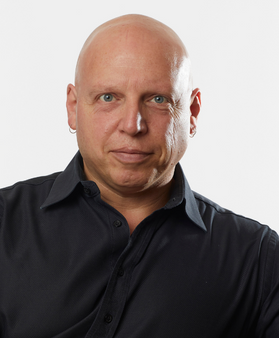 An Adobe Certified Expert in Photoshop Lightroom, David received his Master of Professional Studies from the School of Visual Arts. He also holds a Bachelor of Fine Arts from New York University (NYU). We spoke to David about his start in photography, experience, and teaching at New York Film Academy.
NYFA: How (and when) did you first get interested in photography?
It started for me in high school. I had a math teacher who also photographed Ballet. He taught me the basics of darkroom work, and I started working for him, running contact sheets.
NYFA: What have been your favorite projects to work on to date?
I am currently working on a project called 2nd Amenders; it's a series of portraits of gun owners in NJ. The process has been very eye-opening for me and allowed me to have very interesting conversations with these individuals about the reasons they own firearms.
NYFA: Tell us about your time at NYFA.
I have greatly enjoyed my 10+ years at NYFA. It has been very rewarding to watch and participate in the growth and development of the photography programs. It is also amazing to experience the diversity of ideas that come from the photography students.
READ MORE: New York Film Academy (NYFA) Students Document Indigenous Culture During Trip to Peru Inspired by Chef Virgilio Martínez Véliz
NYFA: What are your favorite courses to teach?
Photo II (studio lighting) Imaging I (lightroom).
NYFA: How would your students describe your teaching style/methods?
Open, friendly, fun, tough, but fair.
NYFA: What are your favorite aspects of the photography community in New York?
The incredible diversity of work styles.
READ MORE: Editor at Large for Special Projects at 'TIME' Paul Moakley and Magnum Photos' Moises Saman Lead Discussion with New York Film Academy (NYFA) Photography Students
NYFA: Who do you believe have been some of the most significant individuals in photography?
Richard Avedon, Gregory Crewdson, Irving Penn, Herb Ritts, Erwin Olaf, Latoya Ruby Frazier, Nan Goldin, Lori Nix
NYFA: What are some of your favorite films?
City of Lost Children, Groundhogs Day, Star Wars (Episodes 4,5,6), The Incredibles, My Octopus Teacher, Strictly Ballroom, Cinema Paradiso.
NYFA: What advice would you give a prospective student looking to get started in photography?
Photography takes not only passion, but hard work, commitment, and dedication. Find your passion first, and then bring your A-game every day.
Learn New Photography Skills and Techniques at NYFA
Ready to get started in photography? Check out our hands-on photography programs today!
by nyfa