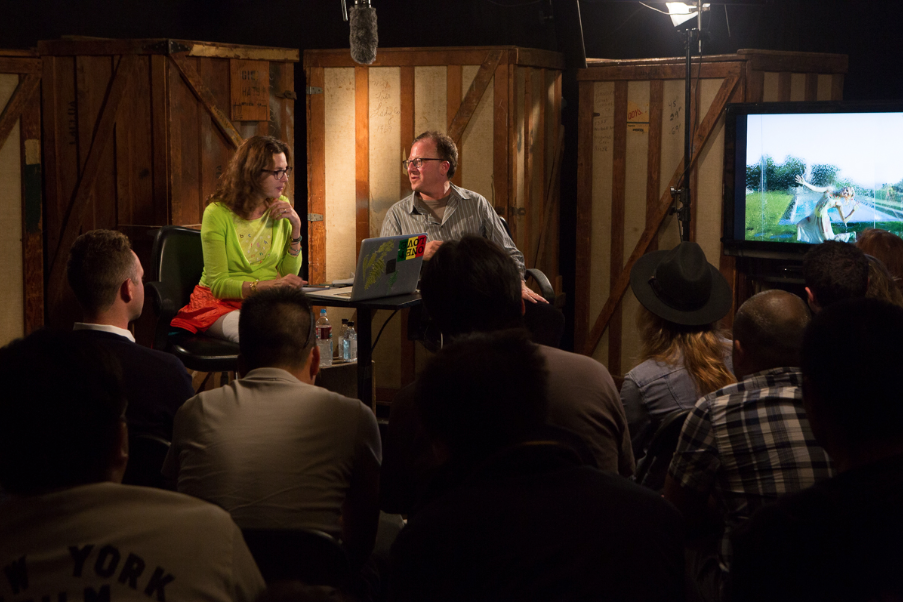 MOPLA's closing event last Sunday evening was Vision & Visionaries: A Conversation Series About Inspiration and the Creative Process, a co-presentation between NYFA Photography Los Angeles and the Lucie Foundation.
Held at historic Mack Sennett Studios in Hollywood, acclaimed photographer Tierney Gearon and design director Charlie Hess discussed Tierney's early family portraits, her move from advertising to fine art photography and her recent short films for the New York Times magazine (where Charlie discovered her work). The studio was packed to capacity, the audience comprised of NYFA Photo LA students and instructors as well as members of the art community.
"We're honored to have Tierney and Charlie at this inaugural event," commented NYFA Photography LA Chair, Bobbi Fabian, "and look forward to hosting other prominent creatives in the series. Both Tierney and Charlie pushed students to shoot, shoot, shoot, work on their style and stick with it. I hope that many of our students take up Tierney's generous offer to contact her for feedback on their work. It's an invaluable offer of assistance from a renowned photographer!"
This Q&A is the first of a series of conversations between photographers and their collaborators. The event was filmed and will be available soon on both the NYFA and Lucie websites.
by nyfa