New York Film Academy (NYFA) producing alum Martina Rojas Chaigneau is making a name for herself in Hollywood. The 1-Year Conservatory Producing Program alum has worked on some heavy-hitting films in her career since graduating from NYFA in 2011.
Rojas has industry credits working in a multitude of roles for A-list Hollywood films, including clearance & product placement coordinator, production coordinator, production assistant, press manager, transportation manager, and has produced and acted in several short films. Her credits include working on the crews of Mission Impossible 7 (2022), Inferno (2016), American Assassin (2017), All the Money in the World (2017), and the two TV series Medici and Hannibal.
The multi-talented and Italian-born industry expert Martin Rojas spoke with NYFA in a Q&A about one of her latest projects, House of Gucci, which was filmed in Italy during the 2020 COVID-19 pandemic and directed by Ridley Scott.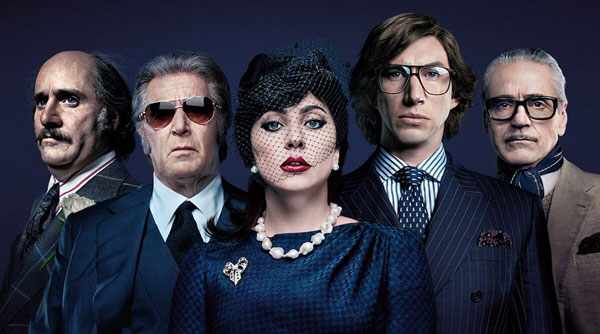 NYFA alum Martina Rojas worked as Clearance & Product Placement Coordinator for the film House of Gucci (2021)
NEW YORK FILM ACADEMY (NYFA): What was your experience working on the set of House of Gucci?
MARTINA ROJAS (MR): It was the first time for me to work as a Clearance & Product Placement Coordinator. I loved it! I love learning new roles and the challenges that follow. It was a great experience, a great team, and a great cast, I would say.
NYFA: What was it like to work on the set of the upcoming Mission Impossible 7 film?
MR: It was among the most beautiful experiences I've ever had. We shot in Venice during the pandemic last year in 2020. On the one hand, it was very hard to face and manage that moment, but on the other shooting in one of the most extraordinary cities in the world–as if it was a studio–was incredible. Most of the scenes were filmed in the water at night, so imagine a deserted Venice, immersed in silence.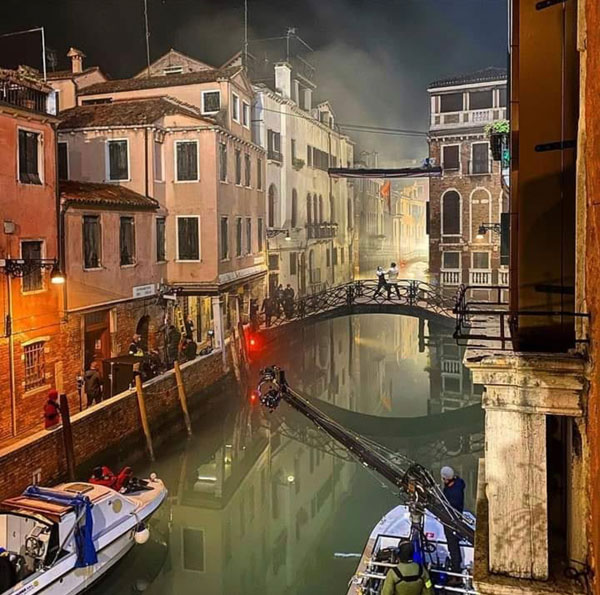 Set during filming in Italy during the 2020 COVID-19 pandemic
NYFA: How did you become involved with House of Gucci and Mission Impossible?
MR: I became involved through one of the major production companies based in Rome, Panorama Film. We have a very good relationship that was built over the years and we mainly collaborate with American productions that come to shoot in Italy.
NYFA: What has been your most difficult challenge working in the industry so far?
MR: Probably the fact that I've changed roles for each recent project each time. I threw myself toward working with different departments for which I had little experience or confidence in order to learn. The location department always remains in first place for me.
NYFA: What did you learn at NYFA that you applied directly to these projects?
MR: NYFA was a great experience for me. The method was key since the organization and structure in Italy are missing a little, so I learned that through NYFA.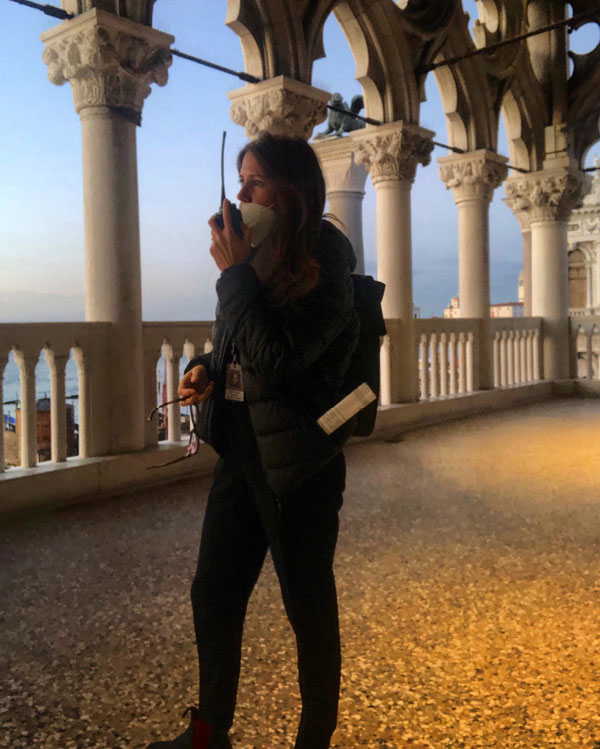 NYFA alum Martina Rojas working on set during filming in Italy during the 2020 COVID-19 pandemic
NYFA: Do you have any advice for incoming NYFA students?
MR: To be humble and to try to learn from others. Don't be afraid to face challenges that may seem insurmountable. Learn as much as possible from a school like NYFA, which can give you so much if you want to learn. And nothing is impossible.
New York Film Academy congratulates Martina Rojas on all her success with her latest projects and the upcoming Mission Impossible 7 film, soon to be released in 2022. We wish her the best of luck and support in her future work, and we encourage everyone to keep posted on her latest projects and follow her Instagram account (@martirojas).
Please note: NYFA does not represent that these are typical or guaranteed career outcomes. The success of our graduates in any chosen professional pathway depends on multiple factors, and the achievements of NYFA alumni are the result of their hard work, perseverance, talent and circumstances.
by nyfa