Filmmaking is a collaborative process, one that may not be possible without the hard work of a producer. A producer sees the entire filmmaking process from start-to-finish, working with the director, cast, and crew to ensure a polished finished product. A producer is essentially the on-set problem solver, and it's a skill that comes very naturally to Jenni Powell, our Producing Chair at NYFA Los Angeles.
Jenni, who once aspired to be an actor, but quickly found success in producing, is known for her work on the Emmy-award-winning web short, The Lizzie Bennett Diaries. On campus, Jenni is an expert in transmedia and world-building with projects, helping students understand the potential of their big ideas. She also ensures students are up to date with the latest in the future of film and television, including the creation of web series, podcasts, and immersive experiences.
NYFA CHAIR OF PRODUCING (LOS ANGELES), JENNI POWELL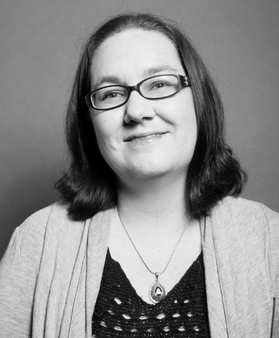 The Emmy Award-winning producer of The Lizzie Bennet Diaries, Jenni Powell, has also produced Welcome to Sanditon, Lonelygirl15, Emma Approved, and The New Adventures of Peter and Wendy. Jenni has a long career in production, media, marketing, and content creation and was a producer at Felicia Day's YouTube Premium channel Geek & Sundry, where she produced the Geekie Award-winning Talkin' Comics Weekly. For two years, Jenni was the Director of Content and Social Media for VidCon, as well as the Head of Production for NewMediaRockstars. She also founded her own production company, Discourse Productions.
We talked to Jenni about her time at NYFA, her favorite films, and advice for students who wish to follow in her footsteps.
NYFA: How (and when) did you first get interested in producing?
I first came to Los Angeles thinking I was interested in acting. I started exploring that by doing a lot of extra work on TV and Films and volunteering on student projects of friends who were in film school. I found that I couldn't sit and wait to be called in as an actor and ended up helping out where I could. I was always solving problems as well as anticipating solutions before they were needed…someone told me that is what a producer does, and I was off!
NYFA: What have been your favorite projects/productions to work on to date?
I'm probably most known for producing The Lizzie Bennet Diaries, which is a vlog-style web series based on the novel "Pride and Prejudice" by Jane Austen. It was the first of what became a genre of web series called the Literary Web Series and won an Emmy when the Emmy Awards had just started recognizing digital and short-form content. I'm really proud of being able to be innovative with what could be done with a web series and having been recognized for that work.
READ MORE: NYFA Screenwriting and Producing Graduates Celebrate with Industry Pitch Fest
NYFA: Tell us about your time at NYFA.
I was drawn to NYFA when I was asked to guest lecture in a Transmedia course in the Screenwriting Department in LA. Just the fact that they were offering a class in the subject was mind-blowing to me, and after my lecture, they asked if I might want to teach it in the future. I jumped at the chance and over time, expanded into teaching other subjects. I also wanted to help with the growth of the school overall and got very involved in the Faculty Senate and helping build Diversity, Equity, and Inclusion initiatives at the school. It's been incredibly rewarding, and I feel very honored to be able to effect real change.
NYFA: What are your favorite courses to teach?
Transmedia (telling stories across multiple platforms) by far and anything having to do with new forms of media (web series, podcasts, immersive experiences, games, etc.). I enjoy building worlds with my projects and sharing those possibilities with students. Film and TV are always going to be highlighted but there are many forms of additional content with opportunities out there for students to explore.
NYFA: How would your students describe your teaching style/methods?
I am extremely collaborative and encourage interaction. If you let me go, I can lecture like mad, but I also want to be sure I'm answering students' questions and leading the learning process in ways that they will get the most out of. I am also very open with sharing my knowledge of real-world experience, especially in the digital space, because my background in that is very unique, and I want to share both the good and the bad with students so they can make informed decisions about their creative processes.
NYFA: What are your favorite aspects of the film community in Los Angeles?
Though people assume that the film community in Los Angeles must be huge and unapproachable, it could not be farther from the truth. We can't do what we do without collaboration and so finding your "people" is a key aspect and there are so many places in which pockets of creators make spaces in which to support one another. When I was first exploring web series, there were events happening multiple times a week where we'd get together and share experiences and a lot of my early projects developed out of those events.
READ MORE: Q&A with MFA Producing Alum Paul Hutchens About the Documentary Series 'Life After'
NYFA: Who do you believe have been some of the most significant individuals in producing?
In my specialty area, which is Transmedia and Franchising, the individuals that inspired me are Henry Jenkins (reading "Convergence Culture" changed my life), Jeff Gomez (who was instrumental in getting "Transmedia Producer" recognized as an official credit by the Producers Guild of America), Miles Becket (the creator of "lonelygirl15', which is the first scripted web series), and Felicia Day (creator of "The Guild" and a producer / writer / actor extraordinaire who really showed me what it means to be a multi-hyphenate and being able to balance working within and outside of the Industry while keeping true to your core values).
NYFA: What are some of your favorite films?
I still adore some of the '80s films I grew up watching such as The Monster Squad, The Goonies, and The Lost Boys, I also really enjoyed The Crow but actually came to that world through the wonderful comics by James O'Barr. There are also some wonderful stories that build upon The Crow mythology (it's not only Eric Draven!) that aren't as well known as the film or some of its, shall we say, "questionable" sequels.
NYFA: What advice would you give a prospective student looking to get started in producing?
The wisest words that were ever said to me that I go back to project after project is, "Jump and the net will appear." Just begin at the beginning and move your way through it. For a producer, while seeing the big picture is extremely important, in order to not let that big picture overwhelm us, we need to break things down into manageable chunks and be able to delegate and work collaboratively.
Produce Your Own Short Films and Content at NYFA
Want to learn how to produce your own content and short films? Check out our degrees in producing, as well as our certificates, and workshops!
by nyfa