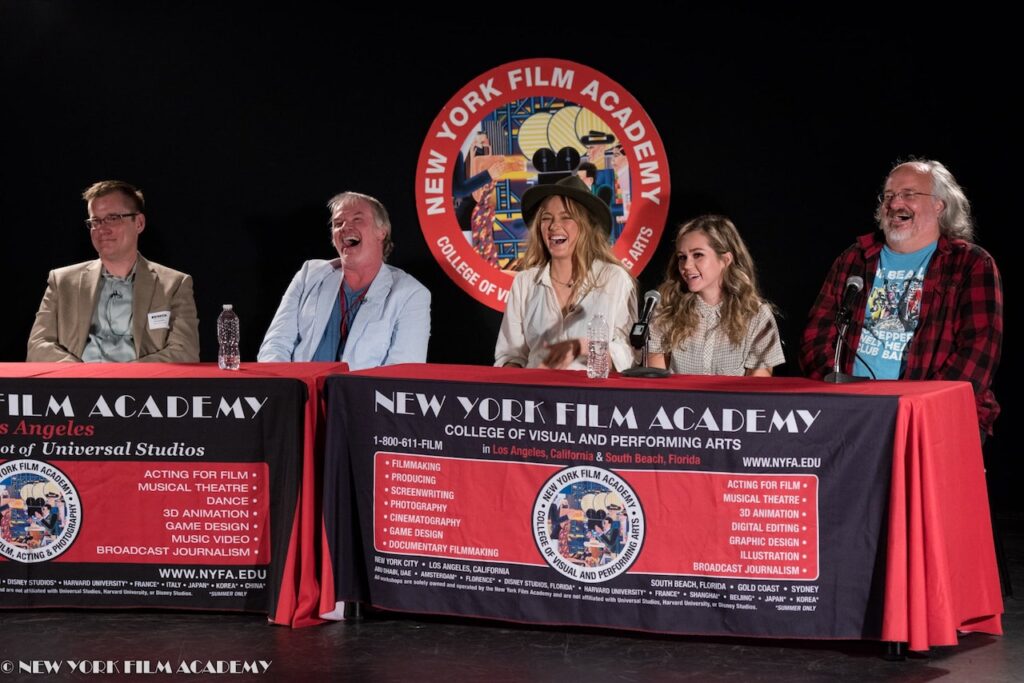 On Friday, October 26, New York Film Academy (NYFA) hosted a screening of Lifetime's Killer Under the Bed (2018), followed by a Q&A with director and NYFA instructor, Jeff Hare; producer, Ken Sanders; director of photography, Brad Rushing; and stars, Brec Bassinger and Madison Lawlor. The event was moderated by NYFA instructor, David Newman.
Hare is a writer, director, and filmmaking instructor at New York Film Academy's Los Angeles campus, and has been working as a director of thrillers for the Lifetime channel for the last few years (A Lover Betrayed, Psycho In-Law, Nanny Killer).
Sanders is a prolific producer for the Lifetime channel who has accumulated over 60 movie credits in the last 30 years (Accused at 17, Double Daddy, Stalked by My Doctor).
Rushing's career as a director of photography began with some small features in the 1990s then expanded into the music industry with music videos for Eminem, Mariah Carey, Britney Spears, Blink-182 and more. Rushing then moved back to film and television, and ultimately made his way to the Lifetime channel where he now works as a DP on many of its thrillers.
Bassinger is an actress known for her roles in ABC's The Goldbergs and Nickelodeon's Bella and the Bulldogs and School of Rock. Lawlor is an actress known for her roles on TNT's Franklin and Bash, Netlfix's Dear White People, and the film, Daddy Issues (2018). The film also stars Kristy Swanson, eponymous star of the original Buffy the Vampire Slayer.
Moderator David Newman opened up the Q&A by asking about the inspiration for the film. Producer Ken Sanders explained that he was approached by the film's writer about producing a movie about a voodoo doll; Sanders knew that there would have to be more meat to the story to get executive producers interested, so he began thinking about the topic. 
Sanders then remembered a TV movie from his childhood that "terrified a generation" called Trilogy of Terror; in this film, the protagonist struggles to escape from an evil doll she purchases at an antique shop. Sanders decided to combine the voodoo concept and the evil doll concept into one, and, in a sense, remake Trilogy of Terror for a modern audience. It was important to him, though, that this film appeal to "multiple markets" and not just a "hardcore horror audience."
Newman went on to ask the panel about how they handled their tight shooting schedule — the Killer Under the Bed production team only had 14 days to shoot a feature-length film, which is less than half the time that most features take to shoot. DP Brad Rushing advised, "Be prepared… Meticulously know what you're doing… [Have] contingency plans… and good communication with the producer and the director."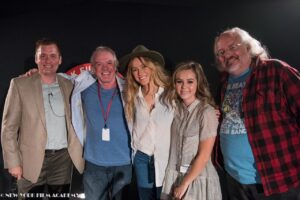 Rushing added that he and director Jeff Hare had worked together before, and were largely on the same page aesthetically when it came to the look of the film.
Newman inquired about how the team made the voodoo doll come to life onscreen. "Most of the doll's motion was actual[ly] mechanical," said director Jeff Hare, "it's trying to keep that aesthetic of that 70s stuff [that] scared us… we tried to keep as many effects as we could practical and we also stole the whole Jaws thing of trying to keep it hidden for as long as we possibly could."
"I think oftentimes what you don't see is a lot more frightening," added Brad Rushing, "because the audience fills it in with their own imagination and personalizes it as their own boogeyman."
The New York Film Academy thanks Jeff Hare, Ken Sanders, Brad Rushing, Brec Bassinger, and Madison Lawlor for sharing their insights about making an independent thriller on a tight budget and in a short timeframe!
[su_carousel source="media: 28555,28554,28553,28552,28551,28550,28549,28548,28547,28546,28545″ limit="60″ link="lightbox" target="blank" width="780″ height="360″ title="no" autoplay="0″]
by nyfa