UPDATE: NYFA Documentary Filmmaking Instructor Claudia Raschke is Director of Photography (DP) for the new series Land of the Giants: Titans of Tech premiering on CNN+.
On Thursday, February 7, New York Film Academy (NYFA) screened the critically-acclaimed, crowd-pleasing, box office documentary hit, RBG, with the film's cinematographer and instructor for the NYFA Documentary Filmmaking program, Claudia Raschke participating in a Q&A with students afterwards.
RBG tells the story of Supreme Court Justice and surprise millennial icon Ruth Bader Ginsberg (aka "The Notorious RBG"). The Flatbush, Brooklyn-born Justice was appointed by Bill Clinton in 1992, becoming only the second woman to serve at the highest federal court in the United States. Ginsberg still serves on the Court and is currently the second-most senior Justice.
The film was directed by Betsy West and Julie Cohen and has been nominated for and won multiple awards since its debut at Sundance. It is currently nominated for the Academy Award for Best Documentary Feature; "I'll Fight" by Diane Warren, from the soundtrack of RBG, is also up for an Oscar for Best Song.
Director of photography Claudia Raschke has worked on four other films previously nominated for Academy Awards, as well as Peabody, DuPont, and National Board of Review Award winners. Her oeuvre includes acclaimed documentaries as varied as My Architect, about Louis Kahn, Mad Hot Ballroom, which focuses on a New York dance program, and Particle Fever, which tracks the experiments of the Large Hadron Collider that ultimately discovered the Higgs boson (aka the "God particle").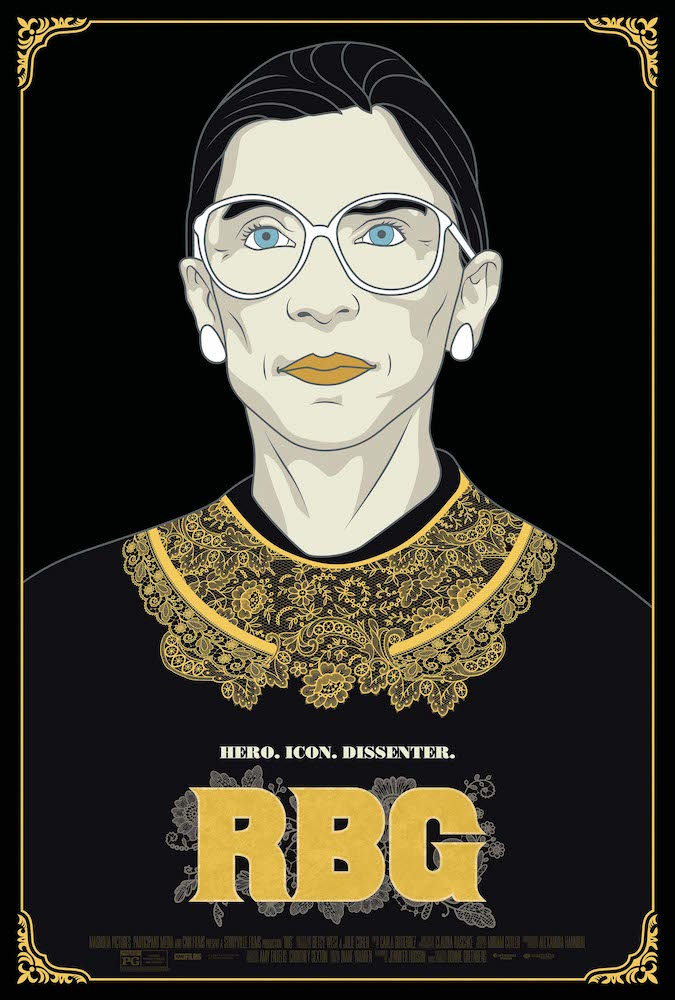 Students were thrilled to pick Raschke's brain at a Q&A following the RBG screening. Here's what some NYFA Documentary Filmmaking students had to say after the event:

Working with Claudia has been a dream come true in more than one way. Every step you take with the camera in your hand and every little movement you add with the camera while you are shooting should have a thinking behind it. That is the approach with which students like me have had the fortune to learn at New York Film Academy with Claudia. Making every second of the story powerful through visual storytelling is what Claudia is capable of making you learn. She is an inspiring teacher and an even more motivational person! 
– Kuldeep Sah Gongola ('18)
There is so much attention to detail in Claudia's teaching; she prepares you for any situation. When I went to see RBG, I bragged about how Claudia taught us to light interviews and how she kept the lights from reflecting off of the Justice's glasses. It is easy to see why her work is so esteemed. She gives honest and practical feedback but her compassion for every student and their films is what makes her classes so great.
– Ti Cersley ('17)
Having the opportunity to work with renowned professionals in their field one-on-one is priceless! It's what sets NYFA apart from other great programs around the world.
– Mark Humphreys ('18)
Being taught by Claudia is an amazing space to be in. She allows for creativity and ideas to grow in a playful way. Being taught by a female cinematographer who's worked her way up in a male-dominated industry is very inspirational to watch and learn from.
– Mollie Moore ('18)
The New York Film Academy thanks Documentary Filmmaking cinematography instructor Claudia Raschke for speaking with students and congratulates her on all the success RBG has seen so far! 
by nyfa