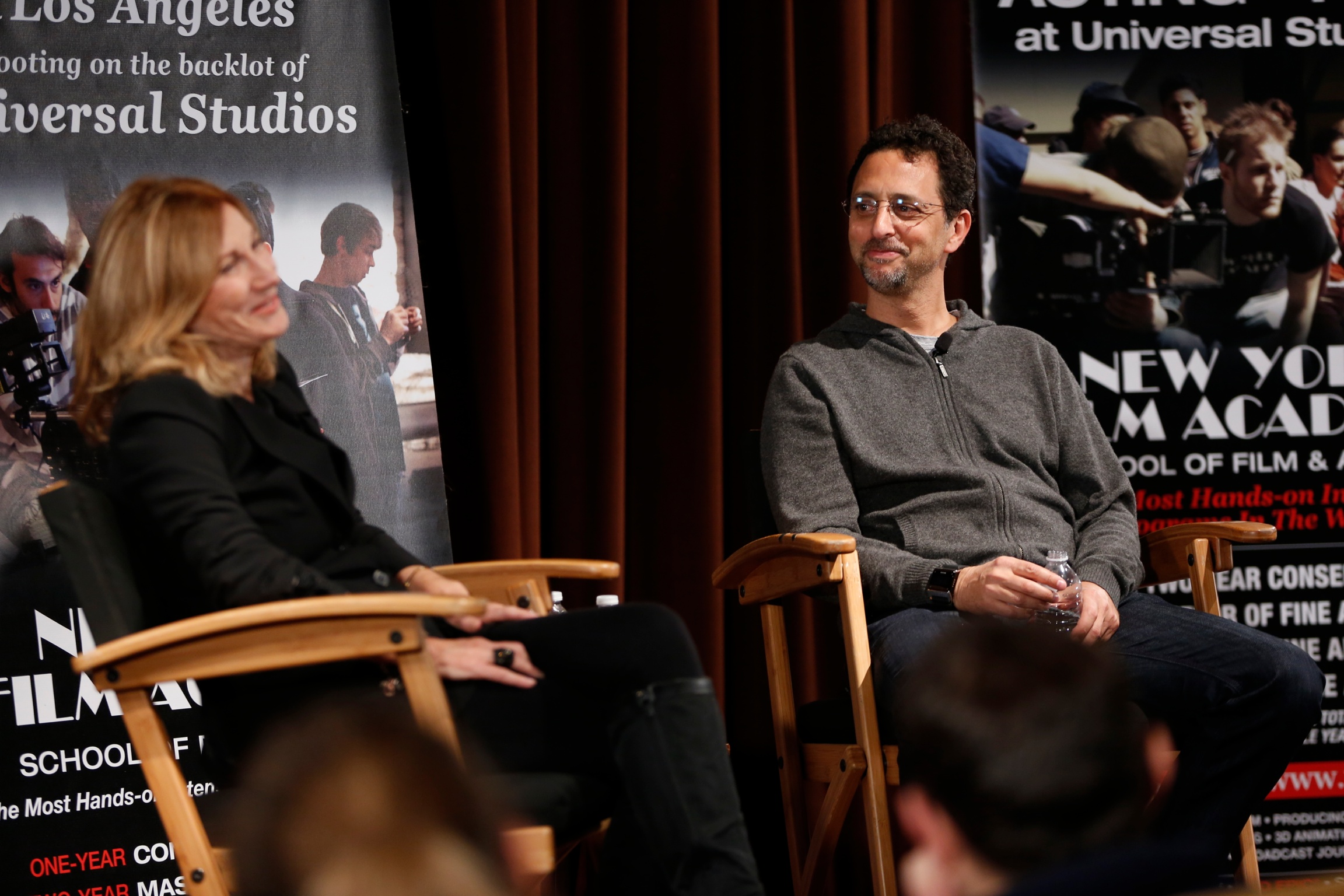 Grant Heslov, Academy Award winning Writer/ Producer (Argo) and George Clooney's partner at Smokehouse, was the guest tonight at the New York Film Academy for a sneak preview of the upcoming SONY Pictures release The Monuments Men! Over 220 eager students participated in the Q&A, which was moderated by Producer Tova Laiter.
One of the first questions on Tova's mind was how the film came about. Grant, a very funny and charming speaker, told the students that, "I was traveling, forgot my book at the hotel, so I went to the airport bookstore. I really loved it. It was a story I'd never heard before and George (Clooney) and I decided to make it. You never know what you're going to find in an airport!"
When asked by Tova how he and Clooney met Grant described his college days. "It was the summer of my freshman year, when I was about 19. I took an acting class and George was in it. We've been friends ever since."
Grant earned a BFA in Theater and Acting at USC and was an actor for 20 years. He feels that his education in acting has been a great base for much of the work he does in terms of writing and character, being on sets, and observing how it's all done.
A student asked Grant about the writing process and specifically about handling a writing block in the middle of a project. Grant admitted that writing is challenging. "The middle is always hard. I'm lucky that I write with a partner. You have to turn off your editor mind and just write whatever."
Steven, a student, asked Grant what drives him, especially now that he is an accomplished actor, writer and producer. "The desire to tell good stories is the drive."
Grant plays a doctor in The Monuments Men, although this was not planned. He told the story of a British actor whose wife went into labor and pulled out of the project at the last minute. George Clooney suggested Grant jump in and play the doctor. "I still have my SAG card," he joked.
Student, Marielle asked Grant about the responsibility involved in telling real stories, which he has done plenty of in recent film projects (Good Night and Good Luck, Argo, and now The Monuments Men). Grant explained, "We aren't making docs or docu-dramas, but you try to stay true. In Good Night and Good Luck, for example, we had access to the newscasters as they were still around. In Argo, we stuck pretty close to the story except for the end. In this film, there were hundreds of Monuments Men. Then you are trying to piece it all together, and we changed the names so we can get into the flaws of the characters more."
Asked what were his biggest assets and obstacles in becoming a filmmaker, he joked that in both cases it was, "being an actor."
A student asked Grant what was his relationship with art and history as a storyteller. "I love art and I love history. I am interested in World War II –as it was a defining moment in history. I'm Jewish, and there is a connection."
Clearly Grant and George have a good system in place working together. He shared with the audience that all of their films have been produced and completed under budget. The Monuments Men finished $5 million under budget and they wrote it in 3-4 months.
Finally, Grant told another comedic story about having a hard time naming their production company, Smokehouse Productions. He said that his and George's office was directly across the street from the restaurant in Burbank, and that they used to go there to drink at the bar (It is also across the street from one of the NYFA buildings in Burbank). One day, George called him and suggested they name their production company after the restaurant.
by nyfa