Randall Dottin, Chair of Screenwriting at our NYFA New York campus, believes in the power of storytelling. While his first passion was acting, Randall quickly found his purpose in filmmaking and directing, inspired by the work of legendary writers, including playwright August Wilson.  During his long career as an award-winning writer, director, and producer, where he's done everything from making his post-production sound at George Lucas' Skywalker Ranch (he's a BIG fan) to building his tribe of screenwriters and storytellers in "Gotham" (New York), Dottin has found a way to bring his dreams to life. He uses these real-world experiences to prepare the students of NYFA to achieve the same.
NYFA Screenwriting Faculty: Interview with Randall Dottin, Chair of Screenwriting (New York)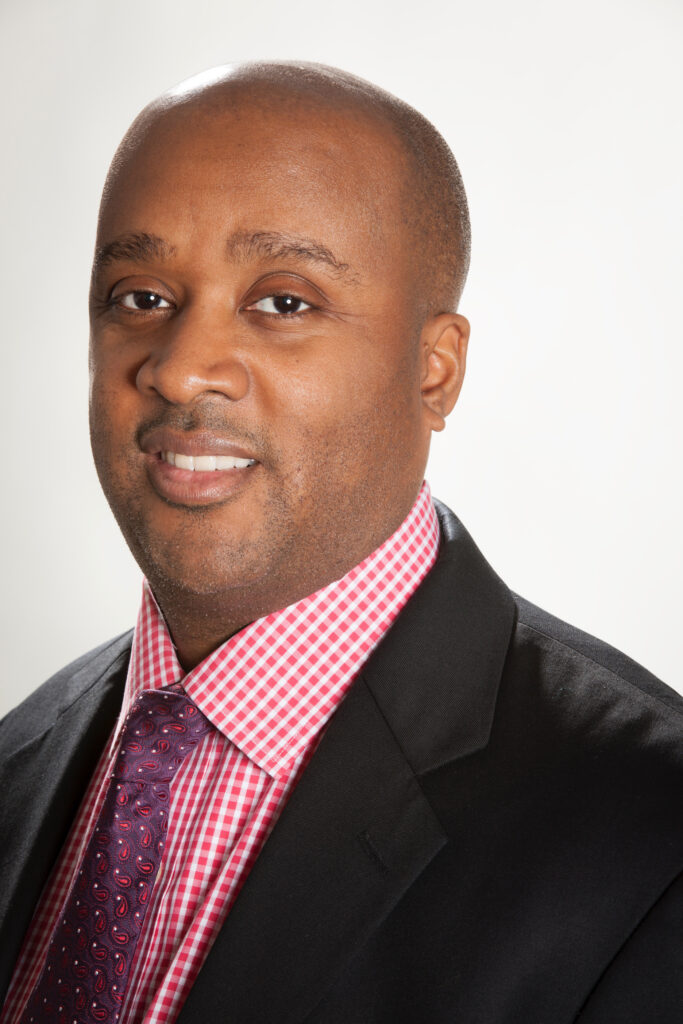 Dottin received his MFA at the Columbia University School of the Arts Graduate Film Division. Upon graduating, his thesis film, A-Alike, was licensed by HBO for a two-year broadcast run. The film won awards, including a Director's Guild of America Award for Best African American Student Filmmaker and a Gold Medal at the Student Academy Awards for Best Narrative Film. A short film he directed, Lifted, was also sponsored by Fox Searchlight's program for emerging directors.
We talked to Randall about his favorite projects and achievements, his years at New York Film Academy, and of course, holding fast to the principles of the Jedi.
NYFA: How did you first get interested in screenwriting?
Originally, my career goal was to act – I longed to be a great actor like Eddie Murphy, Richard Pryor, Al Pacino, or Robert DeNiro. That all changed in the summer of 1988. While in High School, I participated in an Interlochen Program where I was part of a group of students who toured the British Isles performing a musical version of the novel The Little Prince.
During the course of the trip, I read an article on the work of American Playwright August Wilson and Filmmaker Spike Lee. While reading the article, I was inspired by how insistent they were on telling stories about the African American experience with a sense of complexity, compassion, and joy. After I read that article, I realized that the way I wanted to communicate to the world was through Screenwriting and Directing.
NYFA: What have been your favorite projects/productions to work on to date?
There are two projects that I absolutely loved to work on in the last several years. The first is my short film Lifted, which I wrote, directed, and produced as part of Fox Searchlight's program for emerging directors – the Fox Searchlab. The story is a magical realist tale about a mother / dancer who gets trapped in a subway station after she abandons her child. The story is about failure, forgiveness, and hope. My team built a subway set on a sound stage in Connecticut, and in one crazy sequence, we did "wire work" to suspend the actors so that they could jump from subway platform to subway platform. To top it all off, I did my post-production sound at George Lucas' Skywalker Ranch! It was incredible to work with artists who had worked on films like Revenge of the Sith, SE7EN, and Batman Begins. LIFTED premiered on CBS in 2015 and has screened at over 40 film festivals around the world, winning 10 festival awards.
The second is the pilot for an animated series called MINE, that is now completing the second year of its festival run. MINE is a post-apocalyptic tale about a society whose lifestyle and health center around a supernatural water source. When the water source suddenly disappears, it's up to an intrepid teenager to learn how to lead so that they can save the community before it's too late. MINE is sponsored by the Rise Home Stories Project – a group of artists and activists intent on telling stories about the kind of world we would like to live in. We premiered the pilot episode at the Tribeca Festival in 2021 and just recently won the award for Best Web Series at the 2022 American Black Film Festival. I co-wrote, co-directed, and produced the pilot episode. 
READ MORE: New York Film Academy (NYFA) Chair of Screenwriting Randall Dottin Receives Sundance Institute Grant
NYFA: Tell us about your time at NYFA.
I taught my first NYFA class in 2003. Since then, I've made three short films that have gone on to win more than 15 film festival awards. I've directed branded entertainment docs for Toyota and Essence Magazine and the docuseries I'm working on now won a Sundance Documentary Fund grant in 2019. I mention the films and the accolades because I'm proud of the filmmaker I am now and wouldn't be so knowledgeable and adept if I wasn't a teacher.
I studied screenwriting at film school, but I didn't become a screenwriter until I started teaching at NYFA. I received my MFA in Film Directing but refined my process as a director because I taught Director's Craft in the 1 Year program. In order to help students, I had to clarify and master the vocabulary skills and techniques of the craft.
My time at NYFA has been filled with students who've challenged and inspired me; fellow instructors who've opened up new ways to access the rich language of cinema; and an administration with the vision and flexibility to create an environment to assist in my growth.

Randall Dottin talks to Liz Hinlein, NYFA Creative Director of Filmmaking & Cinematography in "The 20/20 Series."
NYFA: What are your favorite courses to teach?
That's a very difficult question! Because I write, direct and produce, I touch every part of the filmmaking process. As a result, at NYFA, I've taught in every department except for Musical Theater and Broadcast Journalism.
Here's a list of my favorite courses I've taught over the years: Film Craft in Acting for Film Department, Script Analysis in the Acting Department, Storytelling Fundamentals for Documentary Filmmakers, Directing for Writers, Director's Craft in the 1 Year Filmmaking program, Feature Writing Workshop, Screenplay Revision. My favorite course to teach is probably Business of Screenwriting – The Tools of the Trade. This course is my favorite because I introduce new skills, techniques, and vocabulary, and I also help students create a 5 Year Plan for life after NYFA.
It always amazes me that regardless of what kind of story you're telling, the principles remain consistent: every story is about someone who wants something badly but is having difficulty getting it, and usually, by the end of a story, the characters and / or the world go through some kind of change.
Regardless of what course I teach, I'm always inspired and energized by teaching works of art that I've learned from, work that's completely changed my perspective on an issue, or work that captivated me so much I thought about it for days after. Every time I see a film that captivates me: from Star Wars and Do The Right Thing to Eternal Sunshine of the Spotless Mind, Children of Men, Daughters of the Dust, to In the Mood For Love and Black Panther, I fall in love with film all over again. 
READ MORE: Animated Web Series "Mine" Produced, Co-Written And Co-Directed By New York Film Academy (NYFA) Screenwriting Chair Randall Dottin Premieres At Tribeca
NYFA: How would your students describe your teaching style/methods?
Because of my unhealthy obsession with Star Wars, they would say that I hold fast to the principles of the Jedi! LOL!
Honestly, I think my students would say that I'm a proponent of the notion that what I teach are "tools and not rules." I'm interested in the fundamentals as a foundation for writers to go off and create something that audiences can't possibly imagine.
If you know the basics of the craft, you can manipulate those basics and tell the story you need to tell in a smart way.
I'm also a proponent of the phrase, "work hard, play hard." I believe rigor is very very important to creating quality work. Additionally, I'm always trying to mix it up in the classroom where I can provide wisdom in ways that my students won't expect.
You're going to work A LOT in my class, you might even question whether you're going to get all your assignments done, but by the end of the class, you're going to be amazed at what you accomplished and be surprised that you had so much fun while doing it.
NYFA: What are your favorite aspects of the film and writing community in New York?
As a filmmaker it's important to build your tribe – the group of people you can share professional experiences with, who read your work, give you great critique to, and serve on your crew (with you also serving on theirs) to help you get your film made. I believe New York City is one of the best places to find and build your tribe. It's the birthplace of independent film, and the film scene mirrors New York City's personality – it's communal, scrappy, and passionate.
The New York film community is dedicated to cultivating and promoting independent film. There are a number of organizations in New York City whose mission is to support emerging filmmakers.
The oldest independent film organization in the country is New York City's own The Gotham – formerly known as IFP. They hold dozens of screenings, filmmaking labs, discussions, and networking events during the year where filmmakers at all levels can increase their knowledge of the craft, the business as well as meet up with future collaborators. In September, they hold Gotham Week where filmmakers chosen to participate in their labs meet up and pitch to industry professionals. During Gotham Week a number of parties, panels, and screenings also take place.
Filmshop is an organization I've been a part of for years. It's a group of mid-career filmmakers who convene weekly to give feedback on the work they've created. The leaders of Filmshop have also created a database to help members find crew for their shoots. Several times during the year, they hold networking events, parties, and screenings for members who've finished their films. It's the closest thing to film school that I've experienced since I graduated from film school.
New York Women in Television and Film is a great organization that holds networking events, screenings, and seminars. They have a mentorship program for emerging women filmmakers and often provide grant opportunities for its members. Their membership is open to everybody.
Everyone in these organizations understands that the challenge of making movies can be eased if you have a great team who have the same passion for making movies that you do. As a result, a number of filmmakers throughout New York City, as well as people who aren't filmmakers but love film, have created all kinds of opportunities for filmmakers to tell their story.
NYFA: Who do you believe have been some of the most significant individuals in screenwriting?
Charlie Kaufman, Bong Joon Ho, Spike Lee, Jordan Peele, Alfonso Cuaron, Nicole Holofcener, Dee Rees, Nora Ephron, Aaron Sorkin, Eric Roth, Shonda Rhimes, David Chase, Vince Gilligan, David Simon, Michaela Coel, Dustin Lance Black, Craig Mazin, Kim Ki-Duk, Lisa Cholodenko, David Koepp, Tony Kushner, Ruth Prawer Jhabvala, David Milch, Lena Dunham, Quentin Tarantino, Diablo Cody, Cameron Crowe, Paul Thomas Anderson, Michael Arndt, Pedro Almodovar, Callie Khouri, and Tony Gilroy.
NYFA: What are some of your favorite screenplays?
Eternal Sunshine of the Spotless Mind, Do the Right Thing, Michael Clayton, Pariah, Get Out, Black Swan, Erin Brockovich, Love Jones, Eve's Bayou, Monsoon Wedding, Call Me By Your Name, The Godfather Part II, Reservoir Dogs, Thelma and Louise, Remains of the Day, The Devil Wears Prada, Little Miss Sunshine, Wall-E, 12 Years a Slave, Traffic, Milk, Juno, Frances Ha, Butch Cassidy and the Sundance Kid, Munich, The Kids Are All Right and Crouching Tiger Hidden Dragon.
NYFA: What advice would you give a prospective student looking to get started in screenwriting?
I've read a quote where someone said being a screenwriter is like having homework every day for the rest of your life. I feel like that's one of the truest statements I've ever heard.
Watch Movies. Read Scripts. Write Pages. Write every day or at least five days a week.
Create a list of 30 films and 10 TV Shows from different genres that you know inside and out: from the theme and the character journeys to how the relationships work to how the acts and scenes are structured.
Studying films deeply will inspire you as well as help you solve your own creative challenges when you're producing your own work. You'll face a roadblock but be able to ask yourself, how would Quentin Tarantino write this opening teaser? How would Nora Ephron write this scene? How would Shonda Rhimes tackle this act out? How would Diablo Cody make this character more complex?
As I said earlier – build your team. It's crucial to make sure you're in a community where you can give and receive constructive feedback on your work.
Keep educating and training yourself. Whether it be through an academic institution like NYFA, a two-day seminar, or through reading books on the craft. If you're a podcast person, you should definitely listen to Scriptnotes, the John August and Craig Mazin podcast. It's incredible and filled with so much wisdom.
Lastly, just write. Now is always the best time to begin! Best wishes on your journey!
Get Experience in Screenwriting at NYFA
In NYFA's range of screenwriting programs, students can learn how to write scripts, teleplays, treatments, and more. Learn more NYFA's Screenwriting School, with programs in New York and Los Angeles, as well as online.
by Melissa Randall