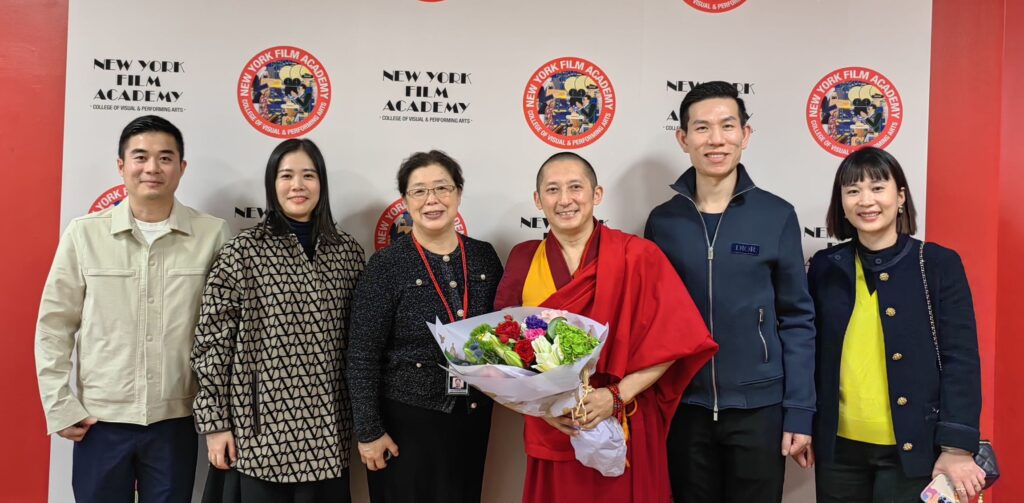 NYFA's Los Angeles staff, students, and faculty welcomed five graduates of the MA Producing for Executives Program. As part of their trip to the United States, the graduates traveled from China to visit NYFA and met their professors in person. Launched in 2022, the MA Producing for Executives Program provides innovative online learning experiences for professionals in China's art and cultural industry. In January, NYFA held a virtual event celebrating the students' graduation.
Five graduates expressed their gratitude during their visit and presented traditional gifts to NYFA's faculty and staff. Students met and chatted with Dr. Joy Zhu, Executive Vice President for the China Region; Sonny Calderon, Vice President of Academic Affairs; Dr. Mary Samuelson, Dean of General Education; Jenni Powell, Chair of Producing; Heather Ritcheson, Senior Producing Coordinator; Anne McCaffrey, Faculty; Mark Ritcheson, Faculty; and Erni Chen, Academic Affairs Officer.
"During this virtual program, I have learned a lot through NYFA's famous learn-by-doing approach. Now I am applying all the tools and knowledge I got from this program to my work. This learning experience gave me a new perspective on film and the film industry in general," said Mr. Wang Song, Chief Product Officer and Senior Vice President of China's NetDragon Websoft, a leading innovator and a creative force in online gaming and mobile internet industries.
NYFA congratulates these recent graduates and wishes them success in their future endeavors!
by Laura Bailey Wickins