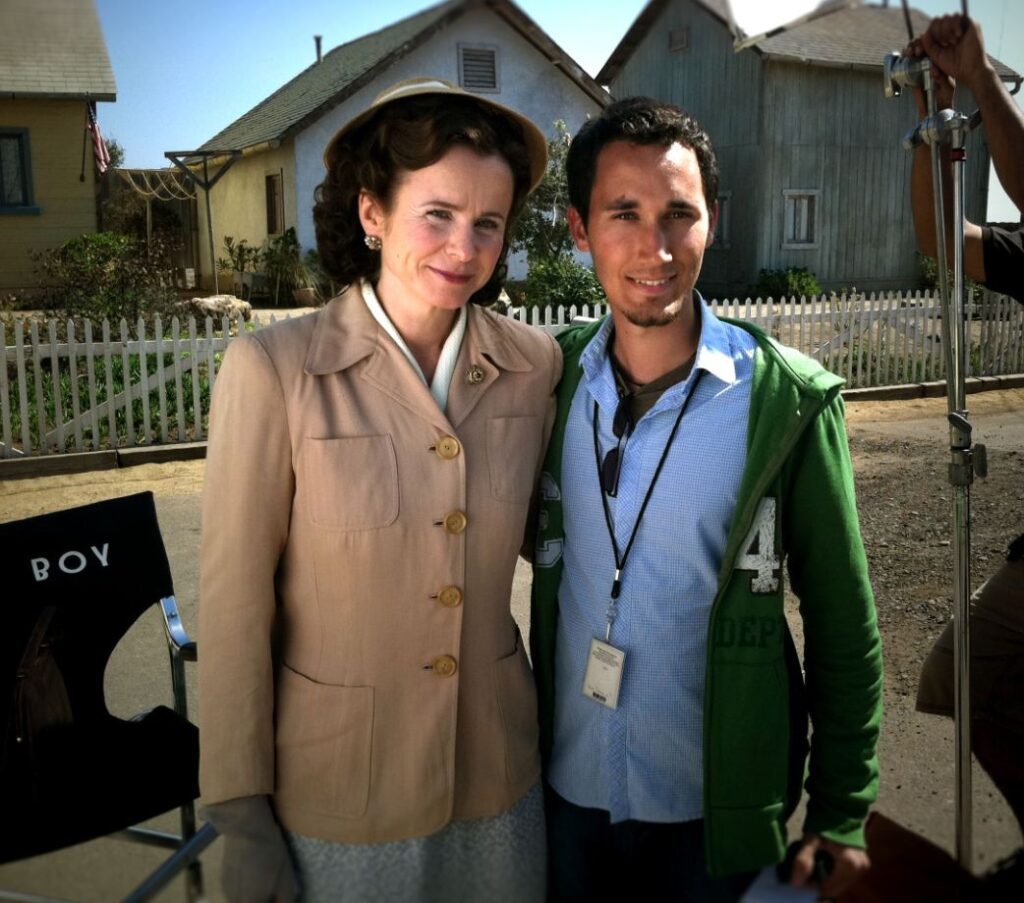 Oscar-nominated actress Emily Watson with Pietro Schito on the set of Little Boy 
"Ever since I learned what screenwriting was, I have always wanted to do that," explains screenwriter Pietro Schito. "That's the most important thing for any movie. That is where the message is." While studying in his native Milan, Pietro's first short film, Horror Kitchen, won a national contest at the Future Film Festival in Bologna. Shortly after, he left for Mexico to work for CSPC Filming the Ineffable, an international project working with young filmmakers. He was about ready to return to Italy when he received a scholarship from CSPC.
Pietro decided to attend a 1-Year Screenwriting course at the Universal Studios campus in 2010. "The program was great and all the instructors were too," he says. "I loved it. They push you to the limit. It was tough but worth it. The workshops and teachers are hands-on and thought provoking. [The instructors] have a real connection with the students. If we had problems or questions they were always available for consultation."
After graduating from New York Film Academy, Pietro found steady work as a script consultant. He also landed an internship with Metanoia Films. "One day, having lunch with the producer, I got to pitch my movie," he explained. He shared his project 98.Vocho, a story he had developed while attending New York Film Academy. "As soon as he heard the story, he was really interested and asked if I was ready to pitch to directors. I got to pitch it several times in the Business of Screenwriting class, so I had some practice. They took me to [director] Alejandro Monteverde. He said I had an original plot, solid characters and structure. He also told me that my style of writing reminded him about Life is Beautiful, and I was really happy to hear that because Life is Beautiful is the movie that inspired me to become a filmmaker." Pietro worked on a 20-page treatment and pitched it to another producer at Metanoia. The producer said, "If everything is like this, we're going to produce your movie." They asked him to stay on with the company to develop the project. But Pietro decided to follow his heart, and went back to Mexico to get married. "I thought I would lose the opportunity of my life," he says.
After returning to Mexico, Pietro wrote the pilot for an animated TV series called Maria Bambina. He also worked for a Spanish television series called Mi familia y yo, and has an animated feature called Lucha Rooster in development. He found out that Metanoia Films was working on a big-budget period film called Little Boy, and that they would be shooting in Baja California. Pietro was brought on as a writers' assistant. He soon found himself assisting the director as well. Then he was  asked to film and direct a making-of documentary to be featured on the Blu-ray release.
Inspired by the paintings of Norman Rockwell, Little Boy is a period piece about a boy who believes he can bring his father back from World War II. It stars Sean Astin, Tom Wilkinson, Kevin James, Emily Watson, and Michael Rapaport. "It was an amazing experience, being there and seeing the process," says Pietro."They were really happy about the work I did, helping with outlines and reviewing scripts and storyboards."
Since wrapping the film, Pietro has been offered a job with Metanoia Films. "They invited me here for a staff position in writing and development," he says. "I'm really happy being back in LA with that company. I like the way they think and organize their team. It's a huge accomplishment, and it's just the beginning. They have a lot of projects in development."
Pietro offers the following advice for students thinking about New York Film Academy: "Have an idea. Come here with an idea. Work as much as you can. The story you have in your heart: cultivate it. And don't be discouraged by Hollywood."
Emily Watson and Pietro Schito with Jakob Salvati, star of Little Boy
Pietro Schito working with director Alejandro Monteverde and producer Eduardo Verastegui on the set of Little Boy
by nyfa