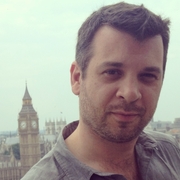 On August 5th, film and TV producer John Zaozirny sat down with New York Film Academy's Business of Screenwriting class to discuss advice he could offer writers, tips on breaking into the business, and his own perspective on what it takes to succeed.
Zaozirny spoke first of his early days interning at Miramax, while still a student in Manhattan, and then later at Village Roadshow Pictures in Los Angeles. "I'm Canadian, so I knew the challenges facing foreigners looking to break into Hollywood", Zaozirny shared. "My goal was to beef up my resume as much as I could early on, so I'd have a real shot. Internships also gave me a network, which helped put me on a path towards eventually getting a job…"
That first opportunity came when Zaozirny landed a development desk working for the President of Production at Appian Way, Leonardo DiCaprio's production company. "One of the most important things I learnt working at a star-driven company is that so many movies get made simply because movie stars want to be in them," Zaozirny explained. "That's the difference between a movie in theaters and a script sitting on the shelf. So, write a script that a star actually wants to star in. Make your protagonist, love interest, and antagonist's roles as dynamic and interesting as you can."
After Appian Way, John went on to work for screenwriter Andrew Marlowe (AIR FORCE ONE, HOLLOW MAN), and illuminated students on the responsibilities of being a screenwriter's assistant — including doing copious research, proofreading, and also being a fly on the wall to the creative process. "It was a rare, invaluable experience, which I'll always be grateful for." From there, Zaozirny landed as a writer's assistant on ABC's Castle and explained to students the different ways one can break into TV, as he sees it. He also shared what a writer's assistant does day-in and day-out and the fast-paced reality of working on a network TV procedural.
In 2010, Zaozirny launched his own production company, Bellevue Productions, after realizing he was growing more interested in producing than writing. "As a writer, you should be churning out three new pieces of material a year. I realized I wasn't doing that, but I also had far more ideas than three that I wanted to be a part of and build from the ground up." It was a smart bet. Since then, Bellevue has set up numerous projects at the studios, including Cristo at Warner Bros., Capsule at Fox, and Warden and New Line Cinema, as well as numerous other projects with financiers. Bellevue also got its first movie made last year, a found-footage horror movie entitled The Operator, which is currently in post-production.
These days, Zaozirny continues to develop projects from the ground-up, working collaboratively with established and up-and-coming writers helping crack their stories in the room. After discussing this creative process, Zaozirny closed by emphasizing the most important element he looks for when beginning the journey with a new piece of material — "Concept", Zaozirny proclaimed, "is honestly most of the battle. Having a great concept with a fascinating protagonist that offers maximum conflict — given the idea. You have to remember no one gets in trouble for saying no, for passing, so you need to have a piece of material that's conceptually undeniable."
by nyfa