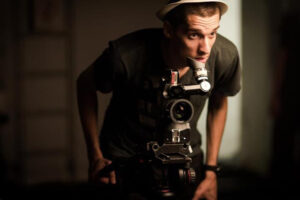 One of the more celebrated thesis films from the New York Film Academy was Andrey Trevgoda's, The Bicycle. The short film, which was beautifully shot, screened at a number of film festivals around the world and won Best Narrative Short Film at the Beijing Student Film Festival.
The story is a satirical adventure of a rusted old bicycle, neglected on the dark staircase by its owner, which becomes stolen by a petty young thief only to set off a series of unfortunate incidents as the bicycle passes from one eager hand to another, raising hopes and thwarting dreams of its fleeting new owners.
In The Bicycle, Andrey set out to create a visually compelling story with a unique look and style. During production, Andrey faced many adversities due to the weather conditions, small budget, and scheduling issues with his crew. Despite the challenges, Andrey and his producer, along with help from NYFA's equipment room heads, were able to finish what became an award-winning student film.
"Andrey approaches cinema with a singular passion and persistence in pursuit of perfection," said NYFA Directing Instructor Paul Warner. "His unconventional approach to visual storytelling as well as production methods has often yielded compelling outcomes, as in the case of The Bicycle."
From a young age, Andrey had a passion for drawing and shooting videos with his friends. After getting his degree in visual communication in Moscow, he moved to New York to study filmmaking at NYFA's 2 year conservatory program in New York City.
"By the end of my second year, things became a little more clear to me," said Andrey. "I knew exactly what I wanted to do and how I was going to approach it in terms of film language."
Since graduating from NYFA, Andrey has been working as a freelance director and cinematographer. Thus far, he's worked on music videos for such artists as Jordan Laz, Locksley, Detsl aka LeTruk.
To get a glimpse of Andrey's work, have a look at his trailer for The Bicycle!

by nyfa