New York Film Academy (NYFA) Producing students had the opportunity to attend this year's Australian International Screen Forum, which included panels moderated by NYFA Producing Chair Neal Weisman and NYFA Producing Film Finance instructor Krysanne Katsoolis. 
The Australian International Screen Forum aims to connect Australian film and television artists with the New York-based screen industry, and internationally showcases the work of Australian short filmmakers.
The second annual four-day event was held from March 19 – 22 at Lincoln Center and featured master classes, panel discussions, and workshops with industry veterans, as well as the New York Australian Film Festival, which was open to the public. A new addition to the forum this year was a pitch contest open to Australian and US filmmakers, conducted before a judging panel of industry greats that included Krysanne Katsoolis, who in addition to teaching at NYFA is CEO and President of ViewPark.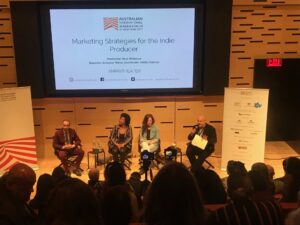 Katsoolis also moderated an interesting panel on indie financing strategies, where producers shared case histories and anecdotes about the current state of financing, and what it takes to get projects made in this dynamic landscape.
Marketing Strategies for the Indie Producer was another panel, moderated by NYFA Producing Chair Neal Weisman, which discussed the timeframe for producers to engage with the fundamentals of marketing and distribution, i.e. identifying unique selling points, the target audience, and niche audiences. The panel consisted of speakers Schuyler Weiss (Producer, Piercing, Ghost Team, Head of Production & Development, Baz & Co), Sara Kiener (Head of Distribution, Cinereach), and Keisha Salmon (Director of Communications and Audience Development, American Documentary | POV). There was a consensus amongst the panelists that producers must engage with these concepts early on in the producing process, i.e. development.
The panel also touched on the importance of grassroots support for projects through festivals and outreach campaigns, the role of social impact/action efforts in achieving filmmakers' objectives, and driving audience development, as well as the nature of target audiences for filmmakers in the festival circuit—very often the first audience for producers and filmmakers is the industry, as in the search for a distribution deal, while film audiences remain the ultimate target.
Also discussed by the panel was the ever-expanding role of social media in contemporary film and television marketing, often being used as a substitute for more traditional (and expensive) tools, i.e. advertising.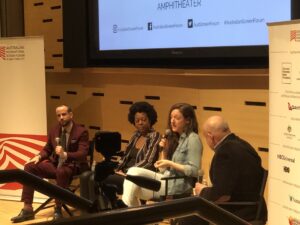 Interesting perspectives were expressed by the various participants, including Keisha Salmon, who spoke to the broadcast platform and the role of documentary festivals and outreach campaigns for their product. Sam Kiener spoke about Cinereach, which is a non-profit that finances films, including Beasts of the Southern Wild, and how they liaise with the distributors of their films. Schyuler Weiss spoke from the producing perspective, particularly about festival strategies when and if your film does not get into Sundance.
"All in all, a very comprehensive and stimulating conversation about the dynamic landscape of film and TV marketing today and its impact on producers," Weisman said after the event.
The Pitch Royale event was a popular, two-round contest, which included Krysanne Katsoolis as a judge. Industry delegates from Australia and the US pitch their film or series projects for one or two minutes to a panel of screen development industry leaders. The judges, who aim to mirror the real world development process, selected the best pitches based on a selective criteria. King Wong, a 1-Year Producing conservatory student, participated in the pitch session with a project close to his heart, and did very well.
The Australian International Screen Forum was an informative, insightful, and fun event, and New York Film Academy looks forward to it again next year!
by nyfa