Last week, the New York Film Academy's Producing Department welcomed award-winning film and television producer and director, Alan Poul, in a Q&A session moderated by NYFA Chair of Producing Neal Weisman.
As it happens, Poul broke into the business through his knowledge of the Japanese language. His first major gig was working on Paul Schrader's Mishima as associate producer. From there his reputation of the Japanese language and culture spread and, before he knew it, he was working on Ridley Scott's Black Rain, which took place in Japan.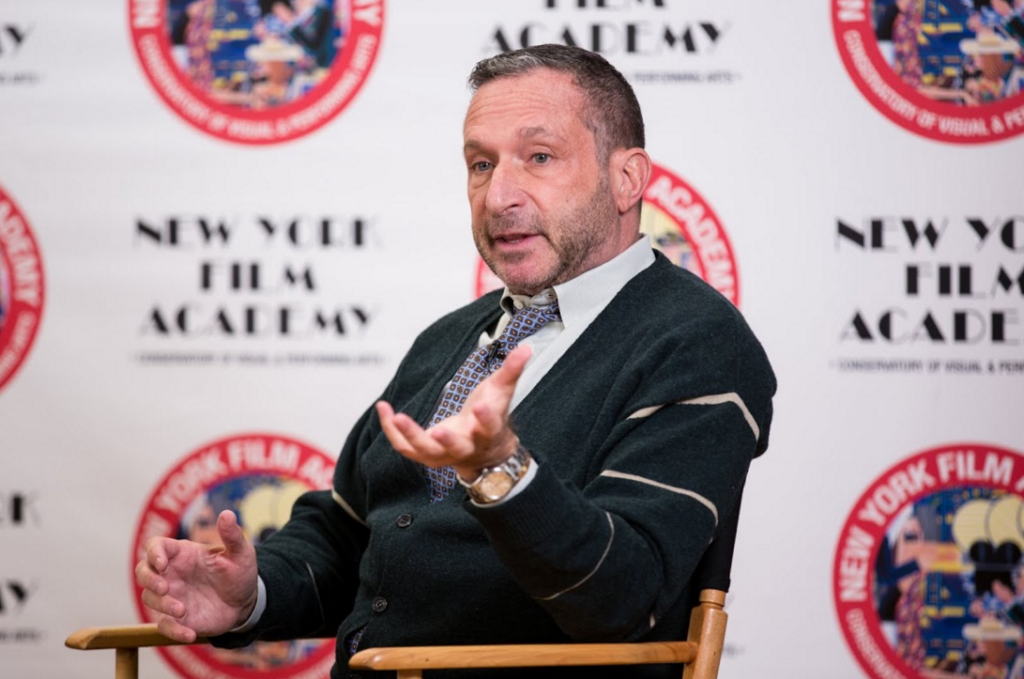 After 'learning by doing' from the best, Poul spread his wings and began what would become a prominent career as a producer and director. His credits are quite extensive and very impressive. Over the past twenty years Poul has received an Emmy Award, a Golden Globe Award, two Producers Guild Awards, four GLAAD Awards and three Peabody Awards. Together with arguably the most well known screenwriter in Hollywood, Aaron Sorkin, Poul worked as executive producer and director of Aaron Sorkin's Golden Globe-nominated series The Newsroom. He recalls Sorkin's original pilot script coming in at 110 pages for what was supposed to be an hour drama. Given the clout and success that Sorkin has in the business, Poul and his producing team were able to work out a 75 minute pilot that ended up airing on HBO.
Prior to that, he served as executive producer of HBO's acclaimed Six Feet Under for its entire five-season run. In 2008, he executive produced CBS' provocative 1970's-era drama Swingtown, and directed four episodes, including the pilot. In 2003, Poul was nominated for both a directing Emmy and a Directors Guild Award for the Six Feet Under episode, "Nobody Sleeps." Poul has also directed multiple episodes of HBO's historical epic Rome and polygamous family drama Big Love. His most recent work includes directing the pilots for the TNT series Perception and the ABC series GCB. He also produced the cult classic series My So-Called Life, which propelled the careers of both Claire Danes and Jared Leto.

As for the feature film world, Poul made his directorial debut in 2010 with the romantic comedy The Back-up Plan, starring Jennifer Lopez and Alex O'Loughlin. Previously he produced the Fox Searchlight film Woman on Top (2000), directed by Fina Torres and starring Penelope Cruz, Skip Woods' debut film Thursday (1998), Jean-Marc Vallée's Los Locos (1997), Scott Winant's 'Til There was You (1997), Monique Gardenberg's The Interview (Jenipapo) (1996), and the Clive Barker/Bernard Rose horror classic Candyman (1992).
Some other notable work in Poul's TV career has been his close collaboration with author Armistead Maupin, resulting in three miniseries based on Maupin's Tales of the City books (Tales of the City, More Tales of the City, Further Tales of the City), each of which was nominated for an Emmy award. While considered edgy material in its time, Poul brought the series to life through British TV's Channel 4 and eventually to Showtime for seasons two and three.
Poul clearly has a knack for finding quality material and choosing the right people to work with. He says, "I need to be inspired, so I'm always looking to work with people that I admire."
As to what keeps him going, or as he puts it "fill the hole," Poul says, "The opportunity to make something that wasn't there to begin with."
He warns young filmmakers not to just jump right into the process of filmmaking or producing without first seeking out a mentor or someone who knows the world much better than you. He recommends budding talent take up an apprenticeship in their field and to learn from the best before doing it on their own.
The New York Film Academy would like to sincerely thank Mr. Poul for sharing his insight and advice to our students. We wish him much success on his upcoming adaptation of the classic Andrew Holleran novel Dancer from the Dance, which he will direct.
by nyfa