New York Film Academy (NYFA) Acting for Film alum Dishani Chakraborty is ready to make her mark on the Bollywood scene. The young actress grew up in India, first in Coimbatore and then Mumbai, before moving to Los Angeles to study acting. Dishani first took the NYFA 4-week Acting for Film workshop before moving on to the 1-year Acting for Film conservatory at our Burbank-based campus.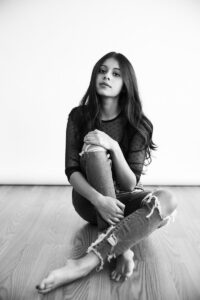 Since then, Dishani has steadily been increasing her skills as an actress as well as her presence online. When she returns home, she plans to hit the ground running with a career in acting that will follow in the footsteps of her brothers and her father, noted and award-winning Bollywood star Mithun Chakraborty (Disco Dancer, Agneepath, Suraksha). Indeed, buzz around her is already growing—she recently appeared in a photo story for Times of India.
New York Film Academy recently spoke with Dishani Chakraborty about her favorite classes at NYFA, her artistic family, and what influences and inspires her as an actress:
New York Film Academy (NYFA): First, can you tell us a bit about yourself, where you're from, and what brought you to New York Film Academy?
Dishani Chakraborty (DC): I grew up in a small city in the south of India called Coimbatore. I lived there with my three older brothers and parents for about nine years until we moved to Mumbai. 
Growing up in a household full of artists, I knew when I was really little that I wanted to be an actor. A normal day in my house consisted of my family talking about movies, both Hollywood and Bollywood. My siblings and I would watch at least one movie a day after school. I was so influenced by Western culture because of the number of movies and TV shows I watched and the music I listened to. 
I knew that I wanted to go abroad to learn the craft of filmmaking and acting once I finished high school. And what better place to learn than Hollywood itself. That's how New York Film Academy came in the picture. I did a short, 4-week Acting workshop back in 2016 at the Los Angeles campus and I absolutely fell in love with it. It was the best intensive course I had ever taken. I was blessed to have incredible teachers. So I decided to come back and do a 1-year Acting conservatory to gain more knowledge and experience before I started my journey in Bollywood.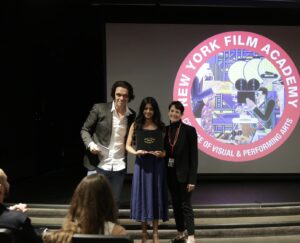 NYFA: What attracted you to learning the craft of acting?
DC: I think I was lucky because I had the access to learn the craft of acting from a very early age thanks to my father being an actor. I remember going on his film sets and being astonished by every little aspect. But for me, the thing that excites me the most about an actor's job is that their learning process never ends. As an actor, you really never stop growing or learning. There's so much you can prepare for, discover and explore. As actors, we're lucky that we can choose to be versatile by doing one job.
NYFA: What inspires you as an actor?
DC: Growing up, I saw a lot of Natalie Portman's work—I felt very much like her. Because I'm a petite person with a baby face and even though I'm over 18, I've looked 15 for quite a long time. Natalie Portman has been a big influence on me as an actor. Watching her versatility from doing something like Léon: The Professional to Star Wars to one of my favorite movies of her, Closer. I hope to get roles with that kind of range, whether I work in Bollywood or Hollywood.
NYFA: Your family has a great deal of experience in the entertainment industry. How do you differentiate yourself from the work they've done?
DC: I'm a firm believer in there's no "recipe for success." Everybody's journey is completely different. I do feel blessed because I've learned a lot of things about "showbiz" from my family and it certainly gives me a boost, but my father has raised my brothers and me to be hard workers, and most of all to work our way to get things.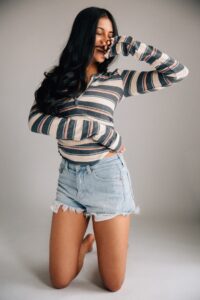 And I think living in LA and working here has given me a great dose of experience and independence, and I think that will help me a lot when I start working in Bollywood. I want to achieve things through my talent and hard work.
NYFA: What did you learn at NYFA that you find yourself using often?
DC: My favorite class in NYFA was Technique & Scene Study. I can say hands down that my teacher, Mr. Dig Wayne was by far the most excellent teacher I've ever had. I was lucky enough to also have him when I did the 4-week program in 2016. When I started NYFA, I was very shy and self-conscious. He taught us the craft of method acting and I think his class helped me overcome so many of my inhibitions. 
I still remember my first class with him and he made us do an exercise where we closed our eyes and he told us to hear our mothers calling our name. It was the biggest triggering point for me. And he told me to open my eyes and start my scene right then and there with those emotions. I felt so authentic and organic. His method was discovering as much information as possible for your character. Their backstory, their body language, even how you think they'd sound like. I think that's been such an important take away for character build up.
NYFA: What advice would you give to students just starting out at NYFA?
DC: Like I mentioned before, as actors, we never really stop learning and growing. Take your time and learn. Take notes! I still to this date go back to my notebook for an audition or a shoot to read notes that I'd made while I was in school. 
Don't be afraid to be first in class to go up on stage. Being a shy kid, I always felt like my heart would sink into my stomach every time I thought of going first. But believe me when I say, it's SUCH a confidence boost when you do.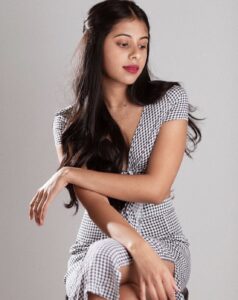 And for students starting out, I would recommend creating your own content as well. Write! I know it's easier said than done and the first draft possibly will be trash and will suck. However, don't be discouraged—the process of recognizing that will only make you better at it. 
Lastly, try to be in front of the camera as much as possible. As actors, we're born to critique ourselves. But the positive side on that is you'll discover so much about yourself when you watch yourself. And HAVE FUN!! Because these are going to be the best days of your lives.

New York Film Academy thanks Acting for Film alum Dishani Chakraborty for taking the time to thoughtfully answer our questions and share her experiences with the NYFA Community! 
by nyfa