On Tuesday, October 16th the New York Film Academy hosted a screening of Look Away with director, Assaf Bernstein, and producer and NYFA instructor, Dana Lustig, moderated by Director of the Los Angeles NYFA campus, Dan Mackler.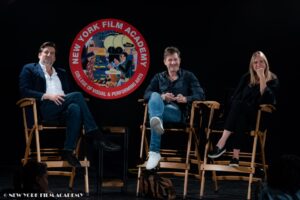 Bernstein is the critically-acclaimed director of Netflix's massive hit series, Fauda (2015). He recently directed the pilot episode of Warrior, the Bruce Lee-inspired series created for Cinemax. Prior to that, Focus Features released an English-language remake of Bernstein's film, The Debt (2007), which he co-wrote and directed. Look Away is Bernstein's first U.S. feature.
Lustig was the executive producer on Spider in the Web (2019), starring Ben Kingsley and Monica Bellucci, and the Israeli hit series, Very Important Man (2018). Prior to that, Lustig produced Jungle (2017), starring Daniel Radcliffe; The Frontier (2015); Rian Johnson's Brick (2005), nominated for the Independent Spirit Award; and Dancing at the Blue Iguana (2000), directed by Academy Award nominee, Michael Radford.
Lustig also directed A Thousand Kisses Deep (2011), which was nominated for the British Independent Film Award; Wild Cherry (2009) with Rob Schneider; Confessions of a Sociopathic Social Climber (2005), starring Jennifer Love Hewitt; and Kill Me Later (2001), starring Selma Blair. Lustig is set to direct the remake of Israeli film, The Man in the Wall.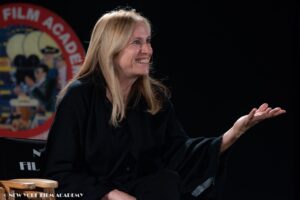 After the screening, Dan Mackler opened up the conversation by asking Bernstein about the inspiration behind Look Away. Bernstein replied, "It started when I was 10 years old and… this film is kind of the sum of all my fears… I had this idea of my own reflection not quite reflecting me, and I think there's something there — if you really look at yourself in the mirror, you always make a face, or, you know, you never actually just look at yourself, you always look away from what you see. I think the idea that your reflection is a stranger to you is something that has some truth in it… so that sort of fear that made me not look in my mirror in the bathroom… I remember as a kid I always thought would be the first film I would make."
Mackler inquired as to why — since the idea seemed to stem from an autobiographical perspective — Bernstein chose to make the protagonist a girl instead of a boy. "I think women are more repressed, traditionally, than men," said Bernstein, "there's more pressure on them to behave a certain way, to look a certain way… when a woman… becomes sexual, there's something dramatic about it."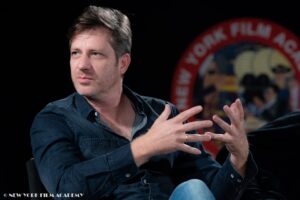 Bernstein added that making the protagonist female also played into primordial parental fears about their teenage daughters being sexually active, fears of both their daughters' agency and potential victimhood.
Later, the Q&A opened up to questions from students in the audience; one student asked Bernstein and Lustig what they wish they knew when they first started out. "Don't make [this] mistake," said Lustig, "You make your movie, you put everything into it, you go to a film festival; everybody's asking you, 'So what's your next project?' and you're like, 'Um…' and you don't have it and you kind of miss the opportunity, miss the timing…The other thing that I encourage my students [to do]…is to keep doing."
Lustig then encouraged all students in the audience to make their films with whatever resources are available to them and to never stop learning.
The New York Film Academy thanks Assaf Bernstein and Dana Lustig for sharing their creative processes and entertainment industry advice with students!
[su_carousel source="media: 28366,28364,28363,28362,28361,28360,28359,28358,28357,28356,28355″ limit="49″ link="lightbox" target="blank" width="780″ height="360″ title="no" autoplay="0″]
by nyfa