On Thursday, April 18, New York Film Academy (NYFA) alum and prolific actor, writer, and director Bill Hader participated in a lively and entertaining Q&A following a screening of his hit HBO series Barry. The event was moderated by Director of the NYFA Q&A Series Tova Laiter.
Hader is best known for his work on Saturday Night Live, for which he won an Emmy, and has acted in a number of successful films including Superbad (2007), The Skeleton Twins (2014) and Trainwreck (2015), among many others. 
Laiter opened up the Q&A by asking Hader about his start in the industry. He shared that while he did funny impressions for his friends and family when he was growing up in Tulsa, Oklahoma, he really loved to go to the movies. "When I watched a movie, I got really drawn in by the story, the cinematography, the look of it, the feel of it," said Hader. 
When Hader was a teenager, he enjoyed making short films of his own and enrolled in a Filmmaking workshop at NYFA where he made four short films and got a lot of positive feedback from his instructors. Ultimately, Hader moved to Los Angeles, where he started as a production assistant and various low level jobs in the industry.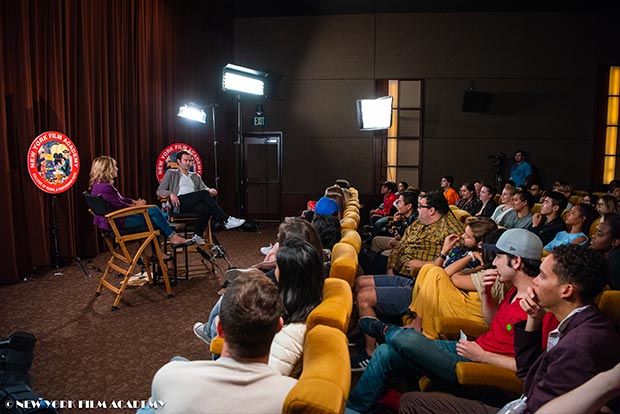 After working for a while as a production assistant, Hader started to feel creatively unsatisfied, so he started taking improv comedy classes at Second City Theater in Hollywood. Actress Megan Mullally saw Hader perform at Second City and noticed how talented he was and told executive producer of Saturday Night Live, Lorne Michaels, about him. "I had no manager, no agent, no anything," said Hader, "so I met Lorne Michaels and I auditioned… I auditioned like four or five times for the show… and finally I got the job."
A number of students in the audience were interested in asking Hader questions. One student asked how Hader makes his acting feel authentic on shows like Barry. "You have to be truthful, instinctual, and not just go for the laughs," said Hader. He shared that he watches others express their emotions through small idiosyncrasies and that he will occasionally mimic those mannerisms while acting.
Another student inquired about Hader's writing process for Barry. "We kind of have little 'tentpole' scenes," said Hader, "we gotta write this to get to that… We're constantly working on it but we never fully plan… but the fun of it is kinda seeing where the characters take it… Know that the process is messy and that you're gonna fail a lot." He emphasized that writing should always be "character driven" and centered on emotion.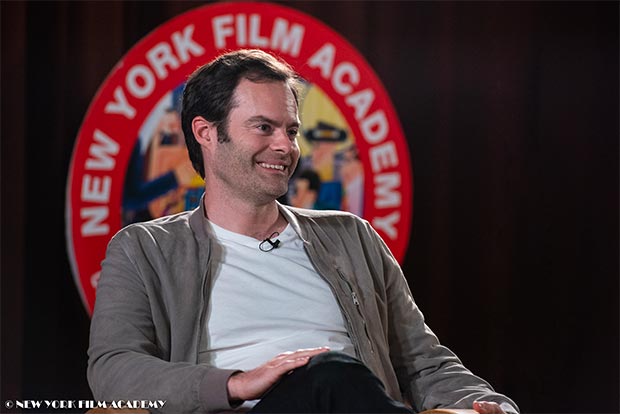 One student asked what advice Hader would give to his younger self when he was starting his career. "I would say to myself, 'You don't need to figure it all out this millisecond; it takes time.' 
I was terrified of failing… but you have to fail; you have to learn from that and keep doing it and keep doing it… it's all a process," said Hader.
The New York Film Academy would like to thank actor, writer, and NYFA alum Bill Hader for sharing his writing and acting advice as well as the lessons he learned from his experience in the entertainment industry with our students.
by nyfa