Carolina Sosa graduated in 2017 from the New York Film Academy (NYFA) Los Angeles campus with a Master of Fine Arts in Documentary. Since then she's been hard at work on Trumphobia, a feature-length film that originally started as her thesis documentary.
Carolina is one of many notable alumni and faculty to hail from the NYFA Documentary School, including instructor Kristen Nutile, who edited the Oscar-, Peabody-, and Emmy-nominated Heroin(e) on Netflix, and RBG's director of photography and NYFA Documentary professor Claudia Raschke. Ranked as a top documentary filmmaking school for the past eight years, holding a coveted spot on The Independent Magazine's list of the Top 10 Academic Programs for Documentary Filmmakers, the New York Film Academy's documentary program aims to prepare students for the practical challenges, opportunities, and realities that arise when creating documentary films.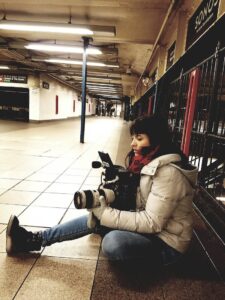 Only 27, Carolina has already amassed several awards and honors for her work in documentary filmmaking. She received the award for Best Film at the Los Angeles Television, Script, and Film Festival and the Award of Excellence from the Hollywood International Independent Documentary Awards for her documentary short Exit the shelter. She was also invited by CinemaFest 2014 to adapt movies for the blind and deaf after directing Okurelo Cine in 2013.
It was no surprise, then, when NYFA alum Carolina Sosa recently received a $10,000 grant from the Rogovy Foundation, an organization that works "to build a more enlightened and harmonious planet," and supplies grants to documentaries and other "highly targeted projects which will have a measurable impact."
Recently, Carolina spoke with the New York Film Academy about her film Trumphobia, her time at NYFA, and other projects she is currently working on:
New York Film Academy (NYFA): First, can you tell us a bit about yourself and what brought you to New York Film Academy?
Carolina Sosa (CS): I'm from Uruguay, I'm 27 years old, and I got a Fulbright scholarship to study a master's degree in documentary filmmaking, and NYFA was the school that gave me the highest tuition award from all the schools that I have applied; also the program was located in Los Angeles.
NYFA: Why have you decided to focus on documentary filmmaking?
CS: I like to use art as a tool for change. I believe that reality is often more fascinating than fiction, and I want to dedicate my life to tell true stories that inspire, promote justice, and can make a difference in this world. And also, because I love to travel and share my view with others.
NYFA: Can you tell us about your film Trumphobia?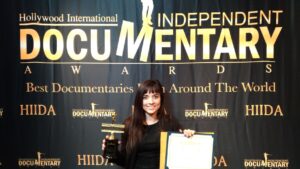 CS: Trumphobia: what both sides fear (tentative title) is a feature documentary about the political division in the United States and how Donald J. Trump's rhetoric increased that division with the help of the mainstream media. On one side, he gave strength and safety to his supporters and, on the other side, he imposed fear and anger on his opponents, which led to major confrontations, protests, and counter-protests across the country. Trumphobia analyzes the reasons for the political division, provides a moving description of Trump's supporters along with the people who are most affected by Trump's policies, and proposes empathy and compassion for all as a possible solution to the turmoil. The documentary has the participation of the Green Party presidential candidate Jill Stein, New York Senator Michael Gianaris, Berkeley professor of cognitive science and linguistics George Lakoff, Ph.D., professor of psychology and social behavior Peter H. Ditto, six hate crime victims and witnesses from both sides, representatives of major organizations, many of Trump's supporters and opponents, and includes footage from more than thirteen debates, marches, and protests across six states.
NYFA: What inspired you to make Trumphobia?
CS: The documentary started as part of my master's thesis. I was looking for a subject matter right when Trump got elected, and I thought that making a documentary about a current topic that affected millions of people was worth my long work. Especially because I wanted to portray both sides of the story — his supporters and opponents — and I wasn't seeing much about the right side on the media, so I wanted to be one of the first ones to make a documentary that actually tried to be objective when it comes to politics. The good thing is that most of the crew was international, so we all had an outsider perspective that allowed us to listen without immediately judging. And the one thing that got my attention the most was the articles about hate crimes related to the election and the violent confrontations between people, so it's not about Trump's policies — it's about critical thinking and how moral values determine our worldview. I believe we are all biased, and we need to be more empathetic with others to overcome our differences.
NYFA: How did you find out about the Rogovy Foundation grant?
CS: Thanks to NYFA, I became a member of the International Documentary Association and, through their website, I searched for all the grants that I could apply and that's how we heard about the Rogovy Foundation. We have applied for more than ten different grants, it's a long and tedious job to prepare all the documents and materials for each grant, but it was worth it because we got their Miller / Packan Film Fund for the postproduction of our film, and they have been very supportive. Moreover, the IDA accepted our project and they became our fiscal sponsor, so that's also good news.
NYFA: That's great news! What are your plans for Trumphobia?
CS: For the thesis, I made the first 20 minutes of the film and, since September 2017 when I graduated, I have been working on the 90-minute version. It took me a lot of time because I started working as an editor right after school, and so I have been very busy. But I have never given up, even without money or with a full-time team, I truly believe in the message of the movie and I'm very proud of the result so far, thus we are still working on it. We shot the movie during a year almost and there is always a new thing with Trump, so it takes a lot of work to edit many hours of footage and do constant research, but we are almost there. We are planning to have a final cut that we can send to the Sundance Film Festival in September, and then really finish the movie in October. After that, we will send it to more festivals and try to find online distribution immediately.
NYFA: What other projects are you working on or do you plan to work on?
CS: For the 1-year project of the school, GuangLi Zhu and I made a short documentary about the killing of pets in animal shelters, called Exit the shelter, and I have been promoting that short as well. We received the award of Best Film at the Los Angeles Television, Script and Film Festival and an Award of Excellence at the Hollywood International Independent Documentary Awards, and we are still waiting to see other festivals' results. GuangLi was one of my classmates and he is back in China now, but I have partnered with the LA Animal Services and other shelters, so we recently did a screening of the short and a fundraising event to help the pets in two different shelters. Meanwhile, I work as an editor, producer, and cinematographer at Dame Dash Studios; right now I'm editing a documentary about a trip to China for them, but I'm also working as a camerawoman for Harrison Engle (former president of IDA) for one of his documentaries. And every once in a while, I work freelance on other small projects. I'm a workaholic, I work eight hours (or more) at my job every day, then I get home and I work four hours on Trumphobia, and on the weekends it's all about Trumphobia.
NYFA: What did you learn at NYFA that you applied directly to your work on Trumphobia, or your work in general?
CS: The documentary department at NYFA was very helpful with my project Trumphobia. Since the topic was so urgent, they allowed me to borrow the equipment in November 2016, while all my other classmates shot their thesis in June 2017. I pitched the project when Trump got elected and I asked them if I could travel across the U.S. in the winter holidays so I can shoot what I needed, and with almost no bureaucracy involved they said yes, so I'm always thankful for that. They gave me the freedom to do what I wanted and the resources that I needed when I asked for it, because I shot through the whole year several times and they never said no. I can imagine that this could have been very different in other schools. NYFA gave me the tools that I needed to feel prepared to shoot across the country with little resources.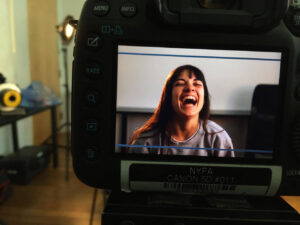 NYFA: What advice would you give to students just starting out at NYFA?
CS: My advice to new students is to think big, work hard, go to all the events, conferences, and workshops that you can (even the ones that are not related to your degree); go out, meet people, build your network, and apply to as many grants, scholarships, and festivals that you can — you never know who you are going to meet, what you are going to receive, and what you are going to learn.
The New York Film Academy congratulates Carolina Sosa on her recent grant and looks forward to the completion and distribution of Trumphobia and Carolina's continued career!
Interested in learning documentary filmmaking? Check out more information on New York Film Academy's programs here!
by nyfa