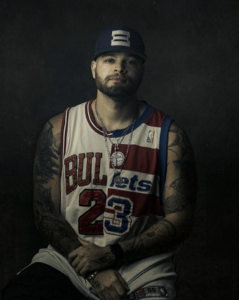 Two-time New York Film Academy (NYFA) Photography and Cinematography Alum Xavier Velasquez has been making waves in sound design and cinematography since graduating from NYFA in 2019.
Velasquez spoke with New York Film Academy about what he's been up to since graduating, what inspires his work and his advice to anyone looking to get started in filmmaking.
New York Film Academy (NYFA): Can you tell us a bit about yourself and life before NYFA?
Xavier Velasquez (XV):My name is Xavier Velásquez. I am a Cinematographer, Photographer, Audio Engineer and Sound designer. I also do a lot of conceptual/surrealist digital art work and I am originally from Brooklyn, NY. 
Before attending NYFA, I served in the United States Army for 5 years. I was stationed in Germany for 3.5 years and Fort Bragg for the remainder of my contract. I was deployed twice during my service. Once to Turkey for 6 months and the other to Kandahar, Afghanistan for 9 months.
NYFA: What brought you to the New York Film Academy?
XV: Honestly, the idea of making films as a career or professional was so far-fetched to me. As a kid I would force my sister and cousins to make films with me on my dad's old VHS recorder (which I still have). As I was graduating high school, I realized that you could go to college for filmmaking, media, arts – things like that. I decided that was the route for me and applied to the Art Institute of Boston. I was accepted, went to orientation and took the placement tests only to learn that I would also need to do math, science, english and all the other regular subjects before I even got to learn anything about making films. That right there was a NO for me. I looked up other film schools on Google and found out about New York Film Academy and I was hooked. Everything they provided and showcased on their website was exactly what I was looking for. So I applied and got approved for a grant NYFA offered at the time, but then I couldn't attend because I was 18 and broke and was unable to cover the rest of the tuition. A few years passed, I joined the Army at 20 and while I was deployed to Afghanistan, I was debating whether to reenlist for more years or get out. After having a conversation with my platoon sergeant about college, I decided to google the New York Film Academy again. I saw that the school accepted the G.I bill, a benefit I received from being in the military which would pay for my schooling; that sealed my fate right there. The decision was clearer than ever. I left the military on Veteran's Day 2015 and by December I was signed up for school and ready for classes in January.  
NYFA: You mentioned you studied Filmmaking, Audio and Photography. What motivated you to continue your studies and transition from Film, Audio and Photography?
XV: Well there's no question about it, as much as I love cinematography, compositions, framing, lighting, you NEED really good sound or, in my opinion, your  films don't work. You can be very experimental with how you shoot and light anything but bad sound is never forgiven. I had months left on my G.I Bill and decided that sound was something I wanted to get more involved in. I love the sound design part of filmmaking. The audience might hear clothes rustling but they wouldn't know that it's just me balling up one of my sons clean diapers. It's exciting creating noise from anything to be anything. I felt solidified in my decision to endure the world of sound design when a film I executive produced, Dp'd, colored and did the sound design for actually won best sound design at a festival. Photography is also important. In my opinion, it is the foundation of good cinematography. The photography program at NYFA really opened my eyes to the artistic world and what a lens can capture. That program alone is what made me the DP I am today. It taught me to appreciate what the light captures and what it doesn't. It taught me to appreciate the shadows and embrace them because everything has a story. Care about your framing because that one frame can tell a story.
View this post on Instagram
NYFA: Tell us more about your latest project & how you got involved in the project? What was your role in the project?
XV: My latest short film is Sutherland. It is an atmospheric horror film that I co-executive produced and was the director of photography for. I got onto this project because another project I was supposed to DP for fell through. I spoke to the director of Sutherland about it because he was also supposed to be on that project with me and since the first project had fallen through, he offered to write a script for us to work on, if I was interested. He wrote it (what would be Sutherland). I loved it and we went from there. We got a cast and crew and spent 5 nights in July shooting a horror film in a historic house in Virginia. It's by far one of my favorite projects I've been blessed to create. It is currently going through the film festival circuit It has been selected in the category of Best Cinematography for the Montreal Independent Film Festival. 
Take a look at the Sutherland teaser below!
There is also and Instagram page for the film : @sutherland_film. 

NYFA: What other projects have you worked on since graduating?
XV: Aside from Sutherland, I have also been working on 2 other projects. A documentary that I'm DPing, GodsChild, that I've been filming for about a year now with former NYFA student, Darius Green. It focuses on a DJ who was a rising basketball star in the early 2000's here in Virginia. The second project is an episodic comedy of which I am DP and co-producer, Simpleton. An observational comedy that follows the life of our protagonist Gerson. Episode one is finished and we are getting ready to release that soon.
NYFA: What kind of stories do you want to be known for?
XV: I don't know. That's tough question because I seem to have fallen into the suspense horror genre. Don't get me wrong, I love that world and creating it but I also want to see if I can venture into other genres but still maintain my artistic integrity where if someone watches anything I've made they can tell I either filmed it myself or influenced the project. It is one of the reasons I took on the episodic comedy I mentioned before. At that point, I had never shot a comedy and wanted to see if I could pull it off. Sutherland and Simpleton are polar opposites. I wanted to see if I could do it and make it fit my style of shooting.
NYFA: What is the importance of film and storytelling in your opinion?
XV: Film and storytelling are outlets for artists. If it's documentary work, it gives people a voice. They can choose to use that voice to bring awareness to social issues, tell the truth, or persuade an audience. 
If we are talking about fiction it gives us the power to use our imagination. For the most part, we are taught to go to college and get a job and that's it. Our creativity dies out as we fall in line with this "life plan". With that plan, when are you being creative or imaginative? Being able to create something that tells a story, either using film, photography or art is something creatives cherish. I feel that we are true risk-takers as not everyone can make a living doing something in this field. A lot of artists don't even get recognized until they pass away. We do this for freedom of self expression but most of the time we don't care if everyone loves our work because we do. It's our outlet at the end of the day and if people don't like it or they think they can do it better, they should pick up a camera or a brush and do it.
View this post on Instagram
NYFA: Have you won any awards or been showcased in any festivals or competitions?
XV: Yes I have. Both in my film work and my photography work. My conceptual work was accepted in both the APA (Annual Photography Awards) and the Fine Art Photography Awards. I also had my work in the Conception Art Show in Tribeca and The A.R.T (Artistic Recreational Therapy) in the UK. 
NYFA: Who has inspired you in your work? Who has inspired you personally?
XV: This is such a hard question to answer. Inspiration comes from too many places. I could be listening to a song that gives me a feeling or makes an image pop in my head and I would go from there. That's how most of my digital artwork is created. Either life experiences or music I'm listening to at the time. But if I had to name a few in the film world it would be directors like David Fincher, Ari Aster, Jordan Peele. Tod Campbell's cinematography work. The photography work of Gregory Crewdson, & Dan Winters are just a few of the many artists that inspire me.
NYFA: What did you learn at NYFA that you applied directly to your project?
XV: Everything. I knew absolutely nothing about cinematography, photography or filmmaking as a whole. I legitimately left the "comfort" and "stability" of the military without knowing if I would be good at any of this. The first time I held a real camera – outside of my fathers old vhs recorder – was at Nyfa. Whenever someone asks me about going to film school, I tell them if they can afford it then go for it. If they still have any doubt all I have to do is show them my work. I will always consider myself a student of this art form but I do feel that I know what I'm doing simply because I went to NYFA.
NYFA: Any advice or tips for anyone looking to get involved in photography, film or the visual arts?
XV: I mean not to sound cliche but just go for it. For the most part nobody is stopping you from doing anything but yourself. Yeah, you can bring up money but if you're old enough to have these kinds of questions then you should have a phone in your possession and the phones nowadays can do everything. I've shot films on my phone. One of my photos that was included in an art gallery I originally took on my iPhone 11. If you want to be a storyteller, there's literally no reason as to why you can't write a story, and then find the people that can help you bring it to life.
I'll end this Q&A with this: there's this saying or quote I don't really remember where I heard it from or who said it but I remember it like this, "there's pen and paper everywhere, but not everyone is an author" I used that quote to inspire me all the time. I don't consider myself a writer at all but it reminds me that just because people have access to things doesn't mean they know how to use it. So if you want to be an author – write stories, a filmmaker – make a film, a photographer – take photos. You never know you just might have that artistic voice someones been waiting to hear, see or feel.
New York Film Academy congratulates Xavier Velasquez on his accomplishments! We look forward to seeing more of your work!
by nyfa