On July 25, 2018, the New York Film Academy (NYFA), hosted a screening of the film Downrange and a Q&A with Japanese director and writer, Ryûhei Kitamura, and Albanian composer, Aldo Shllaku, moderated by NYFA screenwriting instructor, Eric Conner.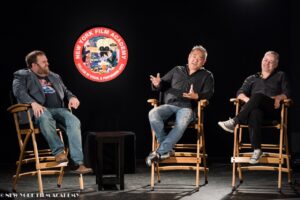 Kitamura began his career by founding his own independent production company in Japan called Napalm Films. His first mainstream success was a film called Versus (2000) and he went on to direct a handful of other feature-length films including an adaptation of the manga series Azumi (2003) and Godzilla: Final Wars (2004). In 2008, Kitamura made his American filmmaking debut with Midnight Meat Train, based on the short story by Clive Barker and starring Bradley Cooper. 
Shllaku is a classically trained composer; you can hear his work in films and on television in productions such as Spider-Man 3, David and Goliath, Kill 'Em All, Lupin the Third, The Blue Hour and many more.
Conner opened up the Q&A by asking Kitamura and Shllaku how they got started.
Kitamura responded, "I grew up watching movies; I even didn't go to much of the school when I was [in] like elementary school or junior high. I was always at the movie theater, so when I was like 17 I just thought about…what I want to do in my life and naturally…film directing [was] the only thing I wanted to do."
Kitamura eventually decided to move to Australia, the home of one of his favorite directors, Russell Mulcahy (Highlander, Resident Evil: Extinction), where he studied filmmaking at the School of Visual Art in Sydney. Kitamura was disappointed to find that his fellow students were not interested in action and horror like he was, so after he finished school he decided to move back to Japan where he would go on to launch his film career.
Shllaku started his career in Greece to avoid the political turmoil due to the rise of communism in his native Albania. He then moved to Canada where he studied film and composition.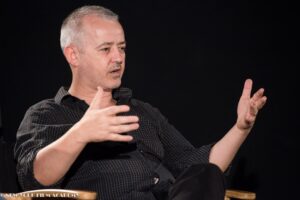 Shllaku explained, "[Working globally] does have an impact, first of all, of the cinema of those respective countries and also from the music perspective. I've worked in nightclubs in Greece, in Montreal, in New York…so different type[s] of cultures, different type[s] of music…even though I'm classically trained…I absorbed certain things wherever I lived…because they become part of you."
Conner asked Kitamura to discuss the making of Versus, a low-budget horror movie that quickly became a cult hit.
Kitamura answered, "I knew that I had something in me and I just had to show it to the world…I wrote the script…I went to every single studio, producer, everybody…like 300 places and everybody ignored me…somehow that didn't stop my passion so I ended up calling friends…and I started asking for money."
Kitamura was able to raise about $50,000 this way. When the money started to run out, he called his friends again to keep the production going. When the film was finally done shooting, Kitamura went to one of the top editors in Japan and brazenly asked him to edit the film digitally for free, promising to pay him "when he got famous." The editor, amused and impressed by Kitamura's confidence, agreed and the two worked together on a number of projects afterward, including Godzilla: Final Wars.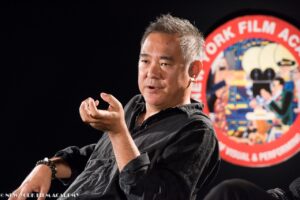 Kitamura and Shllaku stressed to the audience that these types of relationships are the lifeblood of the entertainment industry; you have to like the people you work with because you spend hours, days, and weeks together on set, but also because good working relationships can lead to more jobs in the future.
All of our students, including our many Japanese students, were excited to have Ryûhei Kitamura and Aldo Shllaku as guests at NYFA Los Angeles. The New York Film Academy thanks them for their generous time and for sharing their experiences.
For Japanese students and schools that would like more information about NYFA programs please contact Noriko Yoshida. Phone: +1-917-570-2375 (USA) Email: noriko@nyfa.edu
[su_carousel source="media: 27843,27842,27841,27840,27839,27838,27837,27836,27835″ limit="49″ link="lightbox" target="blank" width="780″ height="360″ title="no" autoplay="0″]
by nyfa