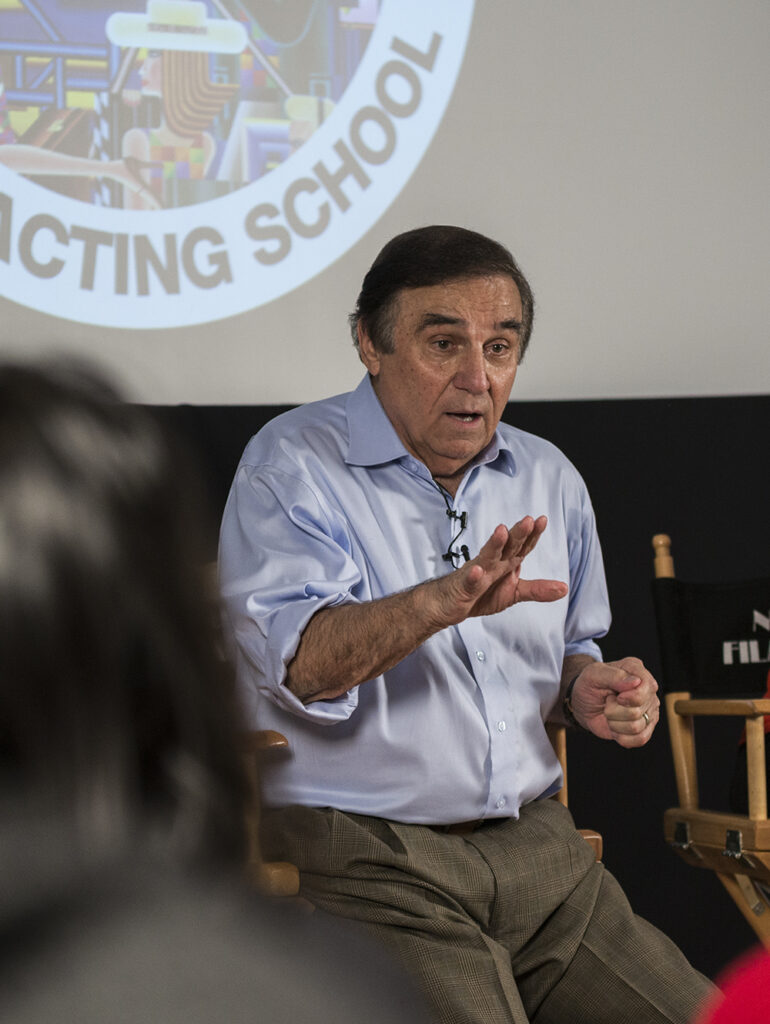 A proud Brooklynite, actor Tony LoBianco captured a full crowd of New York Film Academy acting students from the moment he stood in front of them until the standing ovation at the end—and even afterwards in a long line that formed to meet the brilliant and humble, motivational speaker. The career of actor Tony LoBianco is distinguished as much by its depth and variety, as by the skills and gifts Mr. Lo Bianco has brought to his work. Over the past 61 years, he has appeared in numerous films, television programs, and stage performances, both on-screen and off as a writer, director, and producer. Throughout his career, Mr. Lo Bianco has collaborated with many of the brightest creative minds in the performing arts, both past and present.
Perhaps most known for his performance as Sal Boca in the five-time Academy Award winning film The French Connection with Gene Hackman and Roy Scheider, LoBianco starred in the cult classic The Honeymoon Killers; The Seven-Ups with Roy Scheider; starred with Richard Gere and Paul Sorvino in Bloodbrothers; City Heat with Clint Eastwood and Burt Reynolds; Director Oliver Stone's Nixon with the great Anthony Hopkins; The Juror with Alec Baldwin and Demi Moore; F.I.S.T. with Sylvester Stallone and Rod Steiger; Boiling Point with Wesley Snipes and Dennis Hopper; the cult classic God Told Me To; and Kill the Irishman with Val Kilmer, Vincent D'onofrio, and Christopher Walken; and La Romana with Gina Lollabrigida.
On stage, Mr. Lo Bianco won an Obie Award for Best Actor in Jonathan Reynold's Yanks-3, Detroit-0, Top of the 7th. Following his memorable performance as Eddie Carbone in Arthur Miller's A View from the Bridge on Broadway, he was nominated for the Tony Award for Best Actor, and won the Outer Critics Circle Award. He also won a New York Area Television Academy Award and daytime Emmy for Hizzoner! The Life of Mayor Fiorello La Guardia.

On television, Mr. Lo Bianco starred as Rocky Marciano, the only undefeated heavy weight champ of the world, in Marciano. He appeared in the mini-series Marco Polo and Jesus of Nazareth directed by the great Franco Zeffirelli. He also starred in The Last Tenant with legendary acting teacher Lee Strasberg. He has appeared over the years in several Law & Order episodes; Police Story; Jessie with Lindsay Wagner; Another Woman's Child with Linda Lavin; among many others. As a director, Mr. Lo Bianco directed several episodes of television, including Police Story; The Duke; Cliffhangers; When the Whistle Blows; Kaz; and the feature film Too Scared to Scream.
In 1963, Mr. Lo Bianco co-founded the Triangle Theater in New York City and served as artistic director for six years, during which time lighting designer Jules Fisher, playwright Jason Miller, and actor Roy Scheider, passed through its doors. Mr. Lo Bianco himself directed eight productions and produced twenty-five others.
His long-lasting and successful career sprang from a confident, street-fighting man in Brooklyn, who caught the attention of his teacher and eventually his entire neighborhood by winning a monologue contest. It would be from that point on that LoBianco's confidence would have him booking audition after audition. He stresses, "Take courage. Be sure of yourself."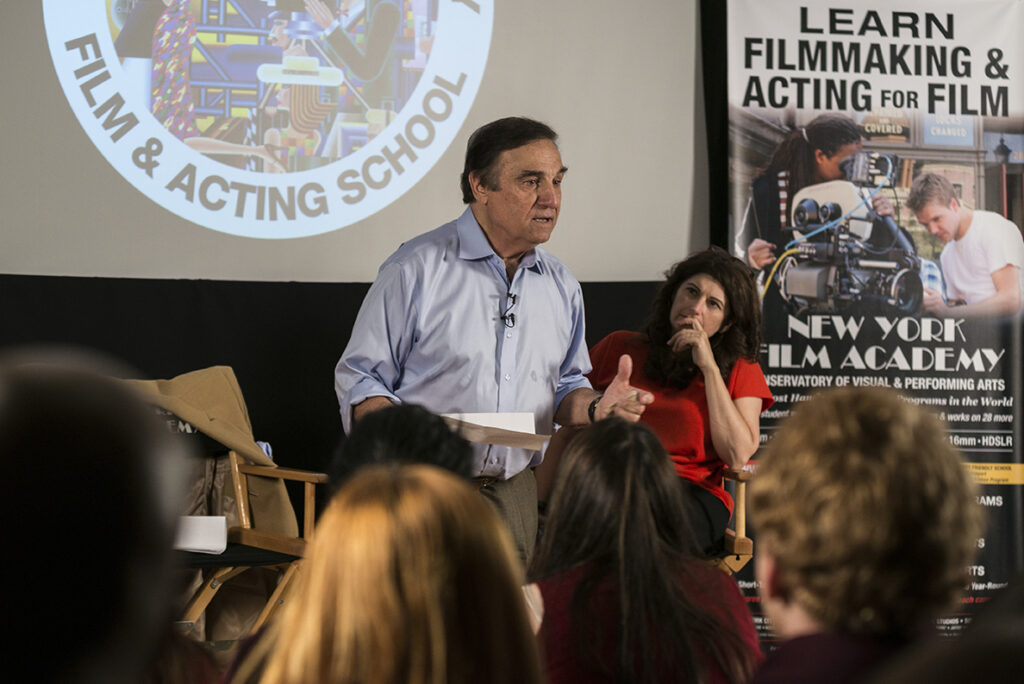 While admitting this is "the most difficult business to get into," LoBianco says, "actors must be strong enough to understand rejection. All the mistakes that you make are just part of the education."
He insists that actors and people in general find their foundation—find out who you are. From that point, you will exude confidence and others will respond in a positive way. "Always dare yourself to be wrong."
Above it all, the humbling LoBianco understands and preaches that we're all human beings and should treat each other with respect. It is a privilege to be an actor and, in no way, does it give the right to be rude or conceited. Always be chivalrous toward those around, and never take your gift for granted.
It was truly an honor to watch Mr. LoBianco speak with such passion and sincerity. His wisdom and insight made for a truly remarkable evening and we can't thank him enough.
by nyfa