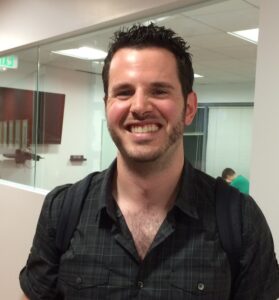 On July 22nd, screenwriter Steve Desmond joined New York Film Academy's Business of Screenwriting II class to discuss tips and advice on breaking into Hollywood as a writer, sharing many valuable insights.
After winning a Student Emmy while still an undergrad, Steve emphasized that while he was initially focused on getting repped as a writer after school, he soon realized that the most important thing he could focus on was becoming a great storyteller. He advised young writers to not be so focused with finding an agent or manager right away and instead to work on their craft and to keep getting better.
"Write every day," Steve advised. "I keep a calendar in my office, and I mark it off for every day that I get a few hours of writing done. And then I push myself. Can I do ten days, twenty days, thirty days? Of course, sometimes it's necessary and refreshing to take breaks. But you should be writing 5 to 6 days a week whether it be outlining or writing pages."
Steve also works as a Commercial Treatment writer. He spoke about this unique area of the business as a way to support yourself as a fiction writer, while still getting paid to write and learn about the commercial production process. He also discussed working as a freelance Reality TV Treatment writer and brought in examples of such work.
Steve finally spoke candidly about the process of developing projects with producers, stating that producer notes can be great, but that you always want to be careful to both agreeing with a note that you initially love, or in rejecting a note that you initially don't like too fast. "Both can get you into trouble," Steve warned, "and it's best to take it all in and think it over after a script meeting."
Along with his writing partner, Steve has written and developed film projects with production companies such as Imagine Entertainment, Blacklight Transmedia, and the Disney Channel. Steve currently has a biopic in development with Level 1, a sci-fi thriller with Davis Entertainment, and thriller On Your Doorstep with Haven Entertainment, where Steve is attached to direct.
by nyfa