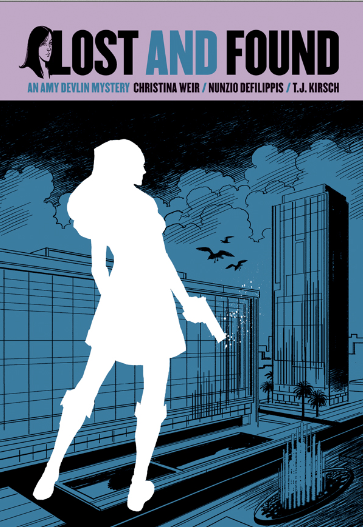 New York Film Academy Screenwriting instructors, Nunzio DeFilippis and Christina Weir continue their work in the field of graphic novels with the third in their series of AMY DEVLIN MYSTERIES. The new graphic novel, entitled LOST & FOUND, explores a cold kidnapping case that leads Amy Devlin into conflict with a powerful self-help group in Hollywood.
Times are tough for Amy Devlin, and without a case her financial situation is dire. Busting a cold case of kidnapping and murder from years ago may be the answer to her problems. Amy is sure that she can solve the case, but when the powerful, and untouchable, Life Science Institute of Hollywood gets involved, she may wind up with much more than just her reputation on the line.
LOST & FOUND is available in comic shops and at Amazon.com now. It features art by T.J. Kirsch (SHE DIED IN TERREBONNE) and lettering by Shawn DePasquale.
Not only that, THE AMY DEVLIN MYSTERIES are being developed as a TV series at E! Entertainment.
DeFilippis & Weir have the tenth volume of the Original English Language Manga, AMAZING AGENT LUNA also out in stores (it was released in March), and teach Writing For Sequential Art (in addition to Screenwriting) at NYFA.
by nyfa