On Thursday, March 17th, the New York Film Academy's Screenwriting Department, in cooperation with Final Draft, hosted the second in its second annual series of "Life In" panels. Arranged for NYFA's Final Draft Fellowship (a 12 week Writing Fellowship for the finalists in Final Draft's Big Break Contest), this panel focused on "Life in Television" and saw the panelists explore the ups and downs of working in the TV world. Eva Gross, the Marketing Coordinator for Final Draft, was also in attendance.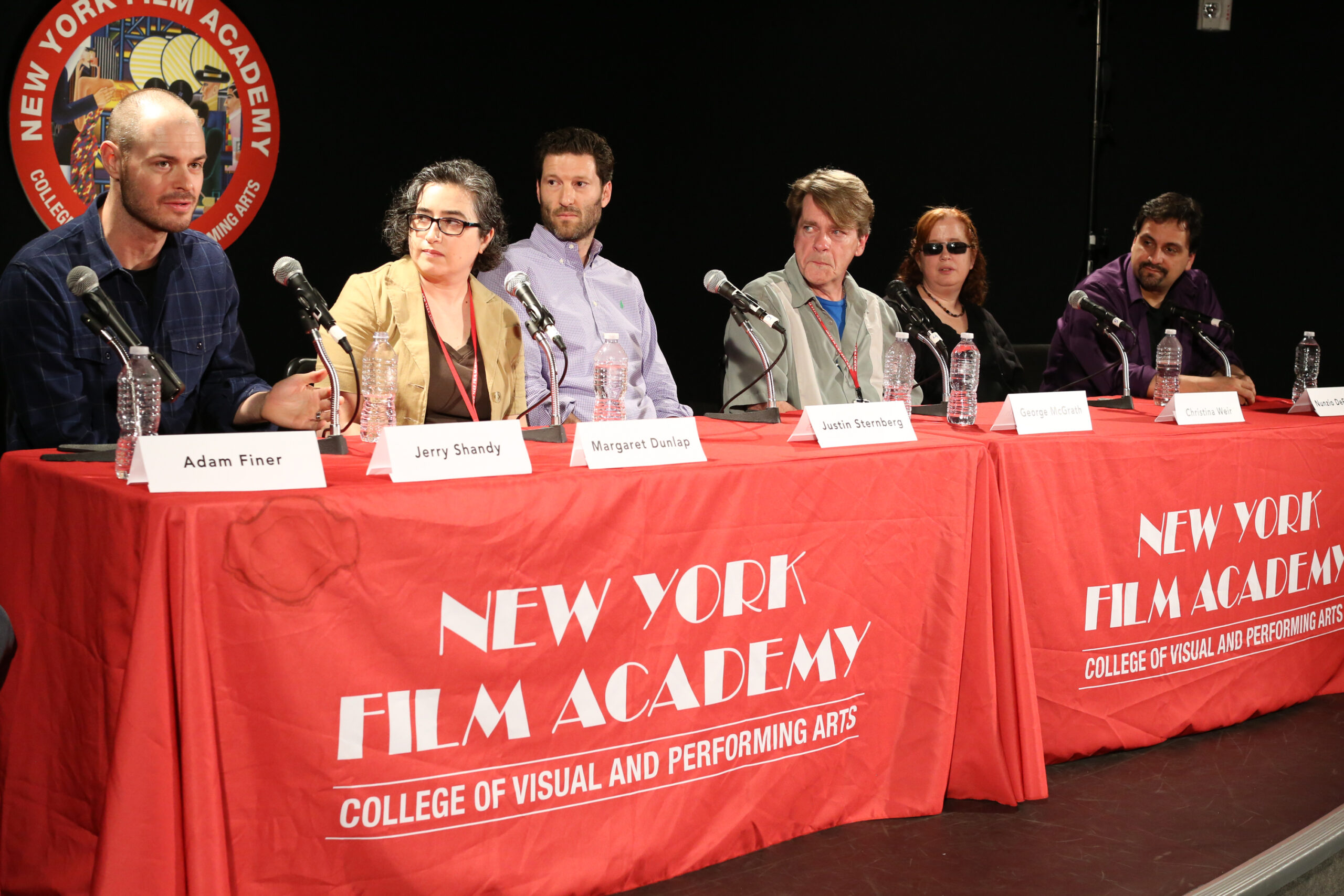 The Television panelists (all NYFA instructors) included:
Jerry Shandy, (DOMINION, PERCEPTION)
Justin Sternberg, (THE PAUL REISER SHOW, LOVEBITES)
Margaret Dunlap, (EUREKA, THE MIDDLEMAN)
Christina Weir and Nunzio DeFilippis, (ARLISS, KIM POSSIBLE)
George McGrath, (TRACY TAKES ON, PEE-WEE'S PLAYHOUSE)
Adam Finer, NYFA's Associate Chair of the Screenwriting Department, moderated and provided advice and insight from his years as a studio executive and manager.  About maintaining and enhancing your job as a writer he said, "Your job as a visual storyteller is to write visual stories, read visual stories, follow blogs, read magazines. Everything you do is gearing you be a storyteller. And write everyday."
Adam guided the panelists through engaging and entertaining discussions about the industry and their careers, and each told tales of their time working in television. Justin Sternberg talked about how tragedy made him switch from comedy to drama. Christina Weir revealed how her insecurities made her almost turn down the writer's assistant job that started her career. George McGrath remembered being contacted by Paul Reubens (Pee-Wee Herman) and suddenly finding himself a writer. Margaret Dunlap talked about finding a mentor who guided her path into television. Nunzio DeFilippis admitted to being too outspoken in the writer's room and the damage that could do to a career. And Jerry Shandy amused the crowd and his fellow panelists by recalling his first day on his first job in the industry, which involved helping with an exorcism of his new boss.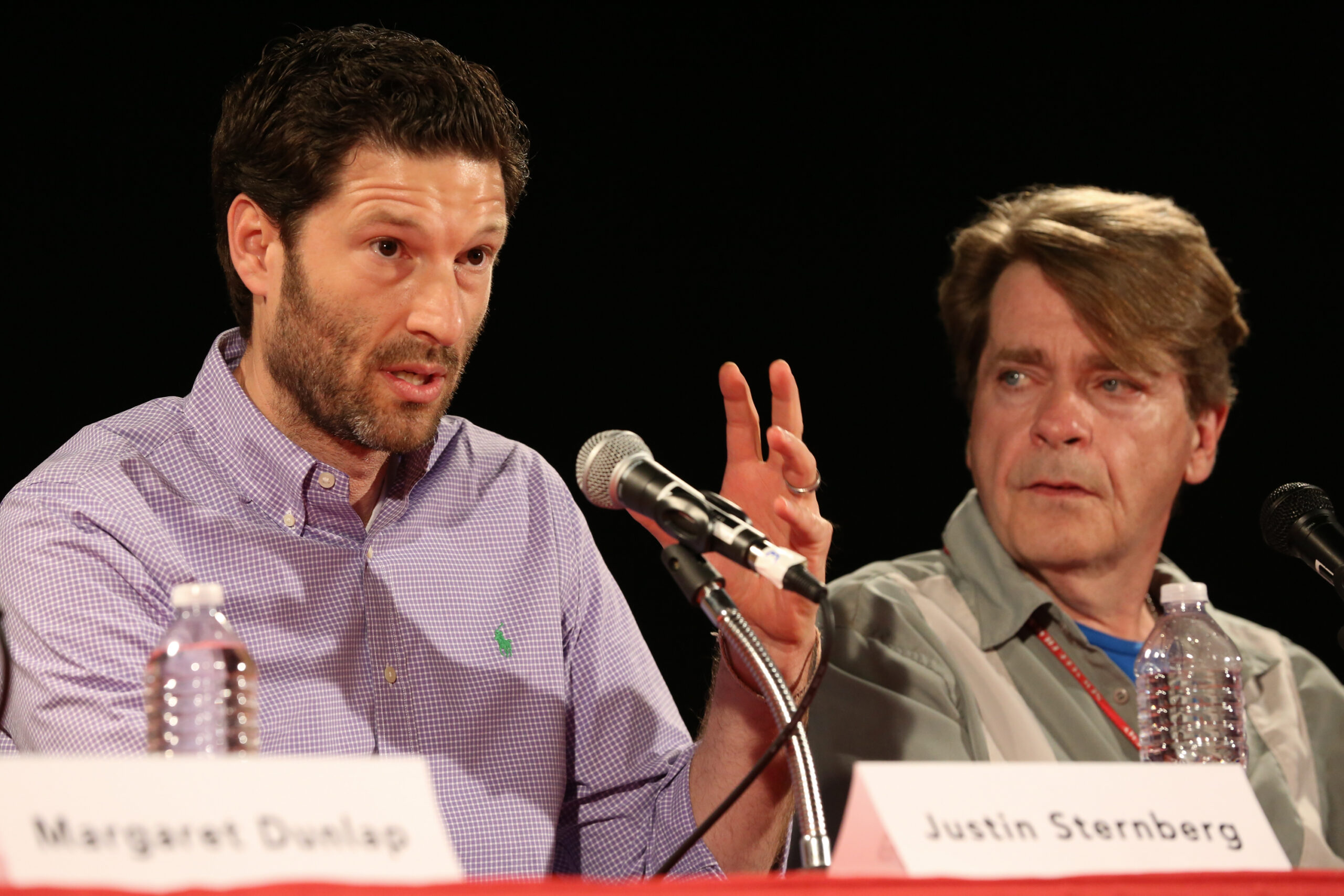 Many of the panelists have been on the staff of shows, and they engaged in an animated discussion about the hierarchy and positions in the writer's room, breaking story, and what to expect as staff on a television show. Nunzio DeFilippis said, "In a writer's room everything is collaborative. From beginning to end."
About moving up the ladder in the writer's room, Christina Weir said, "A great way to learn how to be a Show Runner is to be a Writer's Assistant. You see everything from the bottom up and know how everything's done."
Other than working your way through a writer's room, the panelists also discussed selling original pilot scripts, shopping samples, and pitching your series. In terms of pitching your series, George McGrath said, "The simpler it is—if you can say it in a sentence you have a better chance of selling it."
In regards to shopping scripts around and taking meetings, Jerry Shandy said, "You want fans in the industry. You want to take every meeting because you never know who will be championing you."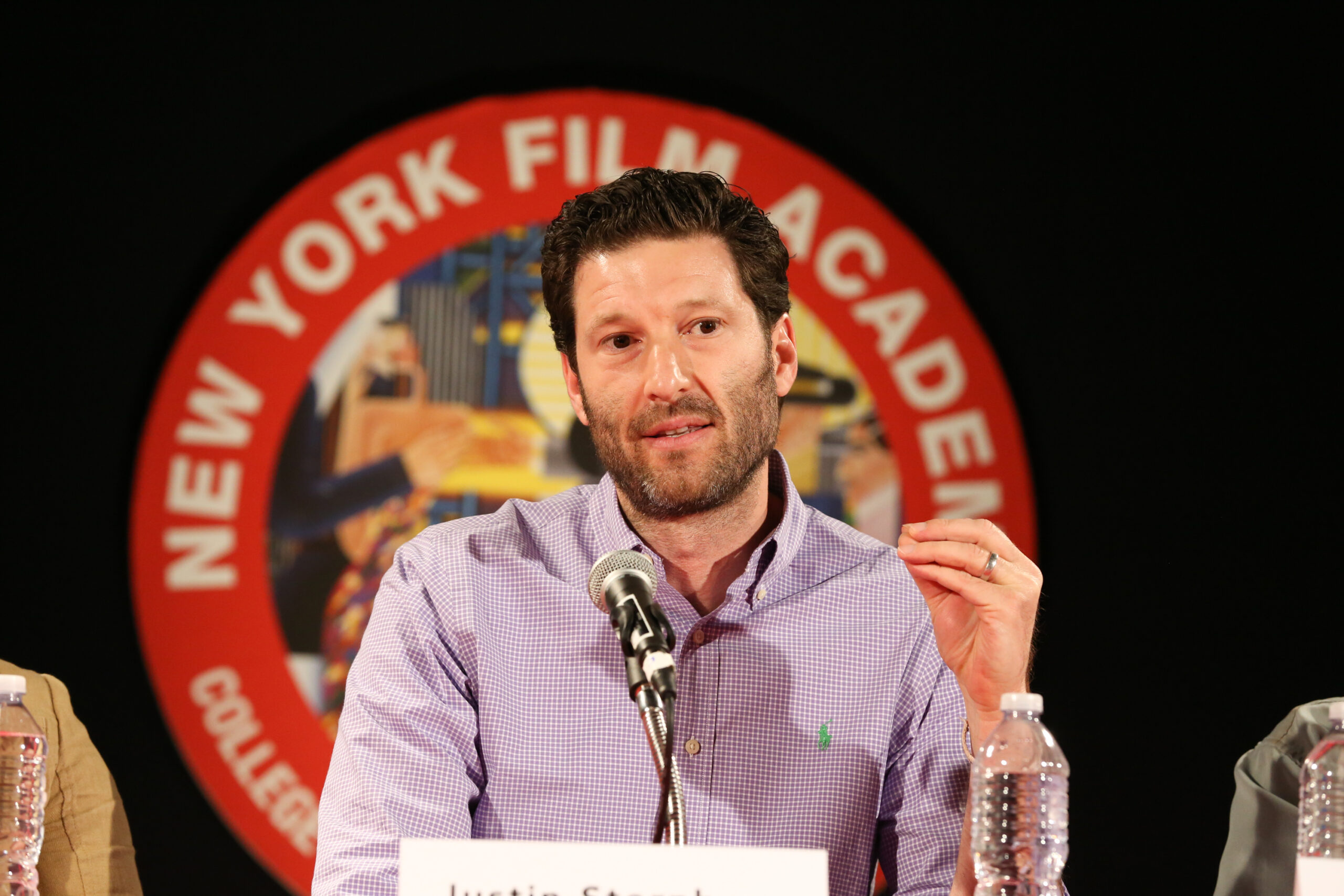 "You have to be an amazing writer, but you also have to talk to people, have conversations with them," added Justin Sternberg. Learn how to craft your story so they go 'Oh wow,' I love that script, but I really love that person."
Similar to feature writers, television writers have their ups and down. Good times and rough times. When it comes to surviving the hard times in between projects, Justin Sternberg said, "Something new always has to be put on the assembly line. Something comes off, but always put something new on." Adam Finer added, "Don't spend all the money that you earn. It needs to last you until you have the next thing. Surviving and thriving means you need to be able to enjoy your life and survive the slow times." Margaret Dunlap chimed in with the treat she'll award herself on a success, "Sushi, beer, and ice cream. It's scalable. Not extravagant."
Part of surviving the hard times is to get into writing habits. The panelists all agreed that building and maintaining strong writing habits was key and that you have to write every day, even if it's only for fifteen minutes. You have to take the time to write. Margaret Dunlap said, "Nibble it to death like a duck. You've got twenty minutes, what can you do?" George McGrath added, "Write every day. It doesn't have to be a ton of pages, write a page a day. Take fifteen minutes to write a page and soon you'll have a script."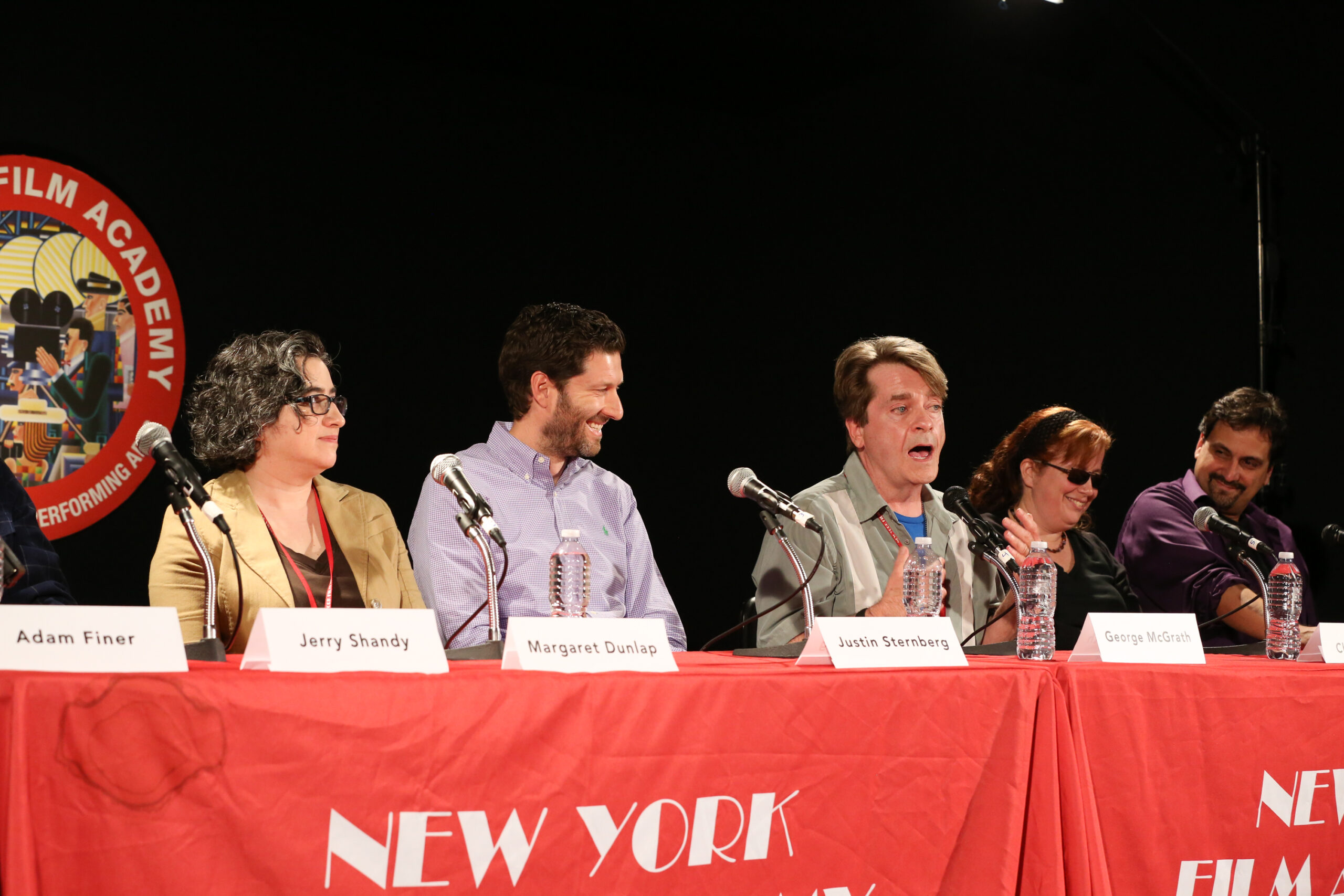 The panelists also discussed how to know if you're a writer. Justin Sternberg said, "I write every day because I wouldn't know what to do if I wasn't writing every day. I love it. It's an addiction. It's a high." Nunzio DeFilippis added, "The best way to tell if you're a writer is: what happens when you stop? Do you get cranky, itchy, like you're going through withdrawal? Then you are a true writer. It becomes a sickness. You've got the writing bug and you're stuck with it."
At the end of the discussion the audience (made up of Final Draft fellows, NYFA students, and alumni) was invited to ask questions, which ranged from writing for Netflix or Amazon to using features as a gateway for television.
One student asked about the relative importance of talent versus attitude in a writer's room. Adam Finer said, "I can't stress enough how important it is to be nice to people. The dirty little secret of Hollywood is that people like to work with people they like." Margaret Dunlap chimed in with, "You have to be a social animal. You're spending a lot of time with other people in a room. If you're pleasant, personable, always there and never bitter, that's the person they bring back for the next season."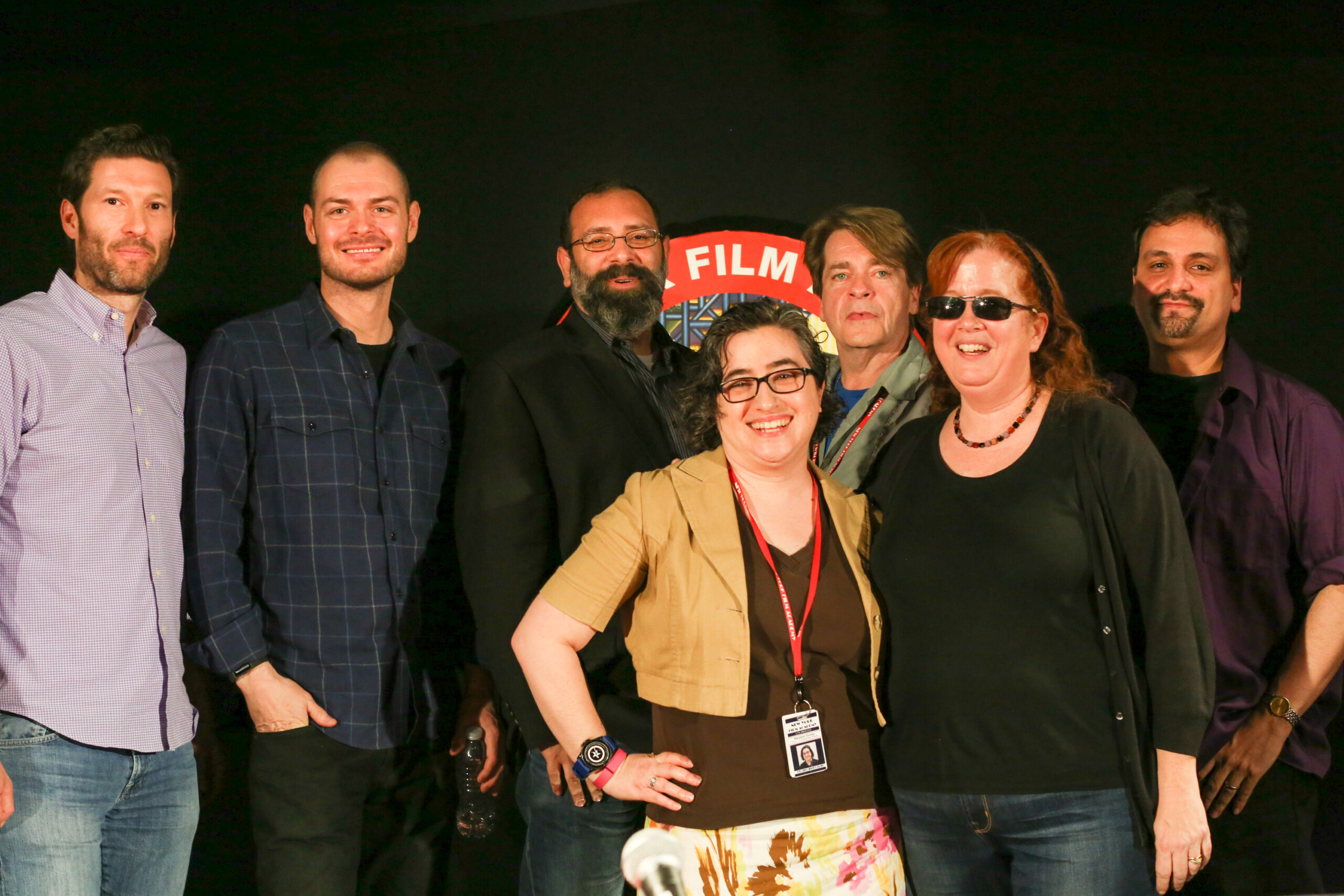 Another student asked about getting staffed on a show as a new writer. Justin Sternberg said, "Just try to get on any show that will take you. You'll meet the people you need to meet to get your career going. But, just get in wherever you can."
Christina Weir added, "Don't go into a writer's assistant job, or PA job, and hand them your pilot. Save that for down the line." Adam Finer said that, "People are willing to share their information. Don't be afraid of reaching out to people."
The ultimate bit of wisdom given to the attendees was to be kind to others and to always be writing. Jerry Shandy said, "Success depends on the number of at bats. Keep swinging and you'll hit something." Margaret Dunlap said, "Work hard and be nice to people." Justin Sternberg added, "If you have to be doing this, then you're in the right place. You'll enjoy the ups and the downs." George McGrath intoned with, "Trust the universe. It's out to help you." Christina Weir added, "Don't be afraid to do something you've never done before. Don't be afraid to dive into the unknown."
Lastly, Nunzio DeFilippis gave words of wisdom from the film BETTER OFF DEAD: "Go that way… really fast. If something gets in your way, turn."
by nyfa