Actor, writer, producer, and director Seth Rogen dropped by the New York Film Academy Los Angeles campus on Wednesday, August 17th to show his new R-animated movie Sausage Party and talk about his long acting career. Hollywood Producer, NYFA Director of Industry Lecture Series, Tova Laiter, hosted the evening.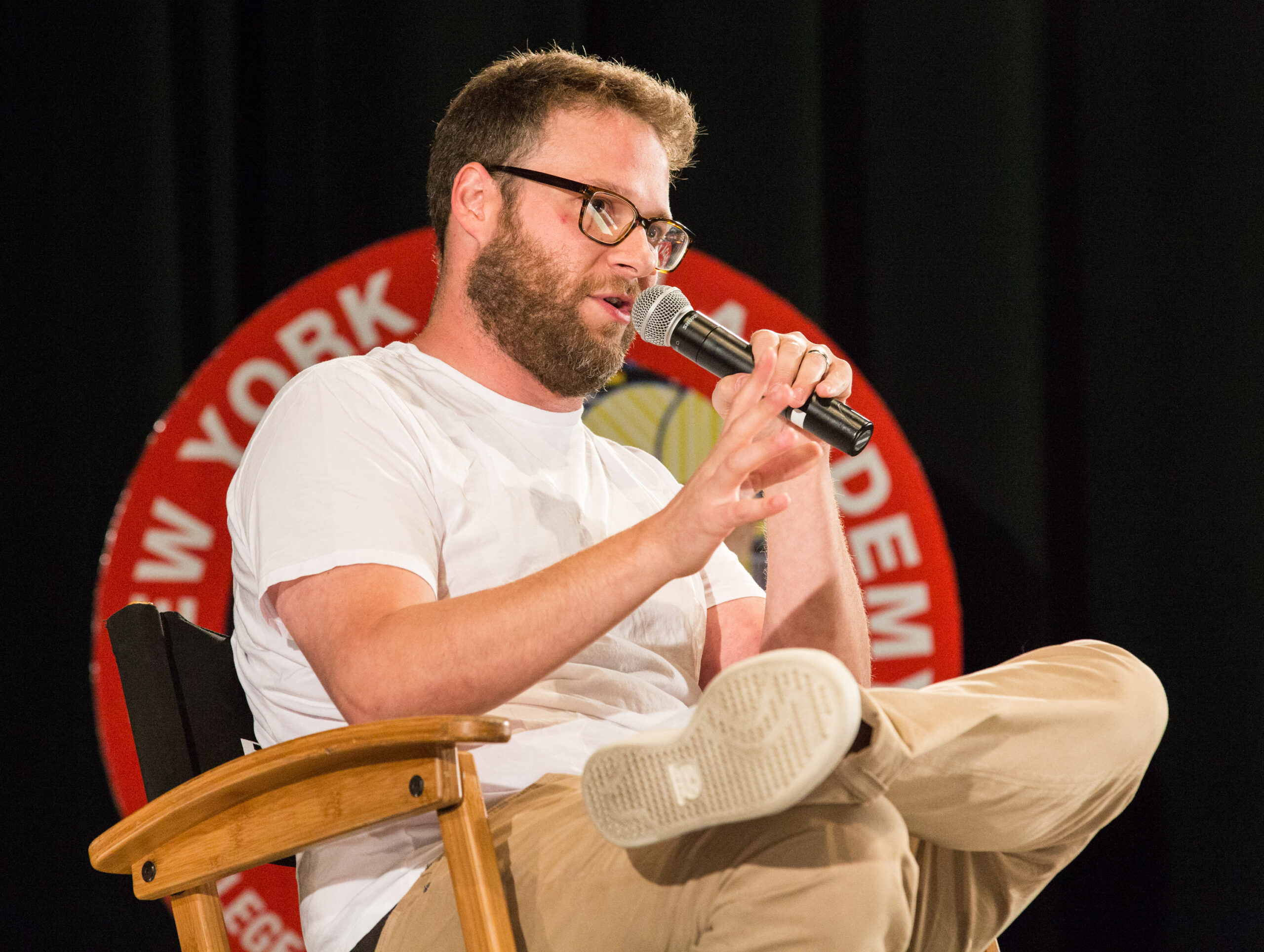 The auditorium crescendoed into a roar when Rogen took the stage. And he didn't disappoint, making the students laugh all throughout. Laiter began the conversation with Rogen's beginnings: Rogen began his stand-up career at just thirteen. He had the usual plan: become a stand-up comedian, land a sitcom, and then make movies for forever. The goal was always to make movies.
From his stand up, Rogen was able to land an agent. He auditioned for, and landed a role in, Judd Apatow's Freaks and Geeks when he was just sixteen. Then he began writing and acting on Undeclared. Next, he was hired on The Ali G Show, for which he was nominated for an Emmy. After conquering film in The 40-Year-Old Virgin he continued for two pictures with Judd Apatow: Knocked Up and Funny People.
He then began working with his childhood friend and partner, Evan Goldberg. Their work includes This is the End, Superbad, Pineapple Express, and The Interview. He's lent his voice to Horton Hears a Who!, Monsters vs. Aliens, Paul, and Kung Fu Panda. He's recently turned his attention back to TV with AMC's Preacher.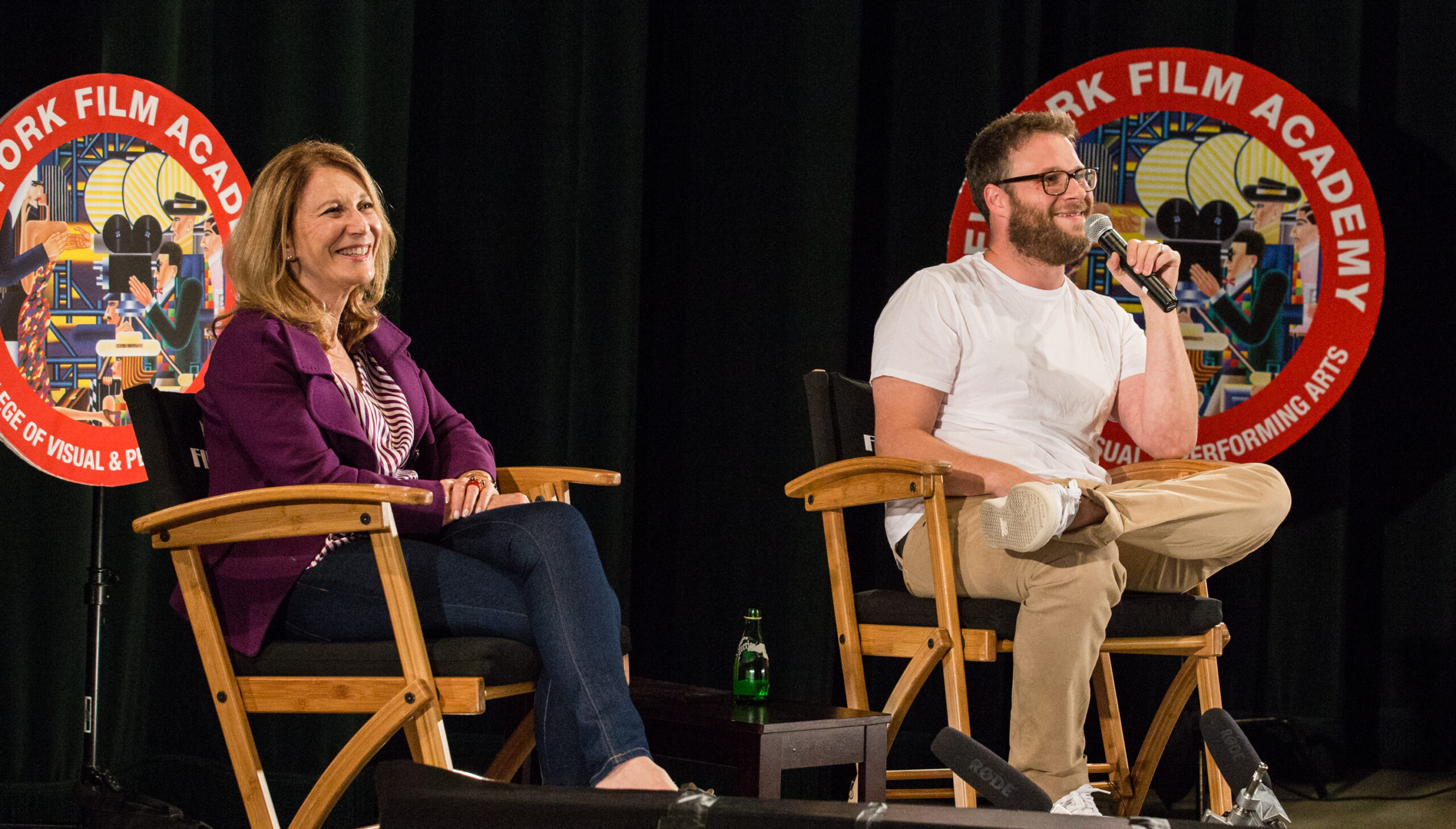 Asked how the idea for the uniquely clever and funny Sausage Party came about he quoted two inspirations
"Honestly," Rogen said, Home Alone is one of the movies that made me want to make movies. Seeing a kid just beat the shit out of adults- it was like an action movie for kids and I remember thinking I want to make movies like that."
The second source: 'When the Pixar movies started to come out I was just blown away by them. They weren't just visually unlike anything I'd ever seen but the storytelling and the humor… It was completely a group of people working on another level. We were like, 'Well, we'll never be that good., so maybe we'll do our own bastard version of that and we'll get to take a sip from the well of glory for just a second.'"
But an R-rated animated comedy was not an easy pitch, even with Rogen's popularity and success. "Getting it made was the hardest part. It took us literally years, and years, and years of going to meetings and being told 'no' by independent financing companies and by major studios. Then finally brave Megan Ellison agreed to do it."
"So, that part was difficult. But we'd never made an animated movie. It was very different than anything we've ever done."
Also, "the releasing of the movie is always the most stressful time because it's the part that one generally has the least control over. You never know how much they spent. You know how much the movie cost to make. You have a million conversations about that. But there's literally never a conversation where a number is said in regards to the marketing budget. "But, in the end, the journey was worth it, if it helps the next person down the line, "I think there's a distinct possibility that if someone was on the fence about making an R-rated animated movie maybe this might nudge them to the other side of it. We hope to make more R-rated animated movies and I really hope that, if anything, this inspires other people to take this and make something better"
Laiter wanted to know what made Canadian comedians so consistently successful. "I've worked with British comedians before and they're hilarious" Rogen Said, "but they don't quite understand American culture to the degree they need to, to really infiltrate it. But Canadians grow up with American culture, but it's not our culture. So, we probably more objective about it and a little more inclined to make fun of it".
Rogen has a reputation for working with his friends. "When you're working, it's really hard to do something that feels good a lot of the time. So when I'm on set I feel so much better if Jonah or Franco or Craig or Danny are there because they are just incredible at their jobs. Of the hundreds of things I have to worry about in my job as the director, producer, writer, that is not one of them. It's just a stress relief. On top of that, we just like each other."
One student asked Rogen about how he handled criticism. "Honestly, that's gotten harder as I've gotten older. When I was younger I was really aggressive and confident. Over the years, as I've read thousands of articles just saying what an idiot I am… I look back and honestly marvel at how little I thought about whether or not other people thought I was funny. It was all, 'I think I'm good at this and I think I can do something different in movies, so I'm just going to write them'. The more I didn't succeed, the more I'd get angry and I'd just try even harder… You just have to make sure it's a good idea. Surrounded yourself with people who will be honest with you and give you good constructive criticism. Just never stop."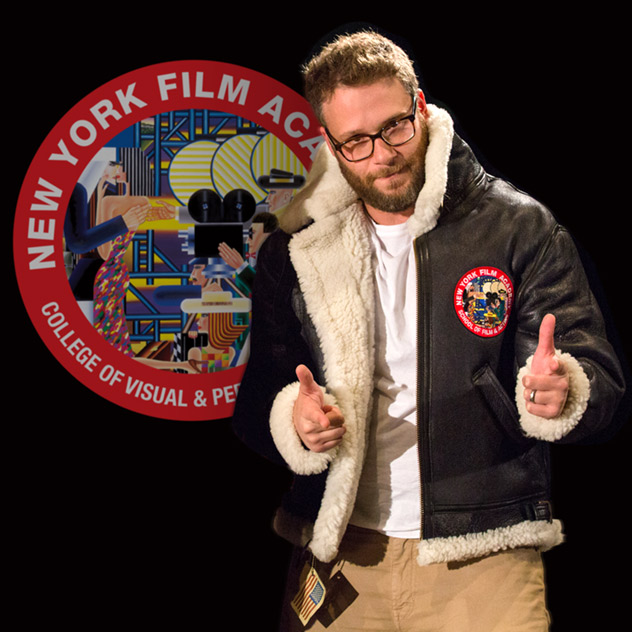 Another student wanted to know if Rogen had advice for actors who were older and hadn't hit yet. Rogen responded, "Ian McKellan became famous when he was like 80. There're so many actors that just keep going and don't quit. And there're actors who don't become famous until they're in their 50's, 60's, 70's, and in the meantime they keep working in smaller roles. And if you're only an actor and (you) can't write or create material for yourself, then… become friends with a writer. They're always looking for actors. Become friends with a director. They always need actors. Just link up with someone who has a job you can't do."
"What is the most important ingredient in comedy?" a student asked.
Rogen said, "Superbad is about two friends who don't know how to tell one another they're going to miss each other. That sweet center allowed us to have period blood on his leg and other crazy shit that would otherwise be appalling. So for us, we talk a lot about balance- emotion with crudeness, intelligence with stupidity, unpredictability with plausibility and sensibility. I think balance is the most important part of comedy, also between what genres you're trying to mix- finding the exact mix of horror and comedy, of emotion and comedy. That's what makes a movie unpredictable."
And as parting words Rogen emphasized the 'unpredictability' of great movies and asked the students to surprise him with the kind of breakthrough movies that make him ask: 'How the hell did they do that?'
That brought the house up to standing ovation.
New York Film Academy would like to thank Seth Rogen for his time. Sausage Party is now in theaters.
by nyfa