New York Film Academy South Beach looks forward to Art Basel Miami Beach each year, an event where the city welcomes industry veterans, visual artists, and independent filmmakers alike. Studying at the epicentre of the festival, NYFA South Beach students and faculty draw inspiration from the eccentric art, installations, and events that the fair brings with it. 
Art Basel is a for-profit, privately owned and managed international art fair staged annually in Basel, Switzerland; Miami Beach, Florida; and Hong Kong, selling the works of established and emerging artists and supporting galleries through nurturing artists. It's known as a leading global platform that connects collectors, galleries, and artists from around the world.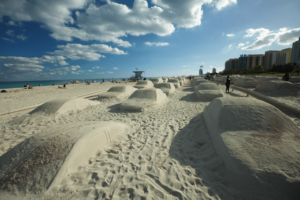 This year's iteration of the annual event in Miami Beach presented artworks from across the globe through more than 250 of the world's leading galleries, drawing over 70,000 visitors and offering an inspiring week for artists, collectors, critics, curators, and enthusiasts.
One particular installation this year captured the attention of all–life-size sand sculptures on Miami Beach, created by Leandro Erlich in an effort to compel people to face the dangers of climate change. Titled "Order of Importance," the latest work of the Argentine artist was designed to disrupt the landscape while also blending with it. The City of Miami Beach commissioned the installation with an allocation of $300,000, and it was the first of its public art projects with an intentionally short life.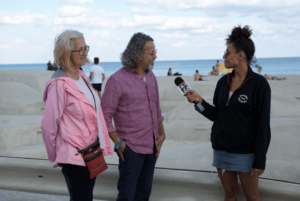 NYFA South Beach checked out the installation site, equipped with "NYFA News" filming gear to interview those visiting the sand sculptures and hear their thoughts on the inventive art and its powerful message. Additionally, NYFA South Beach Special Effects instructor and cinematographer Carlos Fueyo was commissioned to create an official promotional video on the installation.
On campus, NYFA South Beach Dean and Director Maylen Dominguez conducted a Q&A with Carlos, touching on the art, the artist, his involvement in the project and what it's like to be a filmmaker at Art Basel.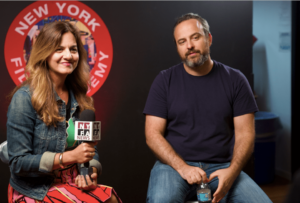 "Art Basel exposes our students to thought provoking art, gallerists, artists and buyers form literally every corner of the world," reflects Dominguez. "You see extraordinary work and things that are not to your taste. Art Basel is a great reminder that the important thing is to be creative and not judge yourself so much, because there's someone out there who will buy the $120,000 duct-tape banana."
by nyfa