Andres Vergara is a Spring 2018 MFA Screenwriting student at New York Film Academy (NYFA). On September 8, he and over two dozen other students from NYFA's Los Angeles campus attended the NewFilmmakers LA Latinx and Hispanic Cinema Event. Vergara found time between his classes and writing his screenplays to recount the event in his own words:
Diversity took over at the NewFilmmakers LA Latinx and Hispanic Cinema Event this eighth of September. Hundreds of guests got together at the Samuel Goldwyn Theater as proof that opportunities are opening up for filmmakers from different backgrounds to share their points of view with an audience always hungry for unique stories that showcase different cultures. It began with a wonderful reception where delegations from many different film schools got a chance to mingle and take photos on the red carpet. The New York Film Academy group was strong as students from different ethnicities joined their Latinx and Hispanic peeps to celebrate diversity.
Once everyone got a seat in the theater, the first panel was announced and five amazing people from the industry walked onstage to share stories, points of view, and advice. The panel included: Nicole Levy, writer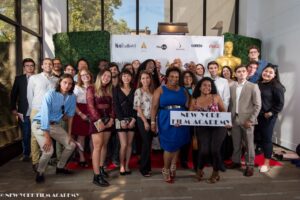 for Marvel's Cloak and Dagger; Frank Gonzales, Executive in Charge of Diversity at the DGA; Richard Ray Perez, from Sundance; Hebe Tabachnik, Programmer at the Seattle and Palms Springs International Film Festivals; and Catherine Hardwicke; Director of Twilight and the acclaimed Thirteen. This very diverse group (not only in their background, but in their jobs) gave guests insight into how the Hollywood Industry is changing. Even though it is getting more and more competitive, it is uplifting to know there are also more and more people willing to make a bet on new, different voices.
The second panel comes up. Five amazing Latinas who are taking a stand, not only for their origin, but for their gender, take the stage. Even from a male point of view, it is inspirational to know that the industry is making room for women who are quickly rising to the top: Paula Sabbaga, writer for CW's Dynasty; Roxanne Pompa, VP for International Formats at CBS; Greta Talia Fuentes, Creative Executive at MACRO; Edith Mendoza, SVP for Comedy Development at CBS; and Alejandra Reyes Rocha, Television Literary at UTA. These great role models for women and Hispanics alike talked about how they got where they are, discussing the many options that exist for diversity and showing their support for upcoming filmmakers. They encouraged us to have a sense of community in which we help each other out as fellow Latinx.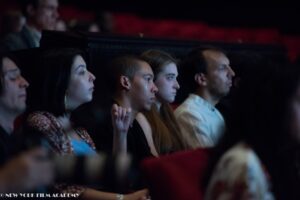 After an enriching Q&A, we were invited back to the lobby to have great Mexican food, accompanied by Latin music to keep up the mood. And after another chance for networking, even with some of the guest speakers, the showcase finally began. Filmmakers from countries like Argentina, Brazil, Mexico, Guatemala, Spain, the United States, Mexico, and my native Colombia—among others—screened amazing short films that showed unique stories and points of view that all cinephiles can love. From romance to sci-fi and a compelling documentary about a Peruvian farmer, the productions made the audience applaud the talent of emerging Hispanic filmmakers.
NewFilmmakers LA is very much committed to creating a platform for new talent, and whether you are a director, a writer, a cinematographer, or even if you are more into TV than film, they make sure that their events are a well-rounded and fulfilling experience in which guests can enjoy different pieces and hear from those who are making their way through the industry. Not to mention, it is a perfect opportunity for meeting colleagues. My ethnicity encouraged me to attend one of their events for the first time, but my love for films and my admiration for their initiative will have their monthly events in my schedule from now on.
Written by Andres Vergara
[su_carousel source="media: 28100,28099,28098,28097,28096,28095,28094″ limit="49″ link="lightbox" target="blank" width="780″ height="360″ title="no" autoplay="0″]
by nyfa