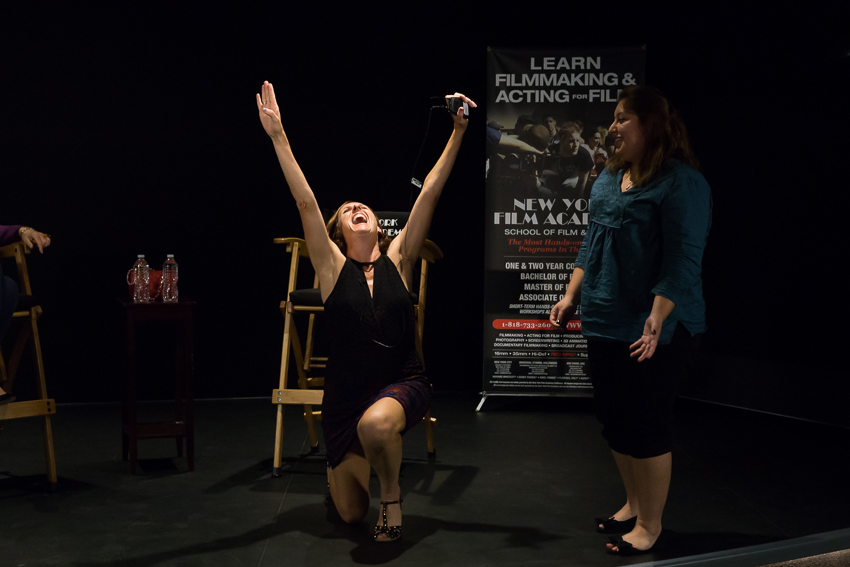 Actress Molly Shannon visited New York Film Academy Los Angeles and talked to students after screening an episode of the TV show Enlightened (for which she was nominated for an Emmy) and a few of her legendary Saturday Night Live sketches. The Q&A was moderated by Tova Laiter. Molly was radiant and so generous to give students advice on how she navigated the daunting terrain of the entertainment industry and succeeded. Students cheered loudly when Molly ran down the theater aisle and took the stage.
Molly reminisced about her early days in Hollywood when she would walk up and down Sunset Blvd., handing out her head shots because she didn't know anyone in town. Oddly enough, this strategy got Molly her first agent. From there, she landed a few substantial gigs like a small, one-time roll on Twin Peaks and a commercial spot. All the while Molly continuously hustled within her career and would do odd jobs and waitress to stay afloat financially.

It wasn't until she hit a big dry spell of acting work and had decided to set auditioning aside for a while—to work on developing her own characters on stage with a group of friends — that she finally got her big break and was hired on Saturday Night Live. Being on SNL was like climbing a treacherous mountain, according to Molly. Because the show was live and so much was a stake, the experience was both terrifying and extremely exhilarating. She now enjoys the more subdued, intimate atmosphere of single camera television shows and feature films. Family, friends, and the love of her craft remain of central importance for Molly so she is always grounded in things that are stable. In this way she can go up and down the roller coaster of success and failure and not be effected. This is very apparent from Molly's incredibly positive demeanor.
At the end of the Q&A, Molly received a standing ovation from students. She stayed afterwards to take pictures with every student who asked her.
by nyfa