Talent agent Jennifer Boyce recently dropped by the New York Film Academy (NYFA) Los Angeles for a Q&A with our students and to speak about her many years in Hollywood as an agent, working at both the Savage Agency and KMR Talent. Senior Enrollment Advisor Chris Devane and Associate Chair of Acting for Film Anne Moore hosted the evening.
Students heard Boyce's perspective on head shots and tips on what to do when meeting with an agent. Most students had never met an agent before, so one of the most common questions of the night was: How, exactly, they should go about working with one in their careers? What information should actors have on hand?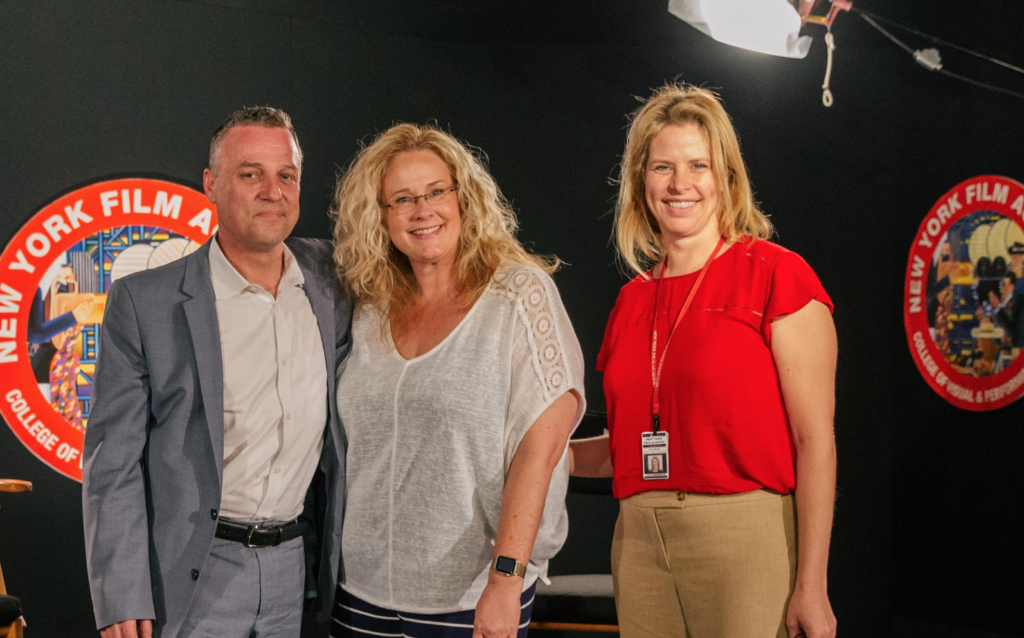 Boyce suggested that students create opportunities to succeed. "If you are an actor, you do not get to sit at home waiting for your agent to call," Boyce said. "Don't ask 'What is my agent doing for me?' Instead ask, 'What am I doing for my own career?'"
Boyce reminded students that an agent only makes 10 percent commission from what actors make, and cautioned them not to expect agents to do more than 10 percent of the work. She echoed the great advice that actors' minds and bodies are an instrument, and they need to keep their instrument in tune. She hammered home an old truth: actors have to act. Talking about acting is not acting. Thinking about acting is not acting.
"It takes a lifetime of commitment to have any success in this business," Boyce warned. "If you're not willing to put in the work, then you may not be suited for this business."
During the Q&A, one NYFA student asked, "For an agent, what is the most important part of an actor's resume?"
[su_carousel source="media: 26335,26334,26333,26332″ link="lightbox" width="780″ height="360″ title="no" autoplay="0″]
Boyce's explained that, first, acting students should focus on the special skills portion of their resumes. This section is often overlooked, but it is often the difference between a callback and never hearing about a particular job again. Special skills include horseback riding, swimming, sewing, or driving a car. It is in this section where casting directors might think of additional roles for which actors may be the right fit. Secondly, while special skills are important, the best thing an actor can do to improve their chances of securing an agent is to train in their field. This is why even professional actors still take acting classes well into an established career.
Boyce shared that, from an agent's point of view, actors who continue to take classes and train demonstrate a work ethic and dedication to their craft. Additionally, many casting directors have established relationships with acting coaches. When they spot a familiar name, casting directors can reach out and learn more about an actor, their abilities, and personality.  
The New York Film Academy would like to thank Jennifer Boyce for taking time out of her busy schedule to speak with our students.
by nyfa