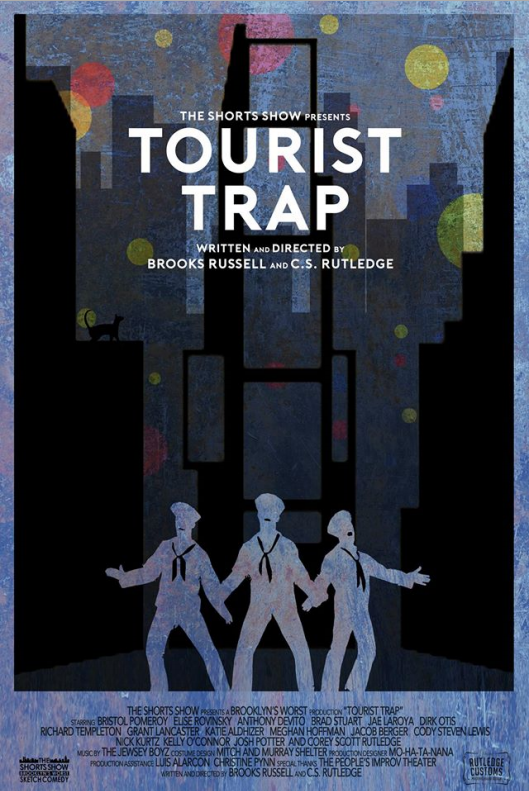 Founded by New York Film Academy acting alumnus Corey Scott Rutledge, The Shorts Show team has been doing consistently funny sketch comedy in New York for five years now and have been featured everywhere from The Huffington Post to Funny or Die.
Last year, the group began doing live scripted comedy at NYC's The PIT, selling out almost every show. Their most recent show, Tourist Trap, was co-written by NYFA acting graduate Brooks Russell and includes the cast of NYFA grads Jae LaRoya and Dirk Otis, as well as NYFA Instructor Grant Lancaster. In fact, even the technical director is Luis Alercone, a NYFA filmmaking graduate.
Tourist Trap came about in an effort to make a New York-centric show," said co-writer Brooks Russell. "We all live in the city and we all share the common love/hate relationship with the city— so we wanted to make a show that delved in to that."
The team began throwing around ideas for a few of the sketches and then searched for a backbone to them all together. That's when they stumbled upon On the Town, an old but fairly popular musical that just recently had a revival run on Broadway. The show is about three sailors who spend one night in NYC and go on 'wild and crazy' adventures, then meet up to share their adventure together.

The Shorts Show 2015 Reel from The Shorts Show on Vimeo.
"We started thinking what if you took that story but had the sailors just go through all of the obstacles that today's New Yorker often faces: subway delays, catcalling, hipster-artisanal propaganda, the homeless, pigeons, Naked Cowboys, and so on," said Russell. "We use the sailors as a vehicle to travel through this very weird, dark, and (hopefully) hilarious version of NYC that explores all of those experiences that really are unique to this city, and the musical element helps it keep an absurd, light-hearted tone in an otherwise bleak setting. Mostly because Dirk has the voice of an angel."
Be sure to check out Tourist Trap at the PIT on 123 E. 24th St. on Friday, December 4th at 9:30pm. For tickets and times, please visit thepit-nyc.com/event/tourist-trap.
by nyfa