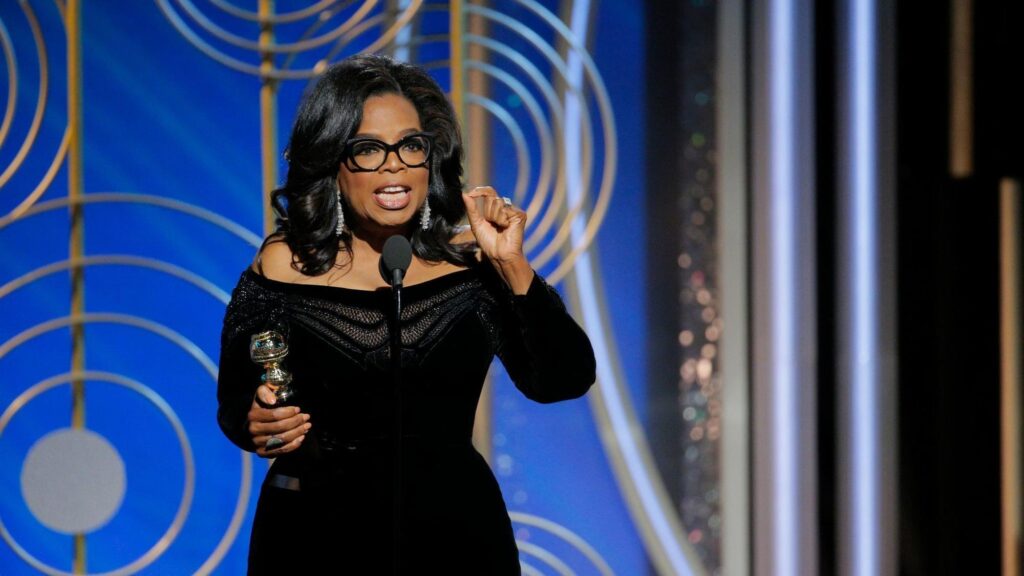 This year's Golden Globe Awards was clearly different from years past, and not because it was the 75th anniversary ceremony. Nearly all women in attendance, and many of the men, wore all black in a sign of solidarity for the Time's Up initiative — a response to the gender inequality and sexual harassment prevalent in both the film industry and society as a whole.
A very public groundswell of support for the movement started after initial reports of sexual harassment came out against megaproducer Harvey Weinstein last year. Since then, more and more women and victims of sexual assault are coming forward and being heard after decades of an institutional culture that allowed sexual assault and discrimination to flourish. In addition to accusations against numerous prominent figures in the media, politics, and elsewhere, additional gender inequalities are also being placed front and center — including a sizable gender wage gap and the disproportionately small number of women represented both in Hollywood and political positions of power.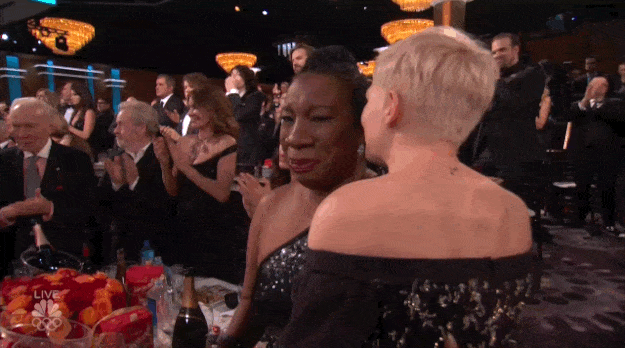 After #MeToo made clear just how many women are affected by these injustices, Time's Up was started to take specific actions to work towards finally reversing this trend. Along with the call for women to wear black on the Golden Globes red carpet, Time's Up is advocating for laws that will punish businesses tolerating harassment, working to balance gender parity in the industry, and starting a legal defense fund to support lower-income women seeking justice for sexual harassment and assault in the workplace.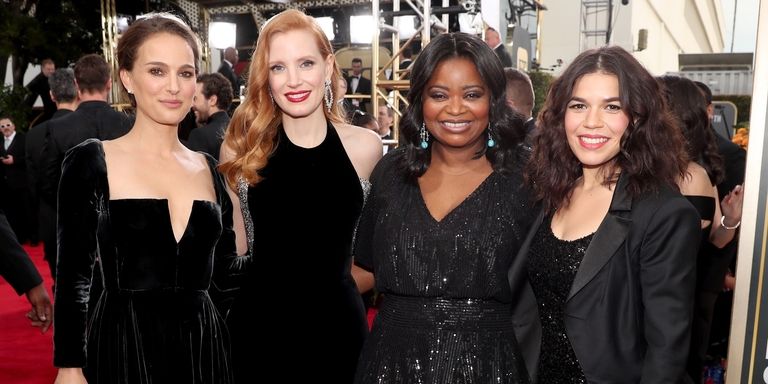 Wearing black wasn't a fashion statement. It quickly became apparent to everyone watching the televised Golden Globes on Jan. 7 that the conversation and tone of the night would be dominated by a cause too important to be sidelined, even in the height of Hollywood's yearly awards season. Several individual moments stuck out from the night that revealed just how deeply both gender inequality and the urgency to correct it run in the entertainment industry's most powerful circles. Some of these moments include:
Talk show host and this year's emcee Seth Meyers delivered a straightforward opening monologue in support of Time's Up and the women of Hollywood, while also acknowledging that as a straight white man, his voice wasn't the most important in the room.

While live during an E! Network red carpet interview, "Will & Grace" star Debra Messing pointed out that E! was also guilty of a significant wage gap between men and women.

When presenting the Best Director award, Natalie Portman made sure to add in the short but poignant adjective "all-male" before listing this year's nominees. This is especially noteworthy considering Greta Gerwig — who wasn't nominated — directed the evening's Best Motion Picture (Musical or Comedy) award winner, "Lady Bird." (Gerwig was nominated for Best Screenplay, however, and the film picked up two acting nominations and a Best Actress win for Saoirse Ronan.)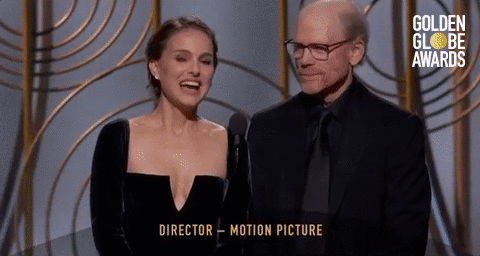 Many women invited social activists as their guests to the ceremony, including #MeToo founder Tarana Burke, eschewing the typical tradition of bringing a significant other or relative — which has sparked its own controversy:
these black & brown activists being used on this red carpet as conversation starters is so jarring. why couldnt they just invite them, let them bring their families, give them the chance to speak?

— lil inherited trauma (@tired_ugly_) January 7, 2018
In addition to wearing black, many of the attendees and presenters displayed Time's Up pins in support of the movement.

The HBO drama "Big Little Lies" dominated the television categories with a cast of mostly women playing complex female characters with nuanced storylines — something that shouldn't be all that rare, but sadly is.

Entertainment icon and living legend Oprah Winfrey was presented with the Cecil B. DeMille Award — the Globes' version of a Lifetime Achievement Award — becoming the first woman of color to receive the honor. Winfrey's acceptance speech roused the room and was a powerful moment in a night of powerful moments, sparking a flurry of trending hashtags and fan speculation about a 2020 presidential run. 

Winfrey was clearly aware of her platform and influence and focused many of her words on speaking truth to power, the vital importance of a free press, and the significant role diverse role models play for children growing up in a world dominated by faces that do not resemble their own. As an example, she used her

 own personal experience seeing Sidney Poitier win the Academy Award for "Lillies of the Field."
https://youtu.be/fN5HV79_8B8
These are just some specific instances of a much broader mood and drive dominating the culture right now. As an institution that prepares students for careers in Hollywood and the entertainment industry, the New York Film Academy is especially receptive to Time's Up and the #MeToo movement. Many of the Golden Globes viewers — and even some nominees, like Issa Rae — were students, alumni, and faculty members.
In 2013, the New York Film Academy researched gender inequality in the film industry and presented its data with an infographic that plainly showed just how serious the problem is. In the intervening years since that infographic was first published, gender inequality has not improved in the film industry. In 2017, Forbes released their annual list of highest-paid actors and actresses. The top 14 were all men, with Emma Stone ranked as the highest-paid actress at #15. A 2016 study found that women — roughly half the population — comprised only 28.7% of all speaking roles in films. Additionally, only 18% of films represented a balanced cast (half the speaking characters being female).
The New York Film Academy prides itself on its diverse body of students, encouraging artists from any number of backgrounds to collaborate and bring together their distinct, personal visions in order to create even stronger, more meaningful stories. Indeed, in 2017 more than half of NYFA's students were women — a hopeful sign of the industry's future.
It goes without saying that there is still a lot of work to be done, and a lot of changes that need to be made to both the entertainment industry and the contemporary culture it inhabits. As Oprah Winfrey said in her acceptance speech, telling stories and speaking truth to power is one important way to help bring about these changes. The New York Film Academy encourages those who were previously afraid to use their voice to tell their stories, and to be loud as possible — the time is now.
by nyfa