Tommy Maddox-Upshaw, director of photography and New York Film Academy (NYFA) Cinematography instructor, shot the third season of FX series Snowfall, which recently finished this Fall.
Snowfall is the critically-acclaimed FX series Dave Andron co-created with iconic filmmaker John Singleton, who passed away earlier this year; Singleton was nominated for Best Director and Best Original Screenplay for his debut film Boyz n the Hood, becoming the youngest person ever nominated for the former as well as the first African American.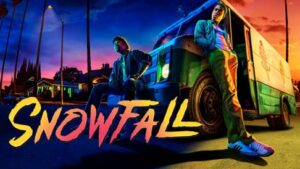 Snowfall is a period crime drama, set in 1983 Los Angeles and revolves around the crack epidemic that took the city by storm in the early 1980s. Maddox-Upshaw and Eliot Rockett alternated cinematographer duties for the show's third season.
Maddox-Upshaw is based in Los Angeles and teaches Cinematography at NYFA's Burbank-based campus. He's worked in both television and on feature films, including additional photography on Grown Ups 2, Beyond the Lights, and The Circle, and was the second unit director of photography on Straight Outta Compton. His credits as cinematographer include 48 Hours to Live, The Perfect Match, and Fixed.
https://www.instagram.com/p/Bi80mfgHMPv/?utm_source=ig_web_copy_link
American Cinematographer, the international publication of the American Society of Cinematographers (ASC), recently did an in-depth profile on Snowfall and its signature look, interviewing both Maddox-Upshaw and Rockett. The article got into the nuts and bolts about the new equipment the show used in its third season, as well as the complicated location shoot of the season's penultimate episode, which involved shooting in a neighborhood once deeply affected by the drug crisis depicted in the show.
Maddox-Upshaw went into great detail not just about equipment used and how his team used it, but also the combination of using set lights—along with smoke and other effects—with the bright, impossible-to-ignore sunlight of Los Angeles, and was clearly passionate about every aspect of his job on the FX drama.
"My gaze is a little more personal," Maddox-Upshaw tells ASC. "Being a kid who grew up in the '80s and '90s in Mattapan, the inner city of Boston, during the crack era, I saw a lot of these same things happen, the drugs and violence in my neighborhood and in my own family." 
New York Film Academy congratulates NYFA Cinematography instructor Tommy Maddox-Upshaw on shooting the latest season of Snowfall and looks forward to what projects he takes on next!
by nyfa