New York City-based startup Datavized Technologies, Inc. is a media studio focused on Virtual Reality production and consultancy. The company, founded by New York Film Academy Virtual Reality Instructor Hugh McGrory, combines the immersive power of virtual reality with the seamless delivery of the mobile web. Datavized strives to build smart but accessible ways to experience cities. "At Datavized we build proprietary software tools using WebVR — virtual reality experiences that run on the web," McGrory summarizes.
McGrory and his company were recently featured in UploadVR, a leading digital virtual reality publication that was founded in 2014 in San Francisco. The article discusses Datavized opening beta access for their product after three years of development as well as the company's presence at Data for Development Festival.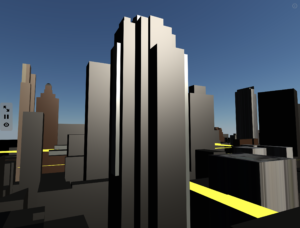 Datavized's web-based drag and drop tools allow users to effortlessly turn spreadsheets into interactive 3D maps. The map above allows users to pare through country-by-country life expectancy between the years 1800 and 2015. Below is a map using NYC Yellow Taxi trip data that allows users to fully immerse themselves in New York City. In March 2018, the company announced plans to release a virtual reality air pollution visualization at the Global Partnership for Sustainable Development Festival in Bristol, United Kingdom. In December, Datavized appeared at the United Nations Environment Assembly.
"There's Something in the Air" a virtual reality air pollution visualization by @datavized @UNEP @brkInteractive @publicvrlab and EcoLearn launches today online and at the #Data4DevFest VR Playspace #Data4SDGs #dataviz #3D #virtualreality #WebVR https://t.co/4ELwPXbYy2

— datavized (@datavized) March 21, 2018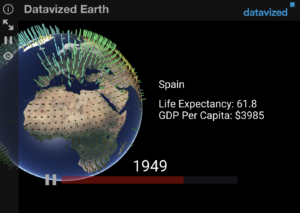 McGrory explains the appeal of his company's tools: "The technical baseline is already there with WebVR being part of web browsers like Chrome, Firefox, Safari, and on both Android and iOS for phones." He continues, "But people don't see it yet because they're still viewing the web on 2D screens. The next step is tools and content for the immersive web." McGrory excitedly describes the future of the medium, "This intersection of 3D, VR and the Web is exciting. He cautions against making rash comparisons to other recent technological advances saying, "This is not like moving from film to tape or VHS to DVD. It's a big leap that's more comparable to the transition from radio to TV."
As for any concerns about Datavized working better on certain devices compared to others, McGrory explained to UploadVR, "Datavized has been coded from the ground up for optimal performance across devices."
McGrory is currently a faculty member for the New York Film Academy's New York campus. He is an award-winning director/producer and his past projects include serving as executive producer for Northern Ireland Screen/UK Film Council's Deviate project and as filmmaker in residence at CINEMA Microscopy Lab, Yale University School of Medicine.
See a video of Hugh McGrory discussing data science, VR, and more below:
To learn more about NYFA's VR programs, visit the virtual reality program page.
by nyfa